May 26, 2023
Distinguished alumna Lucy Bell Sdahl Ḵ'awaas is a leader in repatriating Haida Ancestral remains, cultural artifacts and art.
Self-proclaimed 'Haida nerd'
There was a period after Lucy Bell Sdahl Ḵ'awaas graduated with her degree in anthropology when she wasn't at all sure she had made the right choice. Bell comes from "a long matrilineal line" of Haida grandmothers with a passion for learning and understanding in both the Haida and academic worlds. She had anticipated that getting an anthropology degree would be an ideal way to bridge those worlds. But leaving Haida Gwaii for the bright lights of the University of British Columbia (UBC) in the early 1990s "was a difficult experience," she recalls. The curriculum wasn't what she had expected.
"What was being taught in anthropology in those days felt quite abstract and out of touch. I felt bad after I graduated, like I'd wasted four years of my life," says Bell. "I came home to Masset feeling not proud to tell people I was pursuing anthropology."
Happily for the field of Indigenous heritage, those feelings weren't destined to last. Bell has gone on to become a leader in the work of repatriating Haida Ancestral remains, cultural artifacts and works of art taken from Haida Gwaii in the mid-to-late 1800s. What got Bell fired up again about her career choice was the Aboriginal Cultural Stewardship Program, a one-year course she took in 1995 after earning her undergrad degree. 
The First Peoples Cultural Council launched the program in 1993 in partnership with the Royal BC Museum (RBCM), University of Victoria and the Museum of Anthropology at UBC. The diploma program was Bell's first introduction to UVic. She would return for a masters in Indigenous language revitalization in 2016.
Bell landed an internship at U'mista Cultural Centre in Alert Bay through the stewardship program. The work to ensure the survival of the cultural heritage of the Kwakwa̱ka̱'wakw Peoples that was being done by the centre and Kwakwaka'wakw activist Gloria Cranmer-Webster—was a revelation for Bell. The self-proclaimed "Haida nerd" never looked back.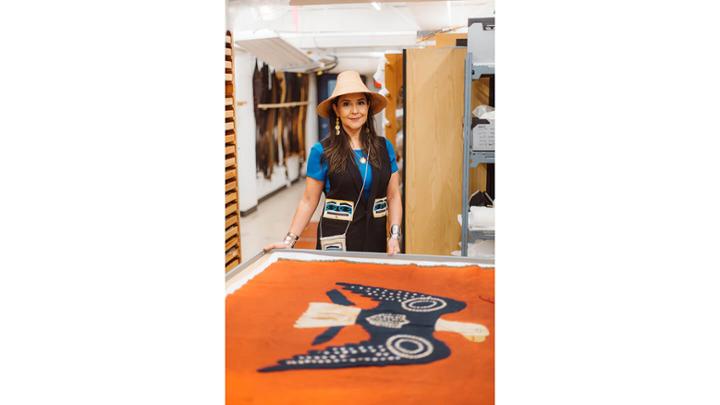 Artifacts scattered around the world
The late 1800s was a period when the Haida people had been all but wiped out by diseases brought by European colonists; the 1862 smallpox epidemic alone killed over 70 per cent of the Haida population. "The belongings and Ancestral remains were collected at such a terrible time in our history, when our ancestors were being hit so hard with disease," says Bell. "I'm sure a lot of anthropologists thought they were doing something good at the time, essentially salvaging the history of a dead people. But they looted graves. They used poor identification. They traded and acquired objects in questionable ways."
Despite the devastating losses of those years, the Haida survived. But their personal treasures, art and even the bones of their ancestors had been stolen from them. Those items are now scattered around the world in the hands of museums, private collections and the black market, many of them with no paper trail. The work of getting them back is hard and slow, says Bell, a founding member of the Haida Repatriation Committee. She has co-ordinated the return of over 500 Haida remains over the years from North American and European museums, but a day when all belongings are back in Haida hands remains a distant dream.
"We are slowly repatriating, but it's a case-by-case situation," says Bell. "It requires a lot of consultation, a lot of research, the right matrilineal people. Provenance is very complicated, especially with limited paperwork and so many different writing systems among individual collections."
"We've spent 30 years bringing home Ancestral remains, and reminding museums that these are human beings, not specimens for display. It's slow to happen—every museum is different, and none of them has one blanket rule for everything in the collection."
High cost of repatriation
Repatriated artifacts and remains are returned to the Haida community as a whole, which then works with descendants and the Haida Gwaii Museum in Skidegate to decide next steps. Museums are much more open to the work of repatriation than they once were, she says. But that's not to say that all barriers have come down.
"I think it's colonial and patriarchal attitudes that affect this work, the fear of doing something different," says Bell. "I definitely see a fear among museums that they're going to open the gates and the world's museum collections will be emptied. And oftentimes, the barrier is just racism."
People need not fear that traditional museums will soon have nothing to display given the painfully slow pace of repatriation, Bell muses. "We will need changes to policy, legislation, funding and mindset to support this work," she says, noting that she's involved in work right now with the First Peoples' Cultural Council to develop a cost analysis for Indigenous repatriation in BC. 
"There really needs to be provincial and federal support for this. Museums and Indigenous people in BC are quite active in repatriation, but they could all use financial support and backing. For the Haida Nation, we figure that just the repatriating of our Ancestors has cost us $1 million. It costs a lot to clean up what went before us."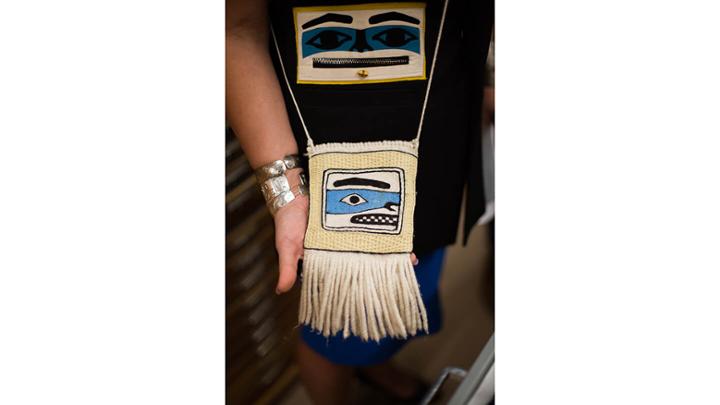 Calling out racism in heritage field
Bell is currently a full-time PhD student at Simon Fraser University, where she is researching Indigenous museology and Haida museum practice in particular. Before that, she spent three years as RBCM's inaugural head of the First Nations Department and Repatriation Program, but quit that position in summer 2020 with a no-holds-barred farewell speech that called out museum staff and executive for racist behaviour. 
"I've found that since I put in my resignation, there's been a lot of finger-pointing—'who caused this?' You can't point at one person," Bell said in the speech, which was reported in national media. "My friends, my colleagues, I want you to hear and feel my anger, my hurt, my shame, my frustration. I don't want you to email me later and explain yourself. I don't want you to do further research to prove your points. What I want you to do is to accept your white privilege and do something about it."
The speech prompted the BC Public Service Agency to hire a third-party investigator and a diversity-inclusion consultant. In 2021, Bell was awarded the Nora and Ted Sterling Prize in Support of Controversy for her bravery "in calling out racism in the heritage field and advocating for change in an era of reconciliation."
Reflecting now on her departure from RBCM, Bell says she left for her own well-being. It was only after she quit that she realized just how much pain that Indigenous people and other visible minorities were holding about the heritage community's treatment of their own histories, belongings and Ancestors. 
'Seeing the real Haida'
Her fiery speech galvanized others in the field, and led Bell and two colleagues to create Indigenous Museum Cousins. The network of 30 people is committed to supporting one another and decolonizing the heritage sector. "It's an exciting stage for us," says Bell. "We're treading slowly, supporting one another. We'll see what we want to come out of this."
Bell is delighted that her 21-year-old daughter, Amelia, is following in her mother's footsteps and now doing her own internship at U'mista Cultural Centre. "When we started this work of repatriation almost 30 years ago, I thought, 'This is hard work, but we are making it easier for our children to carry on,'" reflects Bell. 
As her repatriation work continues, Bell has her eye on other dreams as well: A cultural and research centre in her home town of Old Massett, G?aw in X?aad kíl and a return of that long-gone stewardship program so that more Indigenous people can connect to the important work of reclamation.
The bringing home of Haida history ensures that the stories of the past are integrated into the ongoing story of a thriving Indigenous culture, adds Bell. "Visitors who come to the Haida Gwaii Museum are getting the real story now, seeing the real Haida—not just the past, but contemporary artwork as well. Our cultures are still vibrant!" she says. "I really hope people are excited about this."
—Jody Paterson