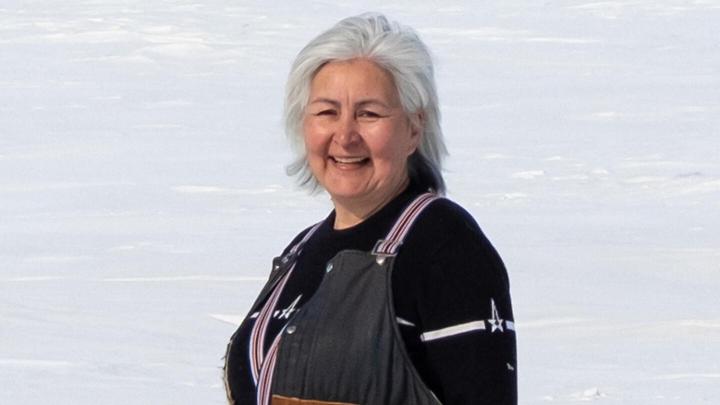 Category: Presidents' Alumni Award
UVic degree: Bachelor of Fine Arts in Visual Arts, 2012
Current hometown: Tuktoyaktuk, NWT
Birthplace: Tuktoyaktuk, NWT
About Maureen
When asked what she's most proud of, Inuvialuk artist Maureen Gruben says bringing awareness to the Arctic environment through her art is up there, but being a mother sits at the top of her long list of accomplishments. After dedicating the early part of her life to motherhood and community involvement in Tuktoyaktuk, where she was born and raised, Gruben came to UVic's Visual Arts program as a mature student.
She spent much of her childhood sewing with her mother, who was a seamstress, and trapping with her father, who ran a transportation company, and her art reflects a deep knowledge of Arctic land and the rich but increasingly precarious resources it offers for both survival and creation.
Her works incorporate an array of materials from polar bear fur, beluga intestines and seal skin to vinyl, Styrofoam, bubble wrap and metallic tape, linking daily life in the western Arctic and global environmental concerns. Gruben's art has been exhibited across North America and Europe, and in 2021 she was long-listed for the Sobey Award, considered Canada's most prestigious art award for emerging artists.
What's your favourite memory of being a UVic student?
Living in Victoria was such a beautiful experience because it's so lush and warm, and here I am in Tuktoyaktuk, it's like minus 40 now. Victoria and especially the UVic campus was so organic and green, and a healing environment.
How did your experiences at UVic shape who you are or contribute to future successes?
UVic was where I was really introduced to contemporary art and performance art. That introduction alone opened up so many ideas, doors, new ways of thinking and understanding that was not so traditional. It made me work outside a lot in the environment and not so much in the gallery space. It was really huge for me.
What skills or traits are needed to be good at what you do?
Have an open mind, be curious and explore the materials that you work with. Otherwise, you won't find what you enjoy working with. For me, it's always combining the raw materials from the land and animals and incorporating industrial materials—merging those 2 very different but complementary materials. Don't be afraid to try different materials. That's the only way you'll start having an understanding of your own practice.
What's your advice to a younger person who is uncertain about their future?
They just need to get out there and try and explore and find out what their passions are because most people don't know early in life. You have to go and try a few different things before you figure out what you like. I always loved creating, and it was part of our lifestyle—the act of making, not just for necessity. But also you're in a secluded place, there aren't any stores, so we just grew up making things.
What is something, small or large, that you do for others?
I like to cook, so I share a lot of my food. The newest thing I've learned how to make is sourdough bread.
What is something you do for yourself every day?
I love reading. Any time that I can get. And reading is such a luxury.
What did you want to be when you were growing up?
My parents were the owners and founders of E. Gruben's Transport so there were always big trucks around, and Cats and graders and loaders. For some reason I love the smell of diesel. I always thought I would like to be a mechanic. I ended up going to hairdressing school—almost the complete opposite.
What's something that always makes you laugh?
Indigenous, native humour. We just had a great big Indigenous gathering in Toronto for Nuit Blanche. And talk about laughter. Once Indigenous people get together, we just laugh all the time. It's hilarious. It's fun. Such a joy to come together and be so lighthearted and happy.
What's one food you can't resist?
Caribou. That's basically what we live on now. In my hometown, caribou is very plentiful. And we have all the fish that we want, many different types of fish because we're here in the Arctic Ocean. It's a coastal lifestyle. Our food is amazing. The whale—beluga whale—fish, caribou, moose. All the traditional foods, all the berries. Those are the foods that I can't live without. The food and the Inuvialuit are what keep me home.  
About the Distinguished Alumni Awards
Nominations for the 2024 awards are open now through Oct. 13, 2023.