Request a credit course mailing list
If you are not using Moodle, communicating with your students can be done through the use of a mailing list (Mailman) requested through My Page.
Before you start
You must have a NetLink-ID and password.
You must be designated as the instructor of the course in Banner. Please confirm with your department that this information has been forwarded to Scheduling. You cannot complete the selection process unless this has been completed.
All requests are completed through My Page.
Requesting your credit course mailing list
The following information provides step-by-step instructions for requesting a credit course mailing list (Mailman) through My Page. If you encounter problems using My Page, or requesting a mailing list, please contact the Computer Help Desk.

1. Login to My Page using your primary NetLink username and password.

2. Click the "My Courses" link located on the left-side menu bar. 
3. Under "Frequent instructional links", select the LMS (course link) setup.  This will forward you to the "Teaching with Technology" page.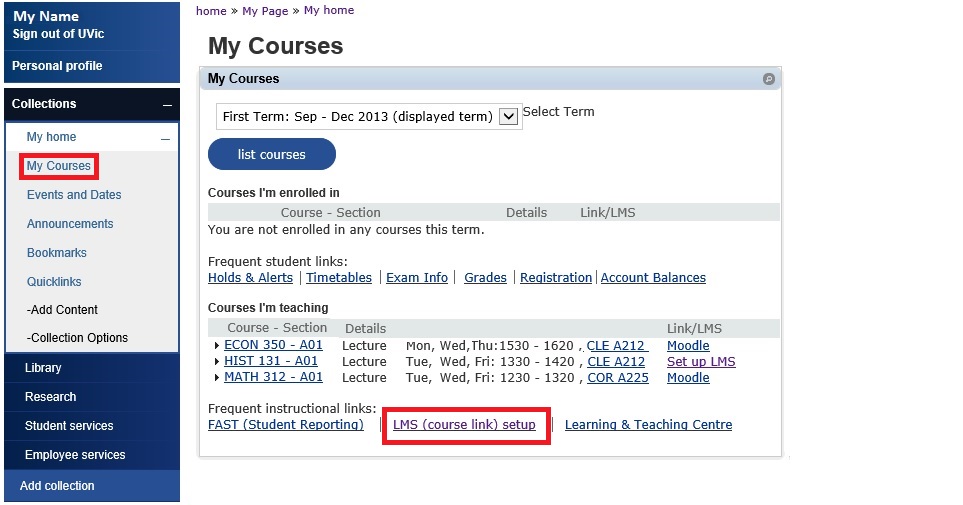 4. Now locate your Non-Moodle course(s) and under "Mailing List" select YES.  By default, your netlink ID email is identified as the mailing list owner in the first field.  If you have additional mailing users such as TAs or other instructors, please enter their emails into the second field.  When done, click Continue at the bottom of the page.


5. Another menu opens. Select LMS Setup.  If you cannot find it, contact the Computer Help Desk.