Echo360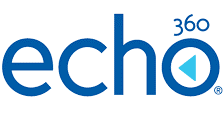 Using the Echo360 video hosting system you can easily upload, manage and integrate videos into your Brightspace course to deliver high quality video to any device. It allows for recording and sharing of in-person classes, improved accessibility of video content (e.g. automatic transcription), video feedback and assessments, and supports student engagement through polls and discussions.
Who can use this service?
Faculty
Staff
Active students
How do I request or access this service?
All current University of Victoria faculty, staff and active students have access to Echo360 as part of their Brightspace learning environment. If you require access to Brightspace please contact Learning and Teaching Support and Innovation (LTSI).
What is the cost for this service?
This service is available to users by accessing Brightspace courses that they have access to. Users will be able to access the Service 24 hours a day, 7 days a week, except during regular scheduled maintenance or an unplanned outage. You can be informed of service interruptions by subscribing to Informed.
How do I get help with this service?
Support for the Echo360 Service as a pedagogical tool is provided by Learning and Teaching Support and Innovation.