Remote Lab Access How To
Remote Lab Access Setup (Windows)
Before connecting to the remote computer lab service on your personal computer, ensure you:
have enrolled in UVic MFA;
are connected to the Internet;
know your NetLink ID and passphrase;
have been provisioned to access the service; and
have Microsoft Remote Desktop Connection (Windows) or Microsoft Remote Desktop (macOS) installed
Microsoft Remote Desktop Connection is a component of Microsoft Windows. Microsoft Remote Desktop is available from the Mac App Store. Microsoft Remote Desktop is also available for iOS and Android, but be advised that these configurations are not supported by UVic.
1) In your web browser, navigate to the remote lab portal.
2) Enter your NetLink ID and passphrase and click or tap Logon.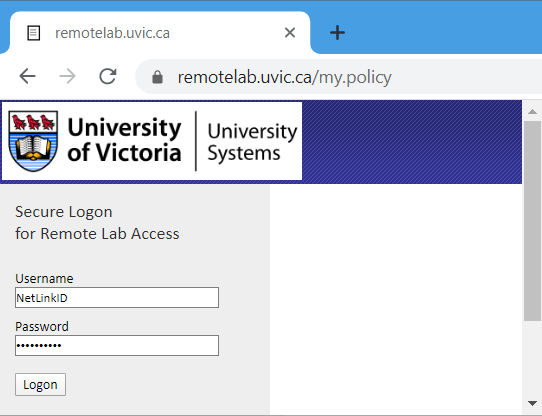 3) If you have not already authenticated with UVic Duo MFA, you will see a security prompt for Duo Push or your hardware token password.
4) Once you have successfully authenticated with Duo, you will be redirected to the remote lab page. Click on the name of the remote lab to log in to.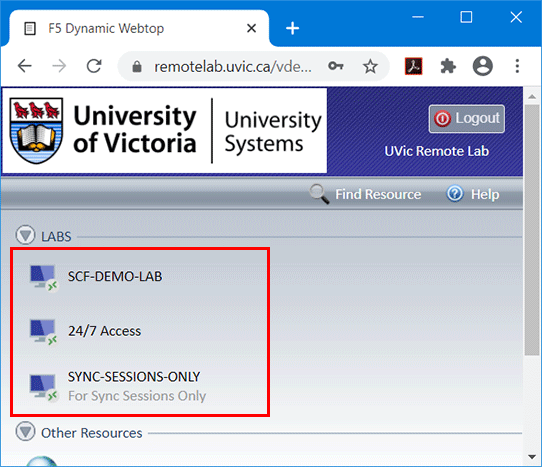 5) You may see a prompt asking if you want to open Microsoft Remote Desktop. If so, click or tap Allow. If your web browser downloads a .rdp file instead, open the file.
6) Your operating system may ask if you want to trust the publisher of the remote connection or warn you that a certificate can't be verified. To continue, click or tap Connect (Windows) or Continue (macOS).
7) You'll be prompted for a login name and passphrase once more. Use your UVic email address and NetLink ID passphrase and click or tap OK.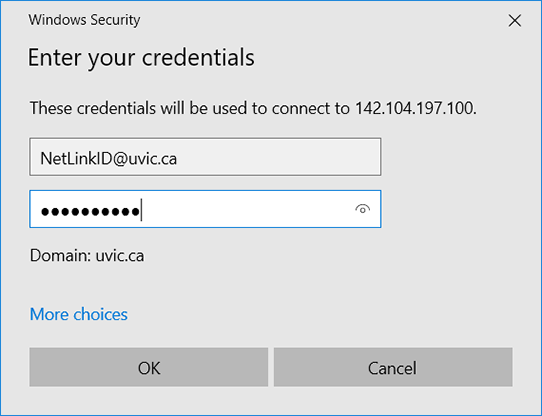 8) Your remote desktop session will open now. Click or tap OK to accept the terms of service and go to your desktop.

Usage tips
Video and graphics rendering performance tends to be poor in remote desktop sessions. We don't recommend using it for video conferencing, watching videos, or graphics-intensive apps.
The remote computer won't have access to your webcam, mics, or other USB devices. It will have access to your clipboard, so you can copy and paste between the remote desktop and other applications.
Your session will be automatically disconnected if it's idle for 15 minutes.