Honours program
The Geography Honours Program offers fourth year undergraduate students the opportunity to undertake a concentrated course of studies related specifically to their interests. For details, see the Honours Program Info Pack and Application Form.
Information for prospective students
Undergraduate students considering future graduate work will find that the Honours Program provides them with certain advantages in comparison with a Major degree program. The formulation of an Honours Thesis, with its associated skills development (e.g., literature review, field work, data collection, analysis, interpretation, writing and oral examination), affords invaluable research experience. Entry into many graduate schools is facilitated by completion of an Honours Program, which may also provide some advantages when competing for jobs.
Besides catering to prospective graduate students, the Honours Program also provides an intellectually stimulating and satisfying program for any undergraduate who wishes to pursue a unique opportunity to develop their in-depth knowledge of specific areas within geography. 
The Honours Program is undertaken over two consecutive terms. While January to August and May to December are possible, September to April is strongly recommended and generally produces the best experience for the majority of students. There is always the option to collect data and/or secure approval for ethics applications (if applicable) in the summer prior to commencing the program in consultation with your supervisor.
Applying
Students entering the Honours Program must secure a supervisor prior to acceptance in the program.
The application deadlines are the first day of classes in the semester.
Students interested in the Honours Program should refer to the current Academic Calendar and the Honours Program Info Pack and Application Form.  If you have questions, contact  Honours Advisor Shannon Fargey at 721-7342 or via email.
Current students
The Geography Honours Program Proposal Questionnaire must be completed and submitted to the Honours Advisor within the first half of the first term of study. A specific due date will be provided in Geog 499A.
The program is divided into two courses GEOG 499A (1.5 units) and GEOG 499B (1.5 units) that culminate in the completion of a supervised research project chosen by the student (the Honours Thesis) and presented and defended in an oral exam.
The main tasks of GEOG 499A are to develop the research proposal, begin the literature review, get the ethics review in place if necessary, and collect data. GEOG 499B may involve ongoing data collection, data analysis, writing, and defending the thesis.
See our comprehensive listing of all Geography degree programs.
Refer to the current UVic Academic Calendar for current Honours program course requirements.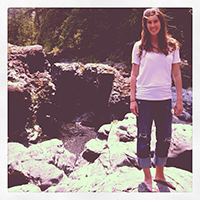 Georgia Clyde (2013)
Integrating the Regulation of Run-of-River Hydroelectric Development in British Columbia
Throughout the past decade, B.C. has experienced accelerated development of private-lead run-of-river hydroelectric projects. This rapid expansion of run-of-river projects has continued without a sufficient regulatory framework in place to evaluate potential cumulative impacts.
My honors research reviewed the regulations applicable to run-of-river development, evaluated the regulations' ability to consider cumulative impacts, and proposed a preferable way forward through a more comprehensive framework.
Representatives from the Environmental Assessment Office, environmental advocacy groups, and biologists from environmental organization were interviewed.
My results revealed an inadequate level of assessment regarding cumulative impacts and showed there is great potential for a strategic level assessment framework for run-of-river projects in BC.
My findings also pointed to an uncertain future and paralysis of BC Hydro.
---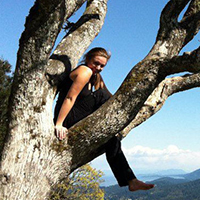 Kayla Cheeke (2013)
Defending the Caves at SPAET: Conflict and Ecological Citizenship in the Post-Democratic Growth Machine
My thesis, supervised by Dr. Cam Owens, was a case study about land-use conflict over the Bear Mountain Resort and Leigh Road Interchange projects located on and around SPAET, a mountain in Langford, BC.
I analyzed in-depth interviews and secondary research about the case using a "framing typology" framework developed by geographer Deborah Shmueli (2008).
Through this framework I argued that a post-democratic form of politics focused on growth characterized the political context for mobilizing ecological citizenship in the case of SPAET.
---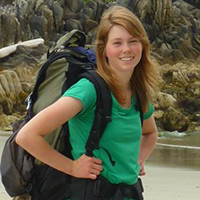 Rosie Child (2013)
Assesing the Motivations of Food and Trophy Hunters: Insight from Hunting Photographs
Under the direction of Dr. Chris Darimont, I examined the motivations of food and trophy hunters. 
In this inductive work, I analyzed ~10 000 photographs of hunters posing with killed prey that reveal unbiased descriptions of emotional states and motivations associated with hunting. 
These results yielded new insight into human predator behaviour and offer applied relevance to wildlife management.
---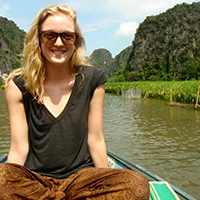 Frances Ankenmann (2013)
Integrating Dispersal Constraints into Invasive Species Distribution Modeling
Frances studied the large-scale invasion dynamics of the varnish clam (Nuttallia obscurata), a recently-introduced invasive clam species along the Pacific coast.
In particular, she modelled larval dispersal dynamics and coastal environmental suitability to develop predictions for geographic patterns of future spread.
| | |
| --- | --- |
| Allison, Graham | Planting the Seeds: Effective Practices of Agricultural and Nature Education in North American and European Cities |
| Buchanan, Claire | Local Expectations and Satisfaction of a Proposed Marine Protected Area Process: A Case Study of Saturna Island |
| Crawford, Colin | Performing Urban Futures: Screening Los Angeles |
| Diakun, Montanna | Seasonal Differences in Within-Day Movement Patterns Between Translocated and Resident Woodland Caribou (Rangifer tarandus caribou), and their Potential Implications for Translocation Success |
| Ebeling-Schuld, Alena | Assessing Hunter Satisfactions With Online Forum Data |
| Finnis, Stephen | Using in situ hyperspectral data to distinguish phytoplankton groups in Quatsino Sound, British Columbia |
| Gibbs, Peter | "We will never give up this place": What Motivated Community Organizers to Oppose the Woodfibre Liquefied Natural Gas Project in Squamish, British Columbia |
| Lewis, Kaley | An analysis of the translocation of woodland caribou (Rangifer tarandus caribou) by the British Columbia government for creating sustainable caribou populations in the southern Columbia Mountains |
| Muir, Travis | Competition - and Resource Dispersion Alter Temporal Niche: Sympatric Black and Grizzly Bears in Coastal British Columbia |
| Neufeld, Megan | Emotions in Environmental Assessment: A Feminist Critique of Environmental Planning |
| Nugent, Tim | Barriers Impeding Improved Transportation Integration in the Capital Regional District |
| Smith, Kiera | A Paleo-Ecological Investigation of Fire History in the Greater Victoria Water Supply Area and the Implications for Fire Management |