Events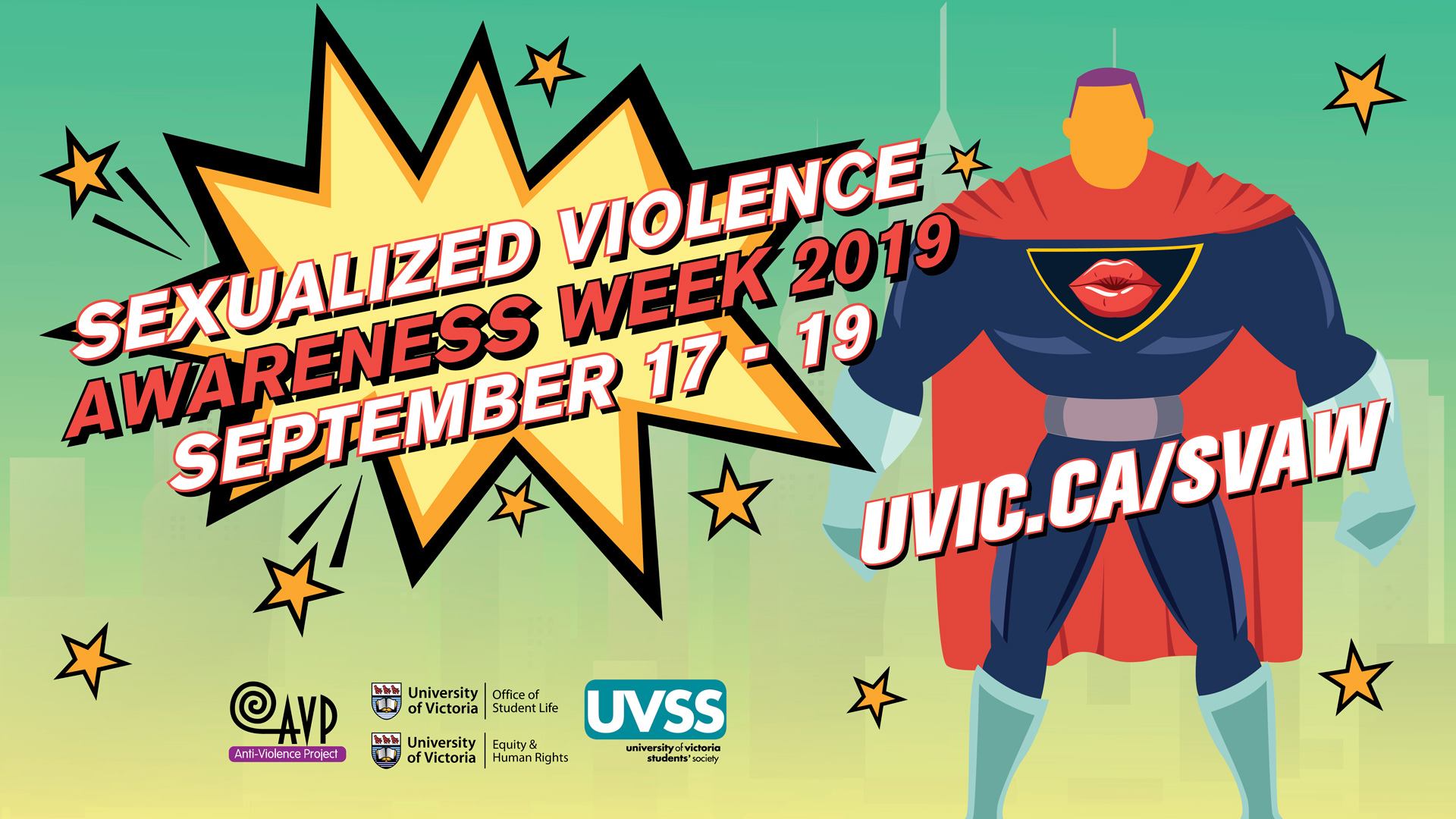 UVic is always actively working to raise awareness and prevent sexualized violence. This is your one-stop-shop for all UVic campus events focused on these efforts.
Sexualized Violence Awareness Week
UVic (Office of Student Life, Equity & Human Rights), the UVSS, and the Anti-Violence Project invite you to join us for a week of information, workshops, and events! Running from September 17-19, 2019, there will be a variety of opportunities for students and community members to engage in learning and support options on campus.
Tuesday, September 17
Information Booths, Games, and Refreshments
11:00am - 2:00pm | Petch Fountain
Peers Victoria Workshop
3:00pm - 4:00pm
Tools for Change Workshop
4:30pm - 7:30pm | Location Confirmed upon Registration
This workshop is for students who want to be a part of a culture shift at UVic. It is especially important and useful for those who have not taken sexualized violence prevention training in the past and/or those with want to learn more about UVic's work to prevent sexualized violence. The workshop is peer-led, highly interactive, and focused on learning skills. Topics include: what is sexualized violence, how to challenge attitudes and beliefs that lead to sexualized violence, practical tips and everyday language, how to ask for consent and receive a "no", and the resources and supports that UVic offers students, faculty, and staff.
Register at www.uvic.ca/sexualizedviolence/events/tools/
Wednesday, September 18
Information Booth and Activities
10:00am - 2:00pm | CARSA Lobby
Understanding Consent Culture Workshop
3:00pm - 5:00pm | Location Confirmed upon Registration
The Anti-Violence Project's consent workshop provides folks with the education, skills, and opportunity to understand and practice consent in a supportive and sex positive space. Topics include: consent (what it is, why it's required, how to practice it), gender-based violence, rape culture, sex positivity, power, and privilege. This free workshop is open to both students and community members.
Register at antiviolenceproject.org/workshops  
Men's Circle
6:00pm - 8:00pm | SUB B027
The Men's Circle at UVic is a space where men and masculine-identified folks, including (but not limited to!) transmasculine, genderqueer, and non-binary folks, can meet to: connect with others with similar and shared identities, learn about the systems and structures which uphold gender-based violence, share lived experiences and stories, and work on strategies for dismantling and challenging gender-based violence, dominant constructions of masculinity, and other structures of oppression on campus and in the larger community.
Thursday, September 20
Information Booths, Games, and Refreshments
11:00am - 2:00pm | Petch Fountain
Sexual Health and Education in Residence
Before the Burlesque Show | Residence
emPOWERment: An Evening of Burlesque
6:00pm - 8:00 pm | Vertigo in the SUB
Join us for a free burlesque performance and talk back by local performers, the Shade Burlesque Collective. Learn what empowerment can look like and how you can embody change. Light refreshments will be provided.
For more information, visit: https://www.facebook.com/events/641114999705897/