---
Graduate Student Colloquium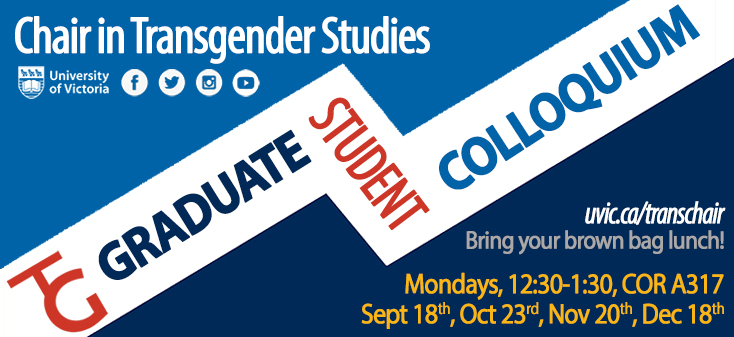 Come hear UVic graduate students talk about their trans-related research and discuss their processes, challenges, and preliminary results.  
When: 12:30pm-1:30pm every 3rd Monday of the month (Sept 18th, Oct 23rd, Nov 20th, Dec 18th).
Where: Cornett A317
Please attend! Bring your colleagues and brown bag lunch too!  If you are interested in presenting, contact us.
Kelsey Rounds
November 20th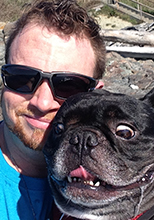 Kelsey Rounds is pursuing a PhD in Nursing at the University of Victoria. Their current research focus is transgender elders and resilience, using a lens of social justice and intersectionality. Kelsey's goal is to conduct research that makes a positive impact for LGBTQ communities, as well as helping people who experience multiple oppressions by giving voice to the intersectional experience in ways accessible to program designers and policymakers.
My research will explore factors that contribute to trans elders' ability to survive and thrive throughout their life span using Narrative Inquiry with a strengths-based and intersectional lens and focusing on aspects of experience that achieve positive outcomes for trans people. Through these stories, my research aims to provide tangible benefits to current and future trans elders as they navigate the aging process in various healthcare and community models. My research aims are 1) to inform multidisciplinary practice and health policy to create positive benefit for current trans elders and help to redress inequities in care, 2) to witness the wisdom and experience of trans elders, and 3) to preserve the experience of trans elders to contribute to trans history.
Audrey Wolfe
December 18th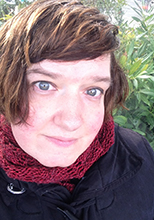 My research explores how LGBTQ and gender-fluid youth make sense of their experiences with sexualized and intimate partner violence. My inquiry is situated within the West Coast of Canada and the United States during the 1990s when feminist theories about violence and public discourses about queerness were shifting. This (auto)ethnographic research will include analyzing zines and pieces of personal narrative text to access distinct aspects of survival that do not yet exist within the current literature upheld by the academic world.
The purpose of my research is to further the knowledge and understanding of young LGBTQ people's experience with sexualized and intimate violence and how they make sense of those experiences. Using an autoethnograhic methodology, I plan to draw evidence from my personal narrative stories and my poetry journals, including those that I kept while living with an abusive partner when I was twenty-one and twenty-two years old. I hope to contribute to a body of knowledge regarding young people's experience of violence.
Nicola Temmel
2018
Nicola Temmel has a BA in Criminology from Carleton University and is currently a University of Victoria Sociology MA Candidate under Aaron Devor's supervision. Nicola's professional background focuses on researching, preventing, and responding to violence against women and children. Through her six years of experience working as a Transition House Women's Counsellor, Nicola developed an interest in understanding how women-only organizations can better meet the needs of trans women accessing their services. As such, her MA thesis focuses on how transition house women's counsellors respond to trans women accessing residential support.
I will be presenting on my thesis topic. The title of my project is "Trans-Forming Women's Shelters: Making Transition Houses Safe and Accessible to Trans Women". Transition houses offer short-term emergency shelter to women and children affected by violence and abuse. My academic and professional background focuses on understanding and addressing gender-based violence through an intersectional feminist lens. Drawing on my 7 years experience working as a transition house counsellor, my research focuses on better understanding the challenges, opportunities, and insights experienced by transition house counsellors who have worked with trans women.The findings of this qualitative study could contribute to improvements in trans inclusive practices of transition house counsellors and result in practical recommendations to social services providers in relation to better meeting the needs of trans women.
Past Speakers
The Chair in Transgender Studies presents:
Kate Bornstein
"On Men, Women and the Rest of Us"
Saturday, October 21st, 2017, 7:30pm (doors open at 6:45pm).
Hickman Building 105 - UVic
---
Entrance by donation: Suggested $20 at door (no RSVP needed). No one will be turned away for lack of funds! All donations will be matched by the Tawani Foundation. Check out our Facebook event and tell us you're coming! Doors open at 6:45pm.
Ways to give: Cash (preferred), credit card (Visa/MC/AE), cheques made out to "University of Victoria" with memo "Chair in Transgender Studies."
$50 donation or more: Help to subsidize those who cannot pay. Includes an intimate pre-show Green Room reception with Kate (6:30-7:00pm Hickman Building 110).  All donations will be matched by the Tawani Foundation. RSVP to transchair@uvic.ca. Your donation is welcome at the door or you can donate now (your emailed receipt is your ticket to the reception).   
Can't attend but still want to support? Donate now so that more events like this can happen! All donations will be matched by the Tawani Foundation.
Come spend a cosy evening with your very own Auntie Kate, who promises you'll laugh, you'll cry, and you'll gasp out loud as she speaks about the last thirty years of her life as a nonbinary identified queer trans dyke. This is an evening of her most favorite heartwarming anecdotes, touching and sometimes painful personal trials and tribulations, and inspiring tales of putting the world to rights. Her performance is at once deeply personal and universally acceptable, weaving  together stand-up comedy, theatrical monologues, audience conversation, and heart-to-heart storytelling to convey the experience of her long, rich nonbinary trans life. And just to show how much she loves you, every audience member will leave the theater with the gift of a Get Out of Hell Free card.  
---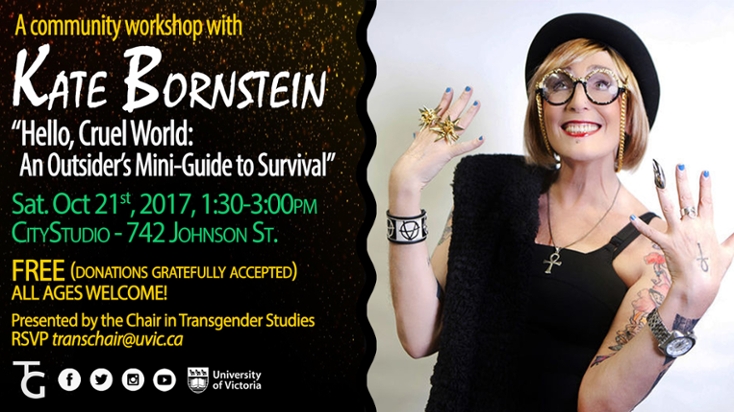 "Hello, Cruel World:
An Outsider's Mini-Guide to Survival"
Saturday, October 21st, 2017, 1:30-3:00pm
---
FREE (donations gratefully accepted)!
Ages 11+ are welcome! Check out our Facebook event! Limited seating. To ensure your space, please RSVP to transchair@uvic.ca.
Can't attend but still want to support? DONATE NOW so that more events like this can happen! All donations will be matched by the Tawani Foundation.
Sometimes, whatever it is that gives you the most joy, pleasure or relief also gets you into the deepest trouble—especially when you try to explain it to other people. Like when you love someone you're not supposed to love. Or when the way you express yourself makes other people queasy. As harmless as you feel you're being, people may still think you're bad, wrong or immoral. There are far too many people who are in that position in life, and it goes far beyond simply sex and gender. This workshop is 90 minutes of me talking with you about doing anything it takes to make your life more worth living. Anything. With the single rule: Don't be mean. I love doing this workshop. - Kate Bornstein
Speaker Series
Elias Capello
Chair in Transgender Studies Research Fellow
DIY (Do-It-Yourself) Trans on the Bayou

The talk will discuss and analyze the narratives from interview data of 11 transgender people from Louisiana. In particular, I will discuss the idea of "self-made identities" and how they are culturally and socially influenced by local economic and medical politics.
When: Tuesday, July 18th, 12pm-1pm. Bring your colleagues and brown bag lunch!
Where: Hickman Building (HHD) room 120.
Bio: Elias is a medical anthropologist who is examining materials in the Transgender Archives to better understand the linguistic patterns of how transgender people disseminate knowledge about their bodies and health in order to eliminate the gap in medical literature. The linguistic patterns of how transgender people communicate about their bodies will be compared with the research papers in the archives, to compare the two knowledge forms. Elias focuses on themes of embodiment, dissemination of knowledge about bodies and health, and resilience.
Graduate Student Colloquium
Alexie Glover
September 18th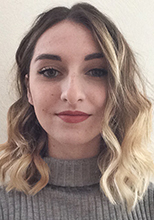 "Redressing History: Cross-Dressing, Non-Binary Gender Identity, and Fantasia Fair"
Alexie Glover is a second-year MA candidate at the University of Victoria. She studies trans and gender non-conforming history in North America, with a particular focus on the late twentieth century. She also works as an assistant editor for Notches: (re)marks on the history of sexuality.
How can historians write about gender without dichotomizing? My paper analyzes the historicization of cross-dressing and non-binary gender identities in the United States. I argue that the emerging field of transgender history has limited the relevance of cross-dressing to the pre-gay liberation era. My paper examines a unique community of cross-dressers at Fantasia Fair, the longest-running annual gender conference in the 'transgender world'.  These cross-dressers conceptualized both their embodied sex and gender identities in ways that do not conform to binary understandings of gender and therefore force us to question the apparently stable, transhistorical nature of male-female gender binaries that historians often impose on the past. Furthermore, these people push historians to see cross-dressing as a recent historical category, as opposed to a practice that died out with increased access to hormones and sex re-assignment procedures. By working historiographically, I challenge an emerging teleological trajectory that relegates deviant bodies to the past—a teleology which situates non-binary bodies as the starting point of a trajectory towards full gender transition, which implies an adherence to the alleged gender binary. The cross-dressers of Fantasia Fair prove that this is simply not the case.
Mattie Walker
October 23rd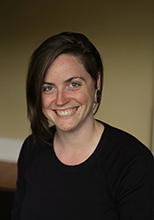 Mattie Walker is a student in the final stages of the Master of Arts program in the School of Child and Youth Care.  Mattie currently works with children and youth who have experienced sexualized and gender-based trauma, abuse, and/or violence.  
My research explores how young people utilize, learn, create, and engage with language regarding diverse experiences of gender including trans identities. As a Child and Youth Care practitioner, I believe that a stronger comprehension of how young people utilize language and engage in terminology creation within their social contexts can enable researchers and practitioners within the helping fields to be better equipped to help young people navigate the challenges that they may face. My Masters' research explores how young people talk about gender online. This study provides a descriptive exploration into the many ways language is being utilized by young people to shape, evoke, and construct the diverse understandings of what gender means in their lives by analyzing data gathered through the social media platform, Tumblr. This inquiry shows that these young people create unique terminology to describe, discuss, define and share their engagement with gender categories and identities. The findings of this study suggest that a creative, nuanced, and flexible understanding of the ways in which the language and terminology shape and influences how gender is lived and then discussed within specific contexts both on- and offline, will greatly assist practitioners to support youth with this highly complex topic. I believe that exploring how young people utilize and create language regarding diverse gender experiences and transgender experiences as self-advocacy and self-empowerment will continue to add to depth of understanding of gender in order to influence policy and practice within the helping fields.