About us
Our Vision
A world where Trans+ and all gender-diverse people can thrive free from the limitations of gender and intersecting oppressions.
---
Our Mission
Provide inspiration and hope to Trans+ people and our allies everywhere. Contribute to the development and dissemination of accurate knowledge about Trans+ people. Help to build strong and resilient Trans+ social and cultural communities.
---
Our Commitment
We are committed to applying an intersectional lens in our work to advance reconciliation, racial justice, equity, and inclusion for all.
---
Dr. Aaron Devor - current Chair in Transgender Studies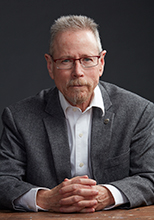 Dr. Aaron Devor, PhD, FSSSS, FSTLHE, is an internationally recognized leader in Transgender Studies who has been studying and teaching about transgender topics since the early 1980s. He established and holds the world's first Chair in Transgender Studies; initiated and hosts the international, interdisciplinary Moving Trans History Forward conferences; and founded and is the subject matter expert for the world's largest Transgender Archives. He has published widely on transgender topics, including as an author of four books and editor of one.
His 1989 book,  Gender Blending: Confronting the Limits of Duality, was the first book to describe what would now be called nonbinary genders. His 1997, 720-page classic, FTM: Female-to-Male Transsexuals in Society, was the second-ever book about trans men and the first based on non-clinical field research. Other influential works includes a widely-cited model of transgender identity development (2004) and the Lambda-Literary-Award-nominee The Transgender Archives: Foundations for the Future (2014) about the Transgender Archives at the University of Victoria. He has also been an author of versions of the World Professional Association for Transgender Health's (WPATH) Standards of Care since 1999 (versions 6, 7, & 8), and  guided the translation of version 7 into world languages.
Devor's opinions are frequently sought by the media, he has delivered more than 40 keynote and plenary addresses to audiences around the world, and he has received numerous awards for his research and advocacy work. He is a 3M national-award-winning teacher, a Fellow of the Society for the Scientific Study of Sexuality, and a member of the International Academy of Sex Research. Dr. Devor is a former Dean of Graduate Studies (2002-2012), and a professor of Sociology, at the University of Victoria, in British Columbia, Canada.
Chair in Transgender Studies renewed for a second five-year term

The University of Victoria has approved a second five-years (2021-2025) for the Chair in Transgender Studies and reappointed Aaron Devor to the position. The initial five years were a time of building a first-in-the-world Chair from scratch. The next five years will be devoted to building on our strengths. The Chair, supported by an incredible team, will continue to build the field of Transgender Studies through research, publishing, teaching, mentoring, providing scholarships and fellowships, hosting visiting scholars, educating the public, advising policy makers, producing arts, cultural, and social events, and by organizing and hosting the Moving Trans History Forward conferences. One change that you will see is that, for internal bureaucratic reasons, the University Librarian has decided to retire the Chair's title as Academic Director of the Transgender Archives. Rest assured, however, that nothing else has changed. Everyone on the Chair's team will continue to do everything that we did before to make the Transgender Archives the incredible world-class resource that has made all of us proud. We look forward to serving you, growing with you, and enjoying your support over the next five years.
Michael Radmacher - Administrative Officer 
Michael is a librarian and a member of the queer community who originates from Treaty 4 territory in Saskatchewan.  He relocated to UVic in 2009 to complete his MA in Political Science.  In 2010 he completed his award-winning thesis and joined UVic Libraries where he began volunteering for the Transgender Archives starting in 2014. In 2016, Michael completed his Masters of Library and Information Science degree.
Michael has been with the Chair in Transgender Studies since its launch in 2016, and serves as the Administrative Officer.
Email: mikerad@uvic.ca
---
Jaye Watts - Office Assistant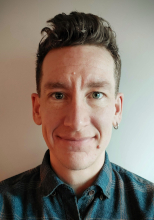 Jaye (he/they) received his Bachelor of Arts degree from the University of Victoria in 2017, with a major in Sociology and a minor in Technology and Society. He also holds a Diploma in Professional Recording Arts from the Art Institute of Vancouver.

Over the course of their career, Jaye has managed to merge their academic background with their more creative side, enabling them to serve the community by using the arts to bring about meaningful social change. From hosting queer youth open mics, to screening short films in high schools to facilitate dialogue around issues facing the LGBTQ community, Jaye is always looking for ways to reach people on a deeper level.