UVIC in the Anthropocene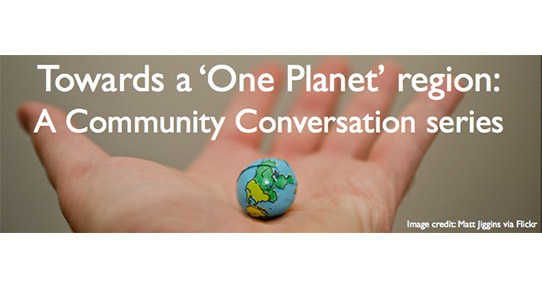 UVIC in the Anthropocene is a new working group housed at the Centre for Global Studies and aims to engage individuals from across campus and faculties
We are changing the Earth's ecosystems in profound ways that will end up harming us. So we face the challenge of transforming our society to live within the constraints of the one small planet that is our home. We will need to reduce our ecological footprint by 75–80 percent to the equivalent of one planet's worth of consumption and waste production, while maintaining a long life in good health for all our citizens. Building a more livable world that is better for all will mean changing everything we do!
In the face of this important challenge, a group of UVic faculty and community organisations have set up this series of engaging Community Conversations to explore some key issues and the challenge of how to get to a One Planet way of life. We believe this will be of interest to community associations, environmental and social justice groups, local governments, faith organizations, green businesses, urban planners and architects, the arts and culture community, health professionals and many others.
We have launched a Community Conversation Series at the Robert Bateman Centre, 470 Belleville St in Victoria- please view the conversation website here.
View poster and full details here.
We hope you will join community and academic presenters in this series of free events exploring the challenge, culminating in a UVic IdeaFest event on March 11th. 
For further information on UVic in the Anthropocene and the Conversation Series please contact Trevor Hancock – Thancock@uvic.ca
Supported by UVic, the CRD, the Robert Bateman Centre, the BC Sustainable Energy Association and individual donors