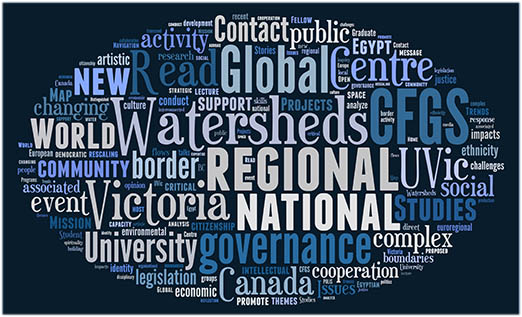 Mission
The CFGS is committed to fostering reflection on the complex array of social forces associated with an increasingly interconnected world characterized by new forms of economic activity, artistic production, politics, media, nationalism, ethnicity, spirituality and community that increasingly transcend local, national and regional boundaries.
CFGS research considers the nexus of the local and global—how local concerns have global effects and how global issues manifest at the  local level. Our fellows and researchers are exploring issues vital to people, places, policy and the planet and are making an impact  around the world. We have specific interests in the following areas:
Borders and migration in the 21st century
Environmental and social policy, and ecological governance with a strong emphasis on water
Indigeneity and reconciliation from global and local perspectives
Social justice and participatory democracy
Governance as an integrated process at and across scales
Mandate
Since its formal inception in 1998 The Centre for Global Studies (CFGS) at the University of Victoria has had a mandate to conduct collaborative, multi-disciplinary and cross-regional inquiry into the impacts of globalization. The centre's activities in Victoria, Canada, and abroad are designed to promote critical citizenship in a complex and rapidly changing global environment. CFGS research and public engagement build upon the University of Victoria's intellectual expertise in four core themes: governance, environmental challenges, social justice, and culture and identity.

Click here to download our brochure (pdf).