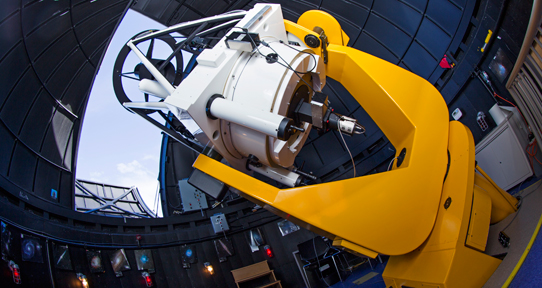 Wednesday Night Open Houses
You say you don't know a red dwarf from a black hole? A giant star from a globular cluster? Here's your chance to discover everything you've wanted to know about the sky. The UVic Observatory Open House program for this academic year has resumed in-person and will continue weekly till April 2022. Given the continued Covid restrictions, we have been advised to follow appropriate health guidelines, which are listed below. Each week, we will have discussions of astronomy headlines, a Q&A session, and viewing through the 0.2m Celestron and the 0.8m DFM telescopes (one of the largest optical telescopes on any Canadian university campus), if sky conditions permit.
Health guidelines for attending the UVic Open House
1. Do a daily health self-assessment. 
2. If you have any symptoms from the daily health self-assessment, please stay at home and consult your physician.
3. At the open house entrance, present your proof of vaccination and a photo ID (Government photo ID or UVic One Card accepted)
4. Wear a mask in all indoor spaces
5. Avoid crowding indoors/ at the telescopes
6. No food or drinks are permitted. For drinking water, bring your water bottle and step outside (on the open roof) to drink.
7. These UVic stipulated guidelines will apply till further notice from the UVic Occupational Health and Safety office following the BC Public Health Officer orders.
Please check the following links for further info
UVic Communicable Disease Plan:
https://www.uvic.ca/ohse/returntocampus/communicable-disease-plan/index.php
Proof of Vaccination UVic
https://www.uvic.ca/return-to-campus/health-safety/vaccinations/index.php#ipn-proof-of-vaccination
Vaccination Check at CARSA
https://vikesrec.ca/sports/2021/9/10/vaccination.aspx​
When: Wednesdays
7:30-9:30 p.m. September-April (except for the last two weeks of December)
8:30-10:30 p.m. May-August
Where: 5th floor Bob Wright Centre
Admission is free
Rain or shine
For further information, please contact the Department of Physics and Astronomy at 250-721-7700.
---
Daytime Telescope Tours
In addition to our regular Wednesday night open houses, we also invite groups of up to twenty to visit our dome facility for a daytime tour April through July. We host one-hour tours of our telescope facilities for school groups as well as other groups of all ages.
Each tour is broken into 3 sections:
Ask an astronomer question/answer period. Your students will be able to interact with professional astronomers, asking either prepared or "on the spot" questions relating to the cosmos. No topic is too big, we have had many fruitful discussions about life in the universe, black holes, the formation of stars and planets, technology and instrumentation, and much more!
If the sun is out that day, we can make use of our solar telescope. This telescope is designed to look directly at the sun, projecting an image for everyone to see. We can pick out sunspots, talk about where sunspots come from, and even light pencils on fire with the power of the sun. If the sky is not clear that day, we have an array of telescopes which we use to teach about optics and how we gather information from space.
The highlight is a tour of our new 32 inch telescope - the largest on any Canadian university campus! In this section, visitors get to press all the buttons to move our massive telescope and point it toward Venus. They will spin the dome on the roof, experience the technology hands-on, and learn about our sister planet.
The tours are free but space is limited.  Tours are booked through the UVic Speakers Bureau from September to April and by emailing directly to observatory@uvic.ca during the summer (May-August). We are proud to serve the Victoria community and especially encourage schools to come and visit.
---
Special Events
When eclipses, comets, transits or other special events happen in the sky, we love to invite the community to come and experience them with us!  No special events are planned right now, but we'll post the details here when the next one happens.