Frequently asked questions
Copiers:
Copiers can only be leased. The cost for the copier itself is free and the click rate is 0.0186 cents for B&W and 0.0549 for colour. Additional accessories (Paper trays, finishers, fax punches etc) are a monthly rental cost.
Printers:
Printers can only be purchased. They have a variable click rate depending on the model you choose. Please visit the printer tab to review the options and prices.
If you need any billing changes (ie. FAST account change, email change, name update) please email uvicadmin@ricoh.ca for the changes you require.
If your printer/copier is networked your Ricoh device is equipped with software that will automatically alert Ricoh to send you a new toner cartridge once you replace the depleated toner. Upon doing this your toner contact will recieve an email shortly after the toner has shipped. It usually takes 2-3 days for a new toner to arrive.
If you anticipate you'll need more toner or have a non-networked Rioch printer/copier you can also email canadasupplies@ricoh.ca or call 1-800-267-9469 to place an order manually.
The first step is to call your desktop support person, if they can't diagnose the issue you'll need to call the number on your machine to get a Ricoh tech to stop by. Be sure to have your copiers serial number ready. They can usually be there to help within a few hours.
In the event you or your staff will need aditional training you can email
sguldin@uvic.ca
to setup an appointment. Please keep in mind training may take a few days depending on the availibility of the trainer.
Its important that you inform Ricoh when you decide to; move a copier to another building/room, move a copier to another department or change room numbers. If you need to do this please fill out this form and email Tapinder from Ricoh.
If you're unable to move the printer/copier yourself you'll have to submit a FMIS move request, the move costs would be the responsibility of the department removing or accepting the copier.
Step 1: Visit www.myricoh.ca and log into your account. If you do not have an account simply set one up by clicking on "new user". Once you've logged in click on "meter reads management".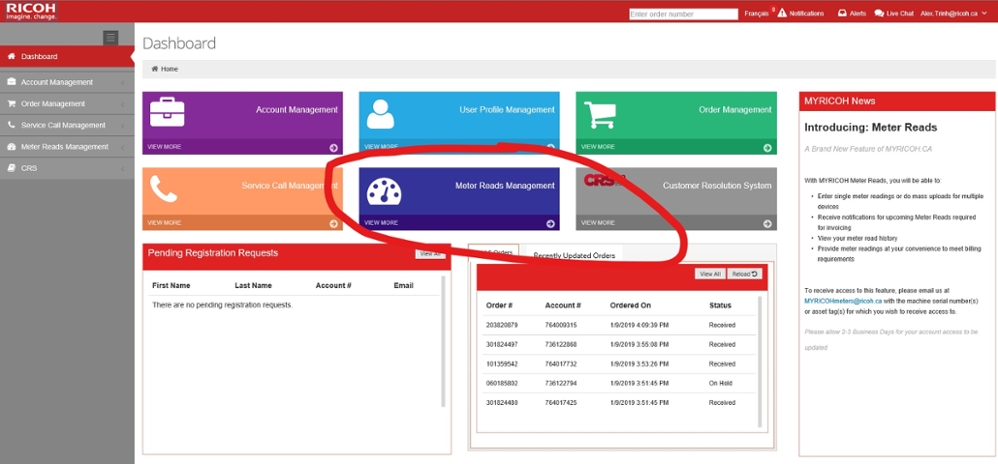 Step 2: Click on "meter reads submission"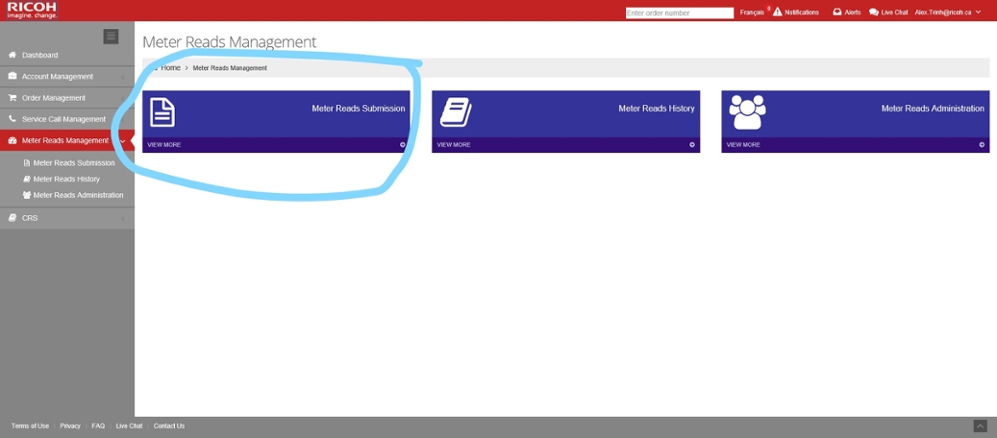 Step 3: Enter the serial number for the printer/copier and then input the total count for B&W and Colour.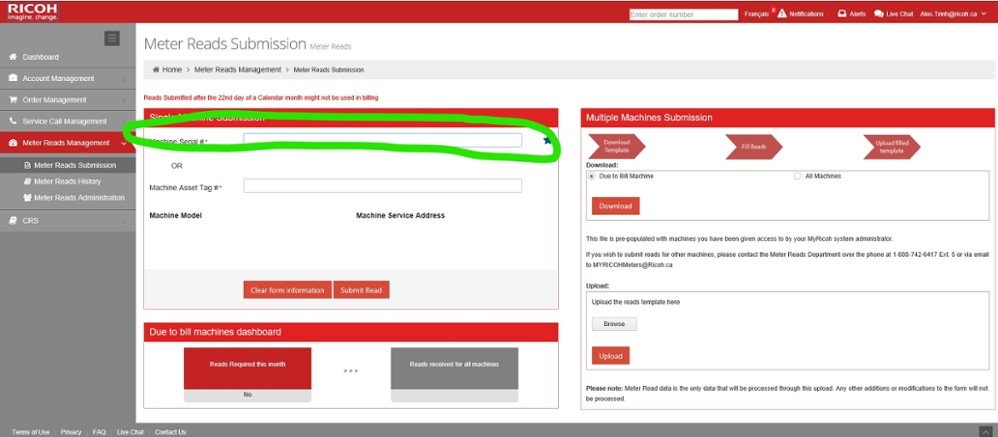 Returns of printers and copiers are very tricky. If you've purchased a printer its considered an outright purchase, you own the device. The only thing that Printing Services can do is add you to a swap list. The next time a department asks for the same model and accessories we can put you in touch with them to arrange a swap. Transfer of funds will be up to the two parities involved.
For copiers, they're a 5 year commmitment/lease. The same strategy is applied where Printing Services can add you to a swap list. When another department requests the same copier and accessories we can arrange a swap of the device and billing/location infomation.
The downloadable PDF below explains best practice for cleaning your Ricoh touch panel.