Digital Storefront
Please note that Printing Services has updated our online ordering site. In order to gain access to the new site please visit www.uvic.ca/print/digitalstorefront/nonregistered/index.php and fill in all required fields.
Visit http://uvicprintingservices.myprintdesk.net/DSF/login.aspx? to access and order your personal UVic Edge Stationery or place any printing order.
If you require a quote please download the printing requisition or wide format requisition fill out all required fields and email it to printing@uvic.ca.
UVic Edge business cards are now available with your departmental block colour on the back. Visit our online ordering site to place your order today. If you're not signed up for online order please visit our registration page and fill in all fields.
The Edge is here! Get your new UVIC Edge stationery available through our online ordering site. Templates currently include business cards and letterheads, with envelopes coming soon.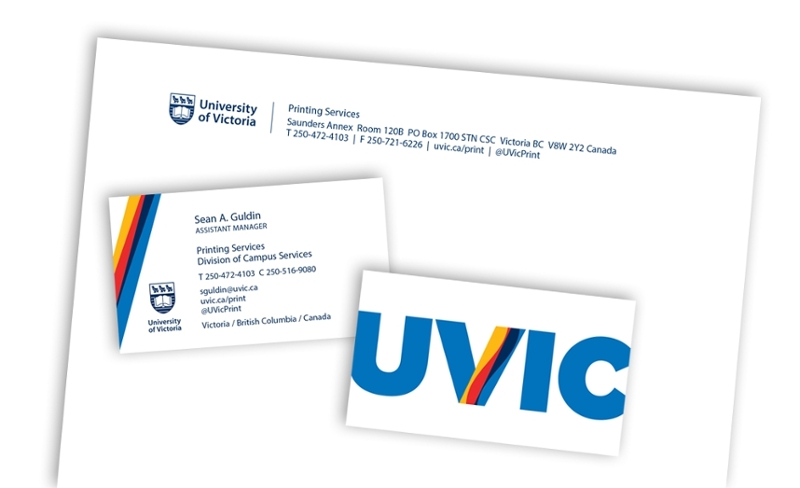 Printing Services is proud to offer braille printing. This feature is offered through our online ordering site. Simply type out your information on the business card of your choice, then download the PDF when completed.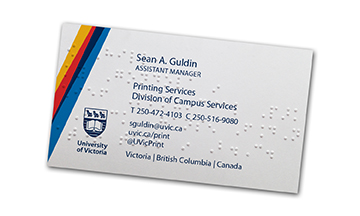 Next navigate to the braille business card product and fill in your personal information that you require in braille. Please read over the instructions and character limits. Lastly attach your original business card you downloaded earlier and we will pair the business card with the braille.