UVic services and supports this summer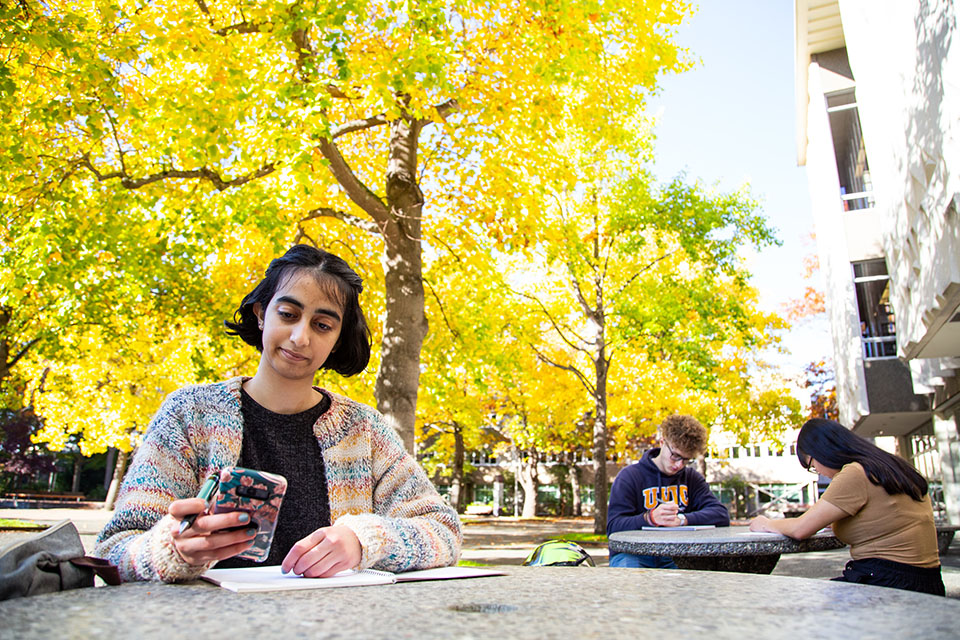 Summer term has started! Whether you're winding down or gearing up, here are a few things to keep in mind at UVic this summer.
Academics
There are many virtual supports and services available to help you with your studying this summer.
The Learning Strategies Program offers no-fee academic learning supports for all students.
The Learning Assistance Program from the Centre for Accessible Learning (CAL), offers a fee-based tutor and learning strategies program for all students (including subject specific tutoring). Students registered with CAL may be eligible to receive funding to cover the costs.
Book a virtual appointment with the Centre for Academic Communication for feedback on assignments and support with academic writing, reading, presentations and public speaking throughout this summer.
You'll find virtual help with math and statistics at the Math & Stats Assistance Centre. Summer hours are:
Monday 11 a.m. – 1 p.m.
Tuesday 3:30 p.m. – 5:30 p.m.
Wednesday 11:30 a.m. – 1:30 p.m.
Thursday 11:30 a.m. – 1:30 p.m.
Graduate students can take advantage of a series of workshops and events throughout the summer too.
Study space on campus
Find a quiet place to study on campus with our bookable and drop-in study spaces. Note that the available timeslots at the Bibliocafé have been adjusted slightly for the summer. Bookable study spaces include private rooms and space in computer labs, but be sure to book ahead as spaces fill up quickly.
Food services
The MOD is now closed for the quieter summer months at UVic, but great food can still be found on campus.
Mystic Market is open Monday-Friday, 8 a.m. to 3 p.m. You'll find coffee, tea, hot flatbreads and paninis, snacks and more at the Boardwalk Café. Grab-and-go foods like sandwiches, snacks and sushi as well as convenience items are available at the General Store.
Starbucks at the Bookstore also has some great food options.
Student Life workshops
Do you want to create safer, caring, and consensual relationships in your life and in the UVic community, online and in person? Register for Bringing in the Bystander and Tools for Change this summer!
The workshops are free, run by students for students, and offer co-curricular credit. Participants will also receive a certificate that you can put on your resume and are entered into a draw for $250 tuition credit. 
Tools for Change
Gain a deep understanding of what sexualized violence is and how to challenge the attitudes and beliefs that lead to sexualized violence and learn practical tips, and everyday language, to meaningfully ask for consent, to say no to an invitation or offer, and also how to hear no (which can be hard!).
Bringing in the Bystander
Learn valuable skills to intervene in situations where harassment or sexualized violence potentially could occur. Thousands of UVic students have taken the workshop over the past few years and have said they have appreciated learning new skills in such a supportive environment.
Questions? Email svptraining@uvic.ca.
Health & wellness
SupportConnect is available 24/7 for free, confidential mental health support for UVic students. You can also meet with a counsellor, doctor, nurse or spiritual care provider and check out the range of groups, workshops and events offered through the Student Wellness Centre.
Don't forget CARSA and McKinnon gym are also open so you can burn off a little steam in between study sessions. You'll find a variety of outdoor fitness options this summer, including outdoor yoga. Not on campus? Workout from anywhere, anytime with your favorite CARSA instructors with a virtual fitness membership. All you need is 30-minutes, a little bit of space and a computer, phone or tablet.
As always, stay up-to-date with UVic's response to COVID-19 and please continue to follow current safety measures, including limiting your in-person contacts, staying at home if you have any symptoms, maintaining physical distance, wearing masks and washing your hands often.
International students
Our International Student Advisers (ISAs) are regulated immigration practitioners who can provide advice about Canadian immigration documents (e.g. study permit). Contact issinfo@uvic.ca or +1 250 721 6361 to book a virtual appointment with an ISA. They can also help by email.  Starting June 1, 2021, ISAs will be available for same-day virtual drop-in hours, weekdays between 2 p.m. and 4 p.m. (PT).
If you haven't already applied for a study permit, you will need one to study in Canada. Even if you are starting your program online outside of Canada, we recommend applying for your study permit as soon as possible because the application process can take weeks or even months.
If you have questions about working in Canada over the summer, please reach out to an ISA. We can help you make sure you're eligible to work, before you find a job.
Want to stay connected over the summer? Join other students and meet new friends through the UVic Global Community. You can also join our Facebook group and subscribe to our newsletter.
Photos
In this story
Keywords: student life