Studying supports and services for the end of term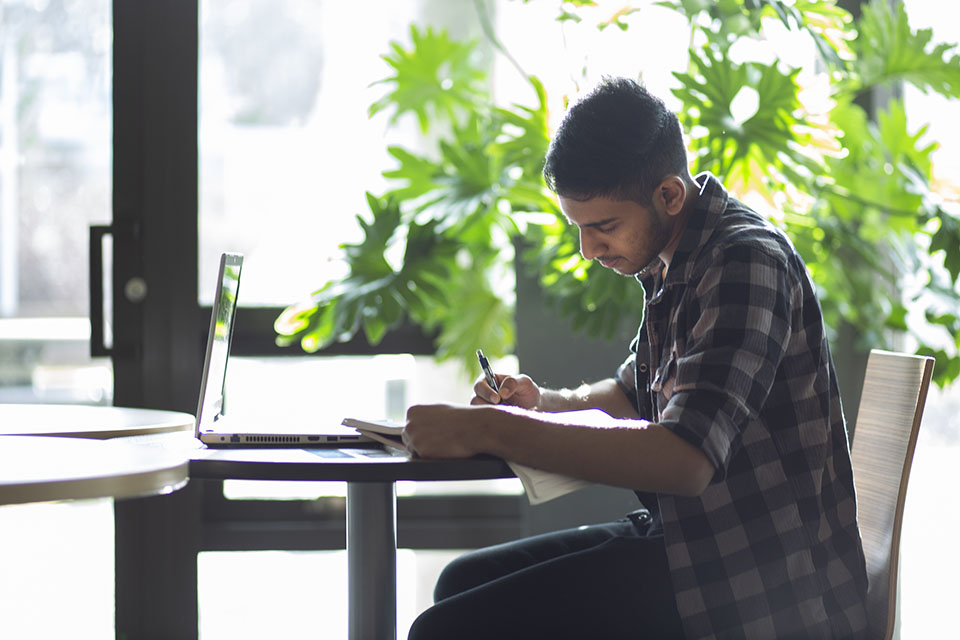 The final exam period for Fall 2021 runs Dec. 9-20, and will include exams on Sunday, Dec. 19. The university remains open during this time.
We've put together a list of UVic supports and resources to help you complete the term successfully.
Exam schedule & format
As of Dec. 13, UVic is not offering in-person exams. Alternate formats will be made available. Your instructors will contact you through Brightspace or by email to indicate how your assessments have changed. 
Make sure you have the most up to date information about upcoming exams and confirm the exam delivery details with your instructor(s). Please speak to your instructor(s) if you have any questions about your exam.
Get support for Fall 2021 exams
---
Study & prepare
The Learning Assistance Program has tutors and strategists who get to know you and help you develop study skills that build on your strengths. 
The learning strategists in the Division of Learning and Teaching Support and Innovation (LTSI) can give you study tips and one-on-one support to develop your skills in anxiety reduction, studying, self-management, writing and more. Check out the great study tips on LearnAnywhere too.
Plus, it's never the wrong time to connect with an adviser to make sure you're on the right track towards completing your degree.
---
Computer access and support
If you run into technical issues while you're studying or during an exam, the Computer Help Desk can help!  During the final exam period, the Help Desk is open 8 a.m. – 11 p.m. Monday to Friday and 10 a.m. – 10 p.m. on Saturday and Sunday.  You can reach them by phone or email or by visiting one of their locations.
The Computer Help Desk has drop in access to PC and Mac computers, as well as friendly and capable staff. 
---
Space on campus for studying and online exams
We have set aside some quiet spaces across campus so you can focus on your online exam with fewer distractions.
Classrooms
Drop in at one of the following locations for quiet study and/or exam space:
Clearihue A-wing: A208, A216
Clearihue C-wing: C108, C109, C110, C111, C112, C113, C115
MacLaurin D-wing: D110 & D116
Please respect the need for peace and quiet in these rooms and, of course, follow all COVID-19 precautions. UVic ambassadors will be on hand to help maintain COVID-19 rules.
Libraries
Eight study rooms have been set aside in the libraries for students who need a space to take online exams. These rooms can be occupied by a single individual. All other study room guidelines apply.
Of course, you'll also find lots of quiet study space throughout the libraries, many with charging outlets too!  
Collaboration rooms
You can also book a collaboration room in the Business and Economics (BEC) building to prepare for a final presentation or exam. Each room has a full audiovisual system and whiteboard. See the BEC computing facility attendant or email helpdesk@uvic.ca to book.
---
Food on campus
You'll still find great food on campus at Food Services outlets throughout the final exam period. Student-run food outlets in the SUB will also remain open. Food locations will be primarily take-out services with limited, but physically distanced seating.
---
Health & wellness
SupportConnect is available 24/7 for free, confidential mental health support for UVic students. You can also meet with a counsellor, doctor, nurse or spiritual care provider through the Student Wellness Centre.
Or hear directly from UVic students on their tips for maintaining wellness and learn ways to decrease your stress at the UVic Student Mental Health Blog.
Don't forget CARSA and McKinnon gym are also open so you can burn off a little steam in between study sessions. Not on campus? Workout from anywhere, anytime with your favorite CARSA instructors with a virtual fitness membership. All you need is 30-minutes, a little bit of space and a computer, phone or tablet.
As always, stay up-to-date with UVic's response to COVID-19 and please continue to follow current safety measures, including limiting your in-person contacts, staying at home if you have any symptoms, maintaining physical distance, wearing masks in public settings and washing your hands often. 
---
Indigenous students
Online writing support is available for Indigenous students. Book an appointment by emailing Kaveh or Nancy.
---
International students
If you haven't already applied for a study permit, you will need one to study in Canada. Even if you are starting your program online outside of Canada, we recommend applying for your study permit as soon as possible because the application process can take weeks or even months.
If you have questions about travelling to Canada or working in Canada over the holiday, the International Centre for Students (ICS) can help.
Want to stay connected over the holiday? Join other students and meet new friends through the UVic Global Community. You can also join our Facebook group and subscribe to our newsletter.
---
Good luck with the end of the term!
Photos
In this story
Keywords: student life