"Let's talk belonging": Vancouver Island Library Staff Conference celebrates 8 years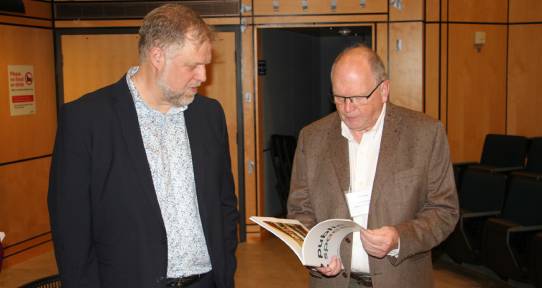 University Librarian Jonathan Bengtson, and Editor and Publisher Dave Obee, Times Colonist. Photo: Kelly Harms
by: Lara Wilson, Co-Chair, VILSC, and Director, Special Collections & University Archivist
On May 5, 2023, nearly 200 library staff members from across the region gathered on lək̓ʷəŋən territory at the University of Victoria for the 8th annual Vancouver Island Library Staff Conference (VILSC).  The conference planning committee developed the theme "Let's Talk Belonging" and potential presenters responded to the call for proposals that asked: "What does 'belonging', or conversely, 'not belonging', mean to your work, to library services, and to peoples' experience of libraries?"
VILSC creates opportunities for learning and meaningful dialogue, partnerships, and long-lasting friendships across the library sector. VILSC is a free conference, open to all library employees in the region of Vancouver Island, Powell River and the Gulf Islands. VILSC is a volunteer-run conference, and this year's organizing committee and subcommittees consisted of staff from the BC Legislative Library, the Camosun College Library, the Greater Victoria Public Library, and UVic Libraries.
VILSC began with a moving welcome to the territory by Tsawout Elders Kathy and Doug Lafortune.  We were honoured that Kathy and Doug could join and lead us in reflecting on the significance of May 5 – the National Day of Awareness for Missing and Murdered Indigenous Women and Girls and Two-Spirit People.  The conference opening included the awarding of the UVic Libraries Honorary Librarian and Archivist Award to Dave Obee, genealogist, writer, and editor and publisher of the Times Colonist daily newspaper.  The award presentation was followed by a dynamic and wide-ranging keynote with Maureen Sawa, CEO, GVPL, in conversation with Pilar Martinez, CEO of the award-winning Edmonton Public Library.  Attendees learned about Pilar's career path and achievements, and the recent challenges and opportunities presented to a library system consisting of 21 branches, 650 staff, a $69M operating budget, and a diversity of patrons.
The day was filled with dynamic sessions on a variety of topics, including increasing bisexual visibility in library collections; how the Victoria Native Friendship Centre and the GVPL are working together to foster reconciliation; transforming research help; decolonizing library spaces; culturally responsive and inclusive teaching practices; proactive communication; digital collections; and the role of A.I.  programming also included two popular workshops: learn to meditate and a train-the-trainers book making session. The conference concluded with another fun and engaging Book Smack session, presented by staff from GVPL.
In addition to the institutional partnerships, VILSC 2023 was realized through the generous financial contributions of Camosun College Library, the GVPL, UVic Libraries, Vancouver Island University Library, Royal Roads University Library, the BC Legislative Library, the BC Ministry of Education Libraries Branch, the Vancouver Island Regional Library, the Island-Link Library Federation, UVic University Systems, CUPE BC, CUPE 410, CUPE 951, and CUPE 2081 and the UVic Faculty Association.
This is my final year of a two-year term as VILSC co-chair with the wonderful Jennifer Wells.  Thanks to my colleague David Boudinot, who will be taking on co-chair duties with Jen, and to our dedicated 2023 conference planning team.
Charles Hogg, BC Legislative Library
Rae Parkinson, Camosun
Naomi Charaf, GVPL
Margie Clarke, Camosun
David Boudinot, UVic
Dave Young, UVic
Kaelan Smith, UVic         
Emily Nickerson, UVic
Niki Sutherland, GVPL
Kimberley Sutcliffe, Camosun
Michael Lines, UVic
Monique Grenier, UVic
Samantha MacFarlane, UVic