Top Stories of 2021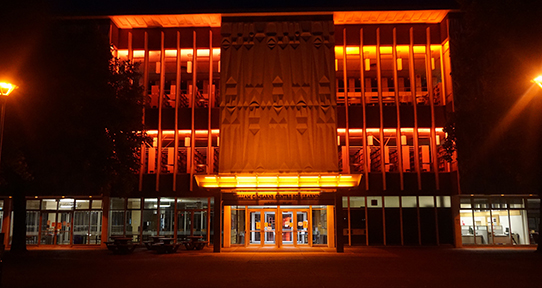 Photo: Erica Groening
COVID reopening
After many months of pandemic-related closures starting in March, 2020, we were delighted to invite students, researchers, and the community back into our buildings on September 7, 2021. Library users now have access to all floors and can browse and borrow collections, book study rooms, access services in the Learning Commons, use copiers, printers, desktop computers and other technology, attend a wide variety of instructional sessions, and use study carrels.
In 2022, we will be installing a new centralized desk area in Mearns-McPherson, in the meantime the circulation desk is serving as a centralized place where you can borrow music items and media equipment, ask questions, book an appointment with a reference librarian, receive technical support, or pick up books. Visit our website for the latest library changes, or simply email askus@uvic.ca.
Online access to the Victoria Daily Times & Official Gazettes of the Province of BC, 1863-1985
Following the success of digitizing the entire run of the British Colonist from 1858-1980, UVic Libraries has partnered with Dave Obee, publisher and editor-in-chief of Victoria's Times Colonist, and the Canadian Research Knowledge Network, a consortium dedicated to expanding access to research across Canada, to make more than 13,000 issues of the Victoria Daily Times (1884-1940) freely available online.
**
In 2021, UVic Libraries also completed a five year digitization project to make more than 6,000 volumes of the Official Gazettes of the Province of BC available free online. Gazettes are official publications that disseminate government proclamations, notices, and regulations as required by colonial, and later provincial legislation. This collection is a treasure trove of political, legal, cultural, and genealogical material providing detailed coverage of more than a century of BC history.
New art in the library
On June 4, 2021 UVic Libraries held a blessing ceremony for a new mural located on the stairwell of Mearns-McPherson between the third and fourth floors. Created by the Kinship Rising Collective, the Fearless Sisters Rising mural honours the fearless, healing medicine of Indigenous bodies and land relations. Completed in 2018, the mural was imagined and created by Coast Salish artist Brianna Bear from the Songhees/ləkʷəŋən Nation and the Kwa Kwa ka'wakw/Namgis Nation, Diné artist Nicole Neidhardt, and the Sisters Rising network, including Indigenous youth from across Canada and South Africa.
Awards
In 2021, University Librarian Jonathan Bengtson became the 12th recipient of the 2021 Ron MacDonald Distinguished Service Award from the Canadian Research Knowledge Network. This major national award recognizes an individual who has demonstrated vision, dedication, and outstanding service in building bridges and collaboration to advance knowledge infrastructure in Canada.
**
Also this year Lisa Goddard, Associate University Librarian for Advanced Research Services, was given the Canadian Association of Research Libraries' Award of Merit. This is another major national award, which Goddard received for her "leadership in advancing digital scholarship, digitization and digital preservation initiatives, and building new partnerships across interdisciplinary audiences."
KULA Indigenous Knowledges issue
UVic Libraries' international open access research journal KULA: Knowledge Creation, Dissemination, and Preservation Studies reached its five year milestone this year. To mark the occasion, UVic guest editors Shelagh Rogers, Robert L. A. Hancock, Ry Moran, Carey Newman, and Andrea Walsh brought together a remarkable range of materials focused on Indigenous knowledges. The guest editors took a unique approach to the issue, making an effort to meet "knowledge in the way that it comes from community," and recognize contributors' work in areas such as art and radio as well as academia.
Unplugged, mindfulness space
This autumn we opened the "Unplug(ged)" Lounge, a tech-free space, in the Mearns-McPherson Library. This new de-stress zone is intended to lessen the anxiety of digital overload, and provide an alternative space for mindful learning and reflection for students, without the burden of technology distraction. Lockers for safe storage of personal tech equipment are located outside the space.
New integrated library system coming in June 2022
We are in the process of moving to Ex Libris' Alma library services platform and Primo discovery platform, which will replace UVic Libraries' current two decade old Voyager integrated library system (catalogue search) and Summon discovery search interface. This once-in-a-generation software migration will offer improved search capabilities for researchers, significant workflow efficiencies in the Libraries, better integration with other campus systems, and enhanced analytics to support data-informed decision-making.
Mearns-McPherson lit up orange to honour and remember the 215+
On June 1, a Sacred Fire ceremony was held on campus in front of the main library following the announcement of 215 unmarked graves found by the Tk'emlúps te Secwépemc First Nation at a former residential school in Kamloops, BC. Hundreds of people came by the Petch fountain and wrote messages to honour the children found on the grounds of the Kamloops Indian Residential School. Mearns-McPherson Library and university road entrances were lit orange (and remain so) as a visual symbol of our awareness of the need for ongoing reconciliation.
Every Child Matters: Honouring the Missing Children LibGuide
Anti-Racism & Anti-Oppression LibGuide
Libraries vastly expand monograph collections
UVic Libraries prioritizes access to research over the acquisition of materials in order to take full advantage of changes in the way research is disseminated and accessed. We have established Evidence-Based Acquisition agreements with four major global publishers of research materials (Cambridge University Press, Oxford University Press, Taylor & Francis, and Wiley Online Books). The agreements provide access to over 200,000 recent eBook titles, significantly expanding our holdings, while also saving tens of millions of dollars.
Books arts
Hermit priest, environmentalist, spiritual teacher, and prominent bookbinder, Father Charles Brandt leaves behind many enduring legacies following his death on October 25, 2020, at the age of 97, among them is his bequest to the University of Victoria Libraries of equipment, tools, and materials from his Hermitage's conservation lab and bindery, located on the Oyster River at Black Creek on Vancouver Island. Learn more about Father Brandt.
**
In early February, UVic Libraries was also honoured to receive the bindery of the late Elizabeth Spencer (1920-1921), as well as volumes for Special Collections from the library of her husband, Geoffrey Spencer (1920-2015), a founder of the Alcuin Society. Elizabeth's bindery was extensive and consists of tools, book presses, handmade papers, and text blocks. Along with the Brandt bindery, these materials will join our collection of hand-presses and will become part of an experiential learning book arts centre for students and the community to engage in workshops and other learning opportunities.
Exhibits
In October, UVic Libraries partnered with the Faculty of Humanities and the German Consulate General in Vancouver to launch "Bauhaus, Design, and the Livable Anthropocene," an exhibit in celebration of the innovative approach to design and architecture developed at the Bauhaus School, founded in Weimar, Germany, in 1919, with photography by Jean Molitor.
**
In addition, in partnership with the Department of Germanic and Slavic Studies, we launched a digital exhibit, Stories of the Holocaust: Local Memory and Transmission, featuring ten stories told by local community members whose families were devastated by the Holocaust. Students in the Holocaust and Memory Studies course worked one-on-one with community members and gained experience from library staff in digital formats and preservation techniques.
Promoting UVic research impact
The Libraries have partnered with the Research Partnerships and Knowledge Mobilization unit in the Vice-President Research and Innovation office to provide grants to UVic faculty and librarians with the aim of increasing the impact of their research. The purpose of the Pathways to Impact Mobilizing Knowledge Fund is to assist researchers in mobilizing knowledge and creativity in support of UVic's commitment to meeting the United Nations' Sustainable Development Goals.