Records Management Archivist Dave Young reflects on horses and hugs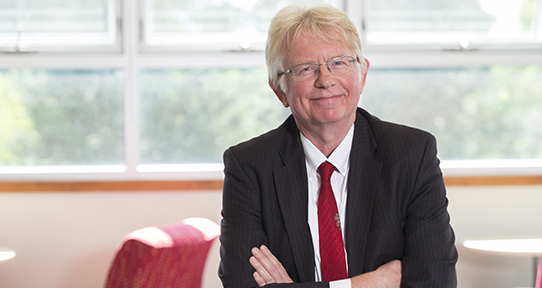 Interview conducted and edited by: Zehra Abrar, work study student
You are a Record Management Archivist. How will your job be helpful for a student who is enrolled in any capacity at UVic?
Well, I guess I'd have to say my job is part of the infrastructure that supports the more obvious work of the institution.  My job is to help staff with managing the records of the institution –whether in databases, Connect sites, shared drives, or even e-mail.  As a public institution there is a higher level of accountability which is met in large part by how well those records are managed, both in the sense of documenting the activities––­­the decisions, the transactions­­––but also that those records are managed efficiently, easily found and not kept longer than they need to be.
There are compliance issues associated with records management, but if we do it right, compliance happens by coincidence, and the more tangible effect is work being done easier and better.
When a university works better, that benefit really accrues to the student.
What does your typical day look like?
I've heard about those"typical days" but I've never seen one.  I think that's why I like the job––there is a lot of face-to-face with a variety of people around campus both in administration and academics––from entry level employees to executive, and there is "paperwork" I can bury myself in.  Although in a digital world, THAT word is a bit archaic.  I like problem-solving, either on my own or more commonly as part of a collaborative effort, but mostly I like the customer service aspect of my work.  I was a private consultant for years before coming to the university, and that is all project management and customer service, so old habits die hard.
Any ongoing projects that you would like to talk about?
Three come to mind:
For years, I described e-mail as the "black hole" of records management: there was no effective way of managing it, at least not without integrating software that was expensive and a resource burn.  In the last year, I've been able to provide something of a system for doing that using our existing tools, wrapped that into an hour-long course called Taming your E-mail In-box. That went well but is limited by the face-to-face requirement. Since the current "one thing and another," I've given the course virtually, still live, but online.  Now I've been prevailed upon to record it, and that makes all kinds of sense.  Plus, I'm creating a related set of infographics, which I have only done once before, so that's cool.
Organizing the shared drives has seen an increase in demand this last year. Many departmental repositories have grown organically (i.e. like a blackberry bush) over the years, with people coming and going and systems being added onto and repeatedly "fixed."  While I can't do the work for them, I can provide a method, a target and some software tools (and some coaching) that can give some clarity and focus to what can seem overwhelming.
Getting retention requirements into the development and purchase of information systems, if we get that right, will be immense.
You are a UVic alumni. How would you describe your time at the university?
I seem to recall smaller trees and more corduroy…
My former professors have shown up from time to time: Pat Martin Bates and Don Harvey (I was a visual arts major), plus the work of faculty is in the UVic art collection so, in various offices and meeting rooms, John Dobreiner, Darryl Plater, Bill West have all made appearances.  John Durno, our Head of Library Systems, was recently involved in the recovery of computer graphic works by Glenn Howarth, my painting instructor, so that happy time is not far away.
How do you think we can be productive in these days of the pandemic?
Everybody has their own way.
I've been working at home every Monday since I started at UVic - I live on a small hobby farm in Merville. I access my desktop remotely through VPN, and would reserve work I could work on essentially on my own for that time.  Now, of course, ALL the work is online, so along with the VPN access, Bluejeans and Zoom for meetings; Blackboard for course delivery; and e-mail, e-mail and e-mail.  In terms of productivity, I make a list (on paper) of the things I want to get done that day; make calendar entries for work to do later and use that e-mail system I mentioned earlier to keep stuff on track. There are times of day when I'm better at writing, more interested in research or find it easier to do the tedious work, so I try to be aware of that and schedule accordingly (not always successful). I also have "blue sky time" where I take a step back, check priorities and try to exercise some creativity.  All of this is punctuated by letting the cat out and back in. And Facebook.
I heard about your horses. Tell me more.
My wife Sharon is a trail rider, so we have two horses.  Plus a mule, a cat, a dog and a lot of chickens.   I'm the current President of ARMA Vancouver Island, with 47 members, but she is on the executive of the Horse Council of BC, with 24,000 members and actively involved in Back Country Horsemen of BC.  So horses.
First thing you will do when we come out of these crises?
Hugs.
Read more about Dave and his library work.