New publication highlights richness of Victoria's arts community
- Lisa Abram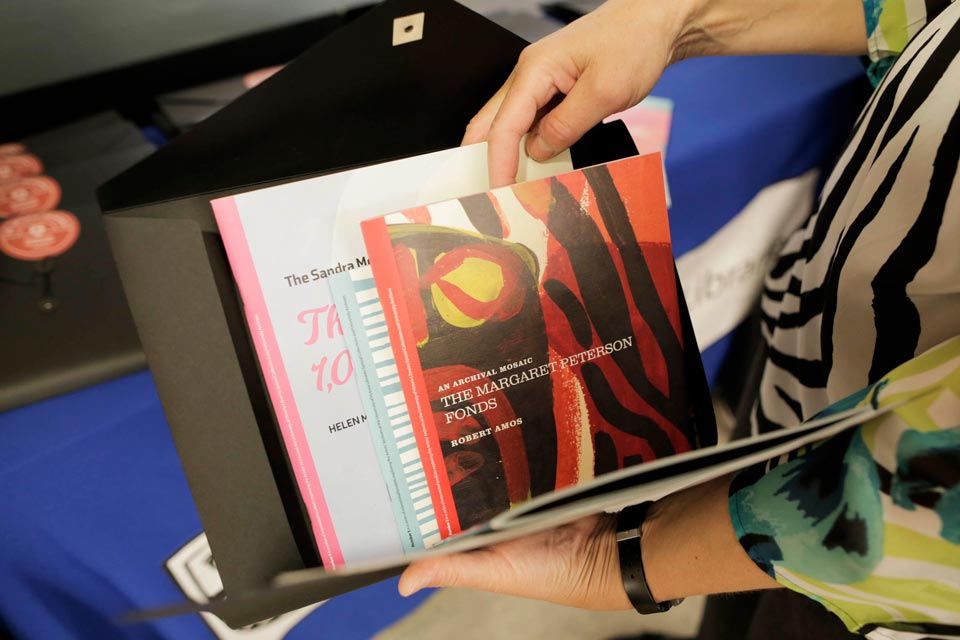 UVic Libraries plays an important role in preserving materials from Victoria's artistic community.   The newest publication under UVic Libraries' award-winning imprint devoted to its archives and special collections , [untitled]: The Artists' Archives at the University of Victoria Libraries , focuses on the careers of ceramicist Robin Hopper, painter and digital artist Glenn Howarth, multidisciplinary artist Sandra Meigs, and painter and mosaicist Margaret Peterson.
This publication invites students, scholars, artists, and community members to explore the work of nationally and internationally celebrated artists based on Vancouver Island. Hopper, Howarth, Meigs, and Peterson were all residents of Victoria and Vancouver Island during their careers, and both Howarth and Meigs taught at the UVic.  Works from all four artists are held in the Legacy Art Galleries collection, and UVic Libraries Special Collections and University Archives is the repository for their archives.
Artists are some of the most important disrupters of those who would wall in what it means to be human. They confront the banal, overturn accepted wisdom, and free the mind. Art makes us laugh, weep, turn away in anger or disgust; it inspires us to greatness, forces us to confront the uncomfortable, shows us the beauty in life. The creative process—the movement from an initial thought to the creation of an artwork—reveals the genius of the human brain.
— University Librarian Jonathan Bengtson
In presenting these archives in context, the four invited contributors to [untitled] address the aesthetics and topics explored in the featured artists' works, issues that include technology, gender, politics, and culture.  
Robin Hopper
Robin Hopper (1939–2017), an internationally renowned ceramicist, author, educator, and garden designer, was the first recipient of the Saidye Bronfman Award, a Member of the Royal Academy of Arts, and a Member of the Order of Canada recognizing his contributions to art and scholarship. In " A Man of Many Parts": An Interview with Judi Dyelle about the Robin Hopper Fonds, Director of Special Collections and University Archivist Lara Wilson interviews Judi Dyelle, an accomplished ceramicist who was married to Hopper. Wilson and Dyelle discuss Hopper's archives, the process of getting them in order, and Hopper's lifetime of creative pursuits. His archives arrived at UVic Libraries in two stages, in 2013 and 2014, and items such as panels of test glazes—used for research and teaching—demonstrate the range of Hopper's "extraordinary and eclectic talents" as a potter and ceramic scholar.
Glenn Howarth
Glenn Howarth (1946–2009), a prominent visual artist and educator, was the youngest person ever admitted to the Royal Canadian Academy of Arts, at 31 years of age.   In " Machine stitched into a corner of the Canadian modern age flag": Glenn Howarth's Telidon Art, John Durno, head of library systems at UVic, examines the "recovery of uniquely Canadian digital artworks" that were entrenched in an "obscure and long-obsolete technology" called Telidon. As an early practitioner of the graphics-based medium in the 1980s, Howarth worked as a Canada Council artist-in-residence in UVic's Department of Computer Science, producing images in the burgeoning art form. Durno tells the story of a creative medium embraced, and then abandoned; of artworks created, lost, and then found.   The Glenn Howarth fonds includes hundreds of unique Telidon files on floppy disks, many of which have been restored by Durno.
Sandra Meigs
Sandra Meigs (1953– ) is a multidisciplinary artist, Governor General award winner, and recently retired UVic faculty member in the Department of Visual Arts.   Described by Canadian art critic John Bentley Mays as "problem-seeking" rather than "problem solving," she fuses painting with film and video, sound, text, performance, and sculpture. In The Sandra Meigs Fonds: The Archives of 1,000 Questions, writer and curator Helen Marzolf describes Meigs as "an artist jazzed by life's subtle questions," and "a leader and innovator who has contributed to and shaped communities both locally and nationally." According to Marzolf, Meigs' archives, like her art, attest to her boundless curiosity and intelligence, acute humour, and restless production. For example, her notebooks document the influence of pop culture on her work; they include candy wrappers, magazine clippings, sketches of cartoon figures, comic books, and other references to popular media. Anticipating future scholarship based on Meigs' fonds, Marzolf predicts that "the Sandra Meigs fonds—like her continuing art practice—will generate diverse re-tellings and continue to reshape imaginative terrains and journeys."
Margaret Peterson
Margaret Peterson (1902–1997), an internationally acclaimed painter and mosaicist, was active in the Victoria art scene for many years. At UVic, her free-standing mosaic panel, Source of Sources (1964), is situated on the main floor of the Mearns Centre for Learning – McPherson Library.   After closely following her prolific career, artist and writer Robert Amos (RCA), met Peterson in 1983 when she was 82 years old.  In An Archival Mosaic: The Margaret Peterson Fonds , Amos recounts Peterson's life and legacy, including her relocation to Vancouver Island from California in the 1950s, and her place of prominence within Victoria's artistic community.  Amos was instrumental in facilitating the donation of Peterson's archives to UVic Libraries; the resulting donation has consolidated "the record of [her] artistic practice and philosophy" in one location for public access and research.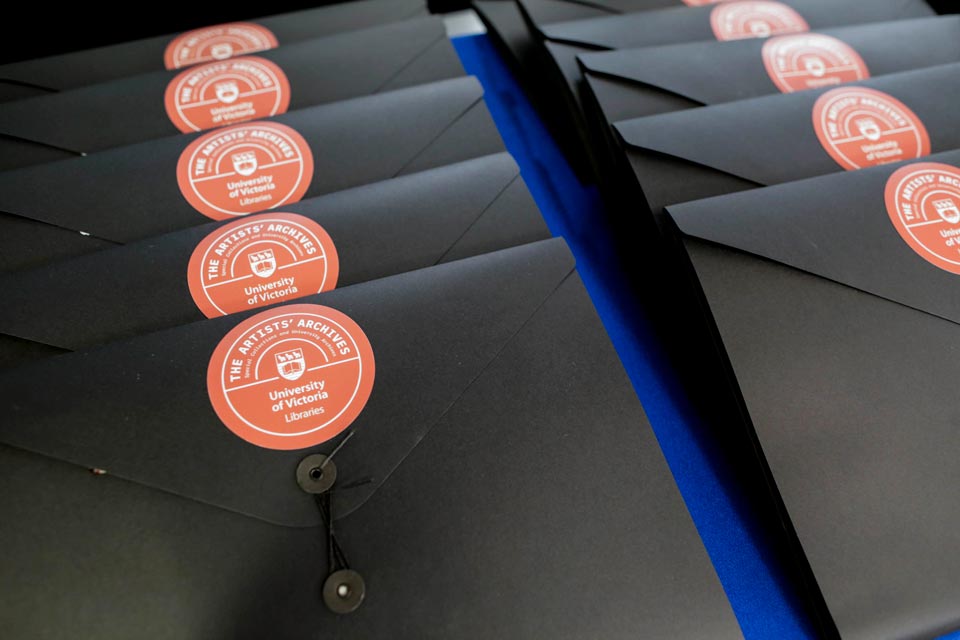 A Community of Practice. A Community of Artists.
This publication departs from the Libraries' previous tradition of publishing a perfect-bound book: these artists and their archives are presented in a series of four interrelated booklets packaged in a limited-edition portfolio.
"By breaking from the traditional codex format, the booklets not only speak to the serendipitous experience of the archive, but also invite a non-sequential mode of reading. Each booklet's design is influenced by the aesthetic vision of each artist—whether it's the deep reds of Margaret Peterson's palette or the retro computer-inspired font for the essay on Glenn Howarth. Clint Hutzulak of Rayola Creative has once again created a one-of-a-kind design to add to the Libraries' award-winning publication series," says General Editor of UVic Libraries Publication Series Christine Walde.
A digital exhibit with supplementary material launched September 26. All libraries' publications can be accessed on the open-source Spotlight platform.
As a companion to the publication, UVic Legacy Art Galleries presents the ongoing exhibition
Object Biographi
es
:
Artists' Lives through their Archives,
until January 12, 2020 at the Legacy Maltwood Gallery, located in the lower level of the Mearns Centre for Learning—McPherson Library
.
Curated by UVic alumni Bradley Clements and Legacy Art Galleries' Curator of Collections Caroline Riedel,
Object Biographies
 brings together materials from UVic Libraries Special Collections and University Archives and the Legacy Art Galleries, and provides an illuminating glimpse into the lives of artists through their archives.
Photos
In this story
People: Sandra Meigs, Margaret Peterson, Glenn Howarth, Robin Hopper, Caroline Riedel, John Durno, Helen Marzolf, Clint Hutzulak, Robert Amos, Jonathan Bengtson, Christine Walde
Publication: The Ring