A love of music guides Bill Blair's librarianship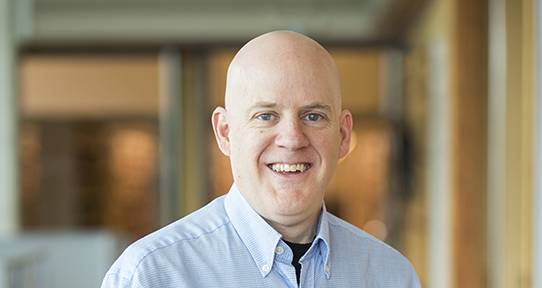 What is the most interesting part of your day as the Music and Media Librarian?
I like it when I get to help patrons with a particularly difficult question, whether it is finding some allusive film or looking for an obscure piece of music. I like detective work and research. I come away having learned something, and the patron is happy because they have an answer to their question.
You are also the librarian for Germanic literature. Which classic German literature can you read again and again?
Some books that I have read over again are Death in Venice by Thomas Mann, Siddhartha by Herman Hesse, The Trial by Kafka, and All Quiet on the Western Front by Erich Maria Remarque. I also recently read Perfume, a story of a murderer, which was requested for a Vampire course. I am not sure it is one that I would read again, but it certainly was interesting (and creepy).
UVic Libraries recently auctioned vinyl records through the BC Auction website. Which records were not auctioned, and are they available to the public?
The recordings that were kept include a selection of classical recordings, jazz, folk, rock, world, and other types of music. Part of this is available to browse in the microfiche room, and part of it is kept in storage, but will be able to be found through the library catalogue.
I am very interested to know, do you still play the horn? If not, do you miss playing it?
Yes, I still play the horn and am currently a member of The Civic Orchestra of Victoria and Meridiem Wind Orchestra. I also perform, when needed, with the Victoria Chamber Orchestra and Sooke Philharmonic Orchestra.
Tell us about your personal vinyl collection. Which record is the most precious one that you have owned to-date, and why?
My own collection consists of LPs & CDs, and currently, I have about 4,000 recordings all told (but who is counting?). I have eclectic tastes and have music in nearly every genre from Tom Waits to Beethoven and everything in between. So for me to choose one recording that is most precious would be very difficult. One recording that did open my ears, as it were, was the soundtrack to Cosmos (a 1980s science show), which included such a wide mix of music that I was introduced to the likes of Vangelis, Shostakovich, Roy Buchannan, and Bulgarian shepherdess songs. Which is much like what my collection is today.
You organized a movie night during Wellness Week and showed The Princess Bride. If you plan another movie night, what film would you want to show and why?
The film I would show is Zootopia. I like its message of acceptance, tolerance, and it is funny.
Have you re-discovered previous hobbies while working from home during the library closure?
These are not really re-discovered hobbies, but I have been doing a lot of cooking and have become almost exclusively vegan (which involves trying new recipes). I have also been doing a lot more hiking (social distancing, of course) and have re-discovered Thetis Lake and all the trails around there. And I have been listening to (and re-discovering) a lot of music since my stereo is in my home office.
What studying tips would you give students during the COVID-19 pandemic who cannot access the physical library space?
I would give them the same advice that I was given when we began to work at home: Create a workspace where you study, do university work.
Interview by Zehra Abrar