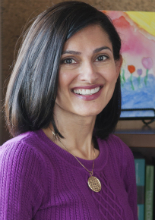 Position
Executive Director
LTSI
Contact
Office: HHB 120g
Over the past 14 years, Dr. Shailoo Bedi has worked in a leadership capacity with the University of Victoria. Before her current role as Executive Director, she was the Director, Academic Commons and Strategic Assessment with the Libraries. In this position, Shailoo provided leadership and direction for various areas including the Academic Commons, Music and Media Services, Learning Commons, library assessment initiatives, organizational and staff development, and facilities planning. Her goal in the library is to work with staff to provide services and programs to best facilitate the information, research and learning needs of students and faculty.
As of 2017, Shailoo began a dual appointment at the University when she added the Director, Office of Student Academic Success to her leadership portfolio. In this role, Shailoo leads initiatives, which foster student engagement and success including coordinating the undergraduate student research awards, developing programming to support student academic writing and integrity, and serves as the managing editor for the university's undergraduate research journal, the Arbutus Review. Shailoo is passionate about promoting academic excellence through fostering intellectually engaging and inclusive learning environments for students and faculty.
Shailoo's involvement with campus initiatives are extensive. She currently serves on the Advisory Committee on Academic Accommodation and Access for Students with Disabilities, the Human Research Ethics Board, the Equity and Diversity Advisory Committee, the Emergency Operations Committee, and is co-chair for ConnectU, the university's staff and faculty conference.
Beyond UVic, Shailoo has participated on several external review committees for academic libraries in Canada as well as lead facilitator for strategic and operational planning for college and university libraries in BC. Shailoo is also a board member with Artemis Place, an inclusive secondary school in Victoria.
Shailoo completed her PhD in Education – Curriculum and Instruction. She is an adjunct professor with the Educational Psychology and Leadership Studies department at UVic. Shailoo also continues to have an active research agenda. Her research interests are focused on construction and issues of identity for racialized minority Canadian leaders, as well as student experience with learning spaces, student research creation, visual research methods, and faculty and librarian research collaborations. Shailoo has two pending edited book publications - one with an academic press in the UK and the other with a Canadian press.
Bedi, S & Webb, J. (2017).  Participant-driven photo-elicitation in library settings: A methodological discussion. Library and Information Research, 40(124).
Bedi, S. & Webb, J. (2017). Research through the students' lens: Photographic methods for research in library spaces. Evidence Based Library and Information Practice, 12(3).
Bedi, S. & Walde, C. (2017). Transforming Roles: Canadian Academic Librarians Embedded in Faculty Research Projects. College & Research Libraries, 78(3), 314-327.
Bedi, S. Walde, C. Suzuki, T. & Blair, B. (2017). Promoting Research Creation through Resource Discovery in the University Library. In S. Montegomery (Ed.), Assessing Library Space for Learning. (pp. 123-142). Lanham, MD: Rowman & Littlefield Publishing Group.
Bedi, S. (2016, November). Methodology Brief: Visual Ethnography. Presentation for the Keeping it Real: Research in Academic Libraries Conference, Vancouver, BC.