Democracy in Latin America: Populism & the Rise of the Far Right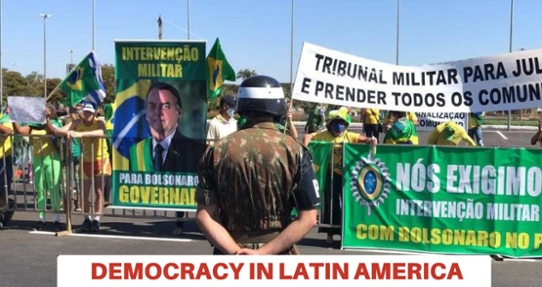 12:00pm
 

-

 

1:30pm PDT October 30

Registration Required: https://bit.ly/33VuYBI

Details: This is the first webinar of the international series Democracy in Latin America co-sponsored by the Centre for Global Studies and the Latin American Studies Program. The aim of the series is to raise awareness about democracy in Latin America by maintaining online intellectual exchanges between academia and civil society from different parts of the Americas. On this occasion we address the rise of far-right populist political leaders and its challenges to democracy. Participants will elaborate on historical aspects of far-right ideologies and their international networks, as well as the current dynamics of far right groups particularly in Uruguay and Bolivia.

The webinar will be moderated by Fabricio Teló (Federal Rural University of Rio de Janeiro, Brazil) and chaired by Beatriz de Alba-Koch (University of Victoria).

This webinar will be bilingual. Simultaneous translation will be available.

Speakers: Margareth Power (Illinois Institute of Technology, USA); Gerardo Caetano (Universidad de la Republica, Uruguay); and Ángela Cáceres (Colectivo La Vanguardia, Bolívia).