Tracy Underwood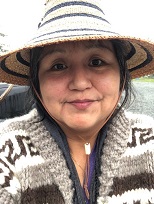 Position
Assistant Teaching Professor
Indigenous Studies
Contact
Office: CLE A307 | Office hrs: Thurs 1:00-2:00 pm
Credentials
MA (UVic), PhD Candidate (UVic)
Area of expertise
Land-based learning, history, storytelling, ethics and care for children, families and communities
W̱SÁNEĆ Matriarch Tracy Underwood PhD candidate, Assistant Teaching Professor in Indigenous Studies. Tracy upholds daily her Matriarchal duties of protecting and preserving Children, Land, Language and Culture of her people. Tracy is an expert in land-based learning, history, storytelling, ethics and care for children, families and communities. She can discuss issues of land occupancy, the doctrine of discovery and how ongoing land dispossession negatively impacts herself and her husband, her eight children and ten grandchildren in their daily lives. As a part of her PhD ȽÁU, NOṈET SXEDQIṈEȽ framework, Tracy does a presentation that is called "JÁEȽNOṈET" described below.

JÁEȽNOṈET (phonetic JAYE-LLL-NONG-IT) is a (phonetic Sencha then) word and is the name of her workshop which means to acknowledge, to thank; it is a reciprocal framework for respectful relationships and living on Indigenous land. Tracy describes the background;

My JÁEȽNOṈET presentation derived as a response to University of Victoria's Land/ territory Acknowledgement "We acknowledge with respect the Lekwungen peoples on whose traditional territory the University of Victoria stands, and the Songhees, Esquimalt and W̱SÁNEĆ peoples whose historical relationships with the land continue to this day.". I intertwine my story as someone who has grown up in W̱SÁNEĆ and connect our language, culture and history related to cultural genocide that is real. I conclude with my thoughts of full circle(s) of RECONSTRUCTION(reconciliation).

My hope is for people who attend the workshop to think about the Indigenous land where they live. My goal is that you will understand our people and be a part of RECONSTRUCTION (reconciliation).

WELCOMING TO THE TERRITORY
The Indigenous Studies Land Acknowledgment is honorable, meaningful and precise. As a W̱SÁNEĆ Matriarch I welcome you to the territory of the land of my Lekwungen and W̱SÁNEĆ Ancestors. I hold in high regard my Lekwungen SĆÁLEĆE as before contact we were not separated on small sections of our island… we all lived together. Every day I have Matriarchal duties to protect our children, land, culture and language. Every day I pray that my people are upheld, understood and respected for the resiliency, strength and courage facing the day to day colonial impacts that are still inflicted everyday. All My Relations, HÍSW̱ḴE SI,IEM