Jeff Ganohalidoh Corntassel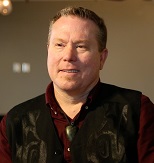 Position
Professor
Indigenous Studies
Status
Contact
Office: CLE B304 |
Credentials
Area of expertise
Indigenous political movements, community resurgence, and sustainable self-determination
(Cherokee Nation) Jeff Ganohalidoh Corntassel received his PhD in Political Science from the University of Arizona in 1998. He is currently Associate Director of the Centre for Indigenous Research and Community-Led Engagement (CIRCLE). Jeff's research and teaching interests focus on "Everyday Acts of Resurgence" and the intersections between Indigenous internationalism, community resurgence, climate change, gender, and community well-being.
In 2008 Jeff was awarded the Faculty of Human and Social Development Award for Teaching Excellence. Jeff's first book, Forced Federalism: Contemporary Challenges to Indigenous Nationhood (2008, University of Oklahoma Press), examines how Indigenous nations in the US have mobilized politically as they encounter new threats to their governance from state policymakers. Jeff's next book is a co-edited volume (with Professor Tom Holm) entitled The Power of Peoplehood: Regenerating Indigenous Nations (forthcoming), which brings together native scholars from Canada and the US to discuss contemporary strategies for revitalizing Indigenous communities. Other works in progress focus on notions of sustainable self-determination, practicing insurgent education, and a comparative critique of state apologies/truth and reconciliation efforts as they impact Indigenous nations in Canada, Australia, Guatemala and Peru.
Jeff's research has been published in: Alternatives, American Indian Quarterly, Global Governance, Human Rights Quarterly, Nationalism and Ethnic Studies, and Social Science Journal.
Access Jeff's recent writings and an archive of downloadable PDF versions of Jeff's academic research papers, as well as future writings on his website corntassel.net.