Rachel Hope Cleves in conversation with Alexis Coe
Rachel Hope Cleves, author of Unspeakable: A Life beyond Sexual Morality, will be joined in conversation by Alexis Coe
Tuesday, November 17, 2020 at 3 PM PST – 6 PM PST
About this Event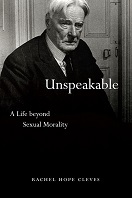 Rachel Hope Cleves, author of Unspeakable: A Life beyond Sexual Morality, in conversation with Alexis Coe, author of You Never Forget Your First: A Biography of George Washington and Alice+Freda Forever: A Murder in Memphis.
Unspeakable is the clear-eyed biography of Norman Douglas, a once beloved, now largely forgotten author—and an unrepentant and uncloseted pederast. Rachel Hope Cleves's careful study of Douglas's life opens a window onto the social history of intergenerational sex in the nineteenth and twentieth centuries, revealing how charisma, celebrity, and contemporary standards protected Douglas from punishment—until they didn't.
By the Book: Smart Talk with Chicago Authors brings big ideas and smart conversation directly to you. Join these book events via Zoom from the comfort of your favorite chair and engage with authors and experts on a variety of topics.