Alicia Ulysses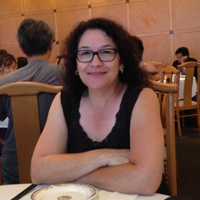 Position
Continuing Sessional Lecturer
Contact
Office: CLE B434
Credentials
Bio
I received my Bachelor of Arts from the University of Victoria in 1991 with a double major in Political Science and Hispanic Studies. I began to teach at the University of Victoria as a Sessional Instructor in 1996. In 2005, I received my Master of Arts in Mexican Literature.
Along with teaching Spanish language courses, I am interested in issues surrounding Indigenous rights and feminist understandings of Mexican culture, politics, and history. These interests have been incorporated into my newest course, "A History of Violence: The Mexican Drug Wars, 1970 to Present Day." This course explores how various sociopolitical issues intersect with varying understandings of violence in Mexico.
I have also volunteered as an instructor in the University of Victoria's University 101 Program, where I have fostered a sense of community engagement and inclusion through the study of Mexican author Rosario Castellanos.
Principal Teaching Areas
Conferences, Papers
"El término 'mujer' en la obra de Rosario Castellanos", Congress of the Canadian Association of Hispanists, University of Toronto, Toronto, May 2002.
"Don't Look Down On Me: The Sexoservidoras del Barrio de la Merced", 26th Annual Colloquium of the Department of Hispanic & Italian Studies, University of Victoria, October 2001.
Professional Activities
Senator Representative for Continuing Sessionals (2011-2017)
CUPE 4163, Component 3, Vice-president as well as Chair of Bargaining Committee (2010-2011)
Facilitator, Instructional Skills and Presentation Skills Workshops, Learning and Teaching Centre, University of Victoria, 2001-2006.
Teaching Assistant Coordinator, Learning and Teaching Centre, University of Victoria, 2005/2006.
Volunteer Work
2006- present University 101, Humanities Faculty, University of Victoria. Rosario Castellanos' Indigenist and Feminist Writings.
1987 VIDEA (Victoria International Development Education Association) Served as guest speaker at a number of elementary schools in the Capital Regional District.