Dr.

Pablo Restrepo Gautier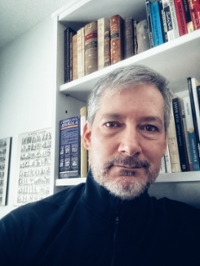 Position
Associate Professor
Contact
Office: CLE A415
Credentials
Area of expertise
Spanish Theatre and Fiction (Tirso de Molina, entremeses, the picaresque novel), Post-Franco Spanish Fiction, Contemporary Colombian Fiction, Gender Studies, Humour Studies.
Research Profile
My main area of research is 17th-century Spain. I conduct research on cultural products such as the emblem, which is key to understanding the Baroque way of thinking.  I am proud of my book on the relationship between the emblem and theatre, La imaginación emblemática en el drama de Tirso de Molina (Juan de la Cuesta, 2001). I am also interested in gender and humour studies.  A few years ago, I started doing research on the Spanish presence in the northwest coast of North America between 1774 and 1796, which brought Indigenous Nations of the West Coast into contact and conflict with Spain, and almost sparked a war between Great Britain and Spain in 1789 in what is known as the Nootka Incident. Robin Inglis and I are co-authoring an annotated translation with introductory studies of one of the key Spanish navigation diaries of 1789, which is almost ready to be submitted for publication.
Principal Teaching Areas
I teach on Golden Age Theatre, Lorca, Spanish literature from its origins to the present, and language and Hispanic linguistics.
Selected publications
Books
La imaginación emblemática en el drama de Tirso de Molina (Juan de la Cuesta, 2001).
Articles and book chapters
"Más allá de la inversión paródica: la crítica del género de capa y espada y del drama del honor en el entremés de El marión de Quevedo." La Perinola: revista anual de investigación quevediana 17 (2013): 137-153.   
Ovid's Hermaphroditus and Intersexuality in Early Modern Spain." Ovid in the Age of Cervantes. Ed. Frederick A. de Armas. Toronto: U of Toronto Press, 2010, 191-200.
"Mediadoras y la pérdida de la memoria histórica en La piel del tambor de Arturo Pérez-Reverte." Revista Canadiense de Estudios Hispánicos 32.1 (2007).
"Lo sublime y el caos urbano: Visiones apocalípticas de Medellín en La Virgen de los Sicarios de Fernando Vallejo." Chasqui: Revista de literatura latinoamericana 33.1 (2004): 96-105.
"Mujeres varoniles y masculinidades en La mujer por fuerza y Don Gil de las calzas verdes de Tirso de Molina." Ramillete de los gustos: Burlas y versa en Tirso de Molina. Ed. Ignacio Arellano. Madrid: Fundación Instituto Castellano y Leonés de la lengua, 2005. 373-85.
"'Tanto crece el amor cuanto la pecunia crece:' la asociación del amor y el dinero en La pícara Justina." Hispanic Journal 24.1-2 (2003): 331-44.
"El amor monstruo en Las novias inmóviles de Pilar Pedraza." Monstruosidad y transgresión en la cultura hispánica. Ed. R.de la Fuente y Jesús Pérez Magallón. Universita Castellaes: Valladolid, Spain, 2003. 259-268.
"Risa y género en los entremeses de mariones de Francisco de Quevedo y de Luis Quiñones de Benavente."  Bulletin of the Comediantes 50.2 (1998): 331-44.
" 'Y Así a todos os recibo a prueba': risa e ideología en El juez de los divorcios de Cervantes." Anales Cervantinos 32 (1994): 221-39.