30 new French bursaries for 2021-2022! 30 nouvelles bourses !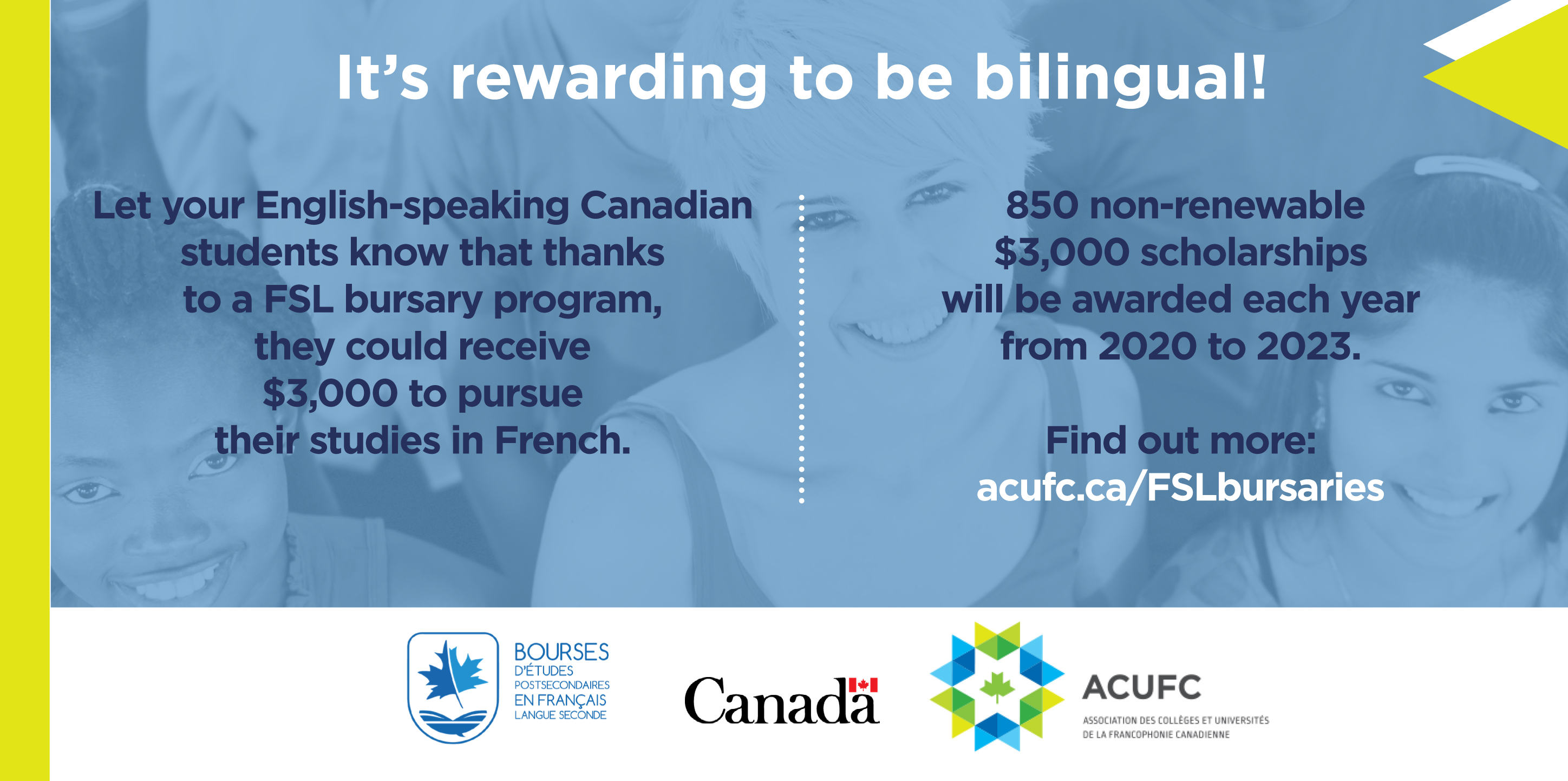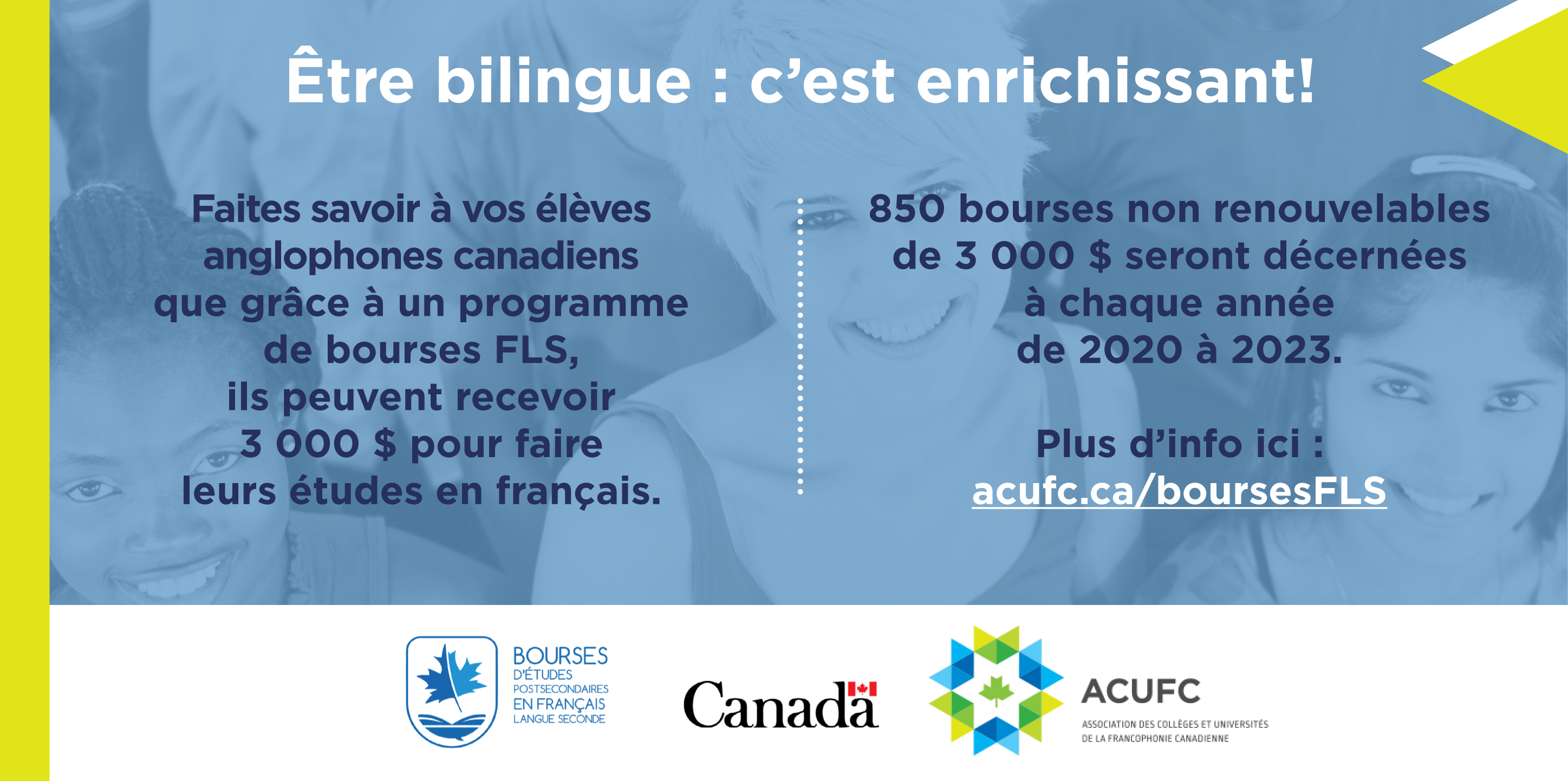 ÊTRE BILINGUE : C'EST ENRICHISSANT!

Le département de français de l'Université de Victoria est heureux de vous annoncer l'arrivée de nouvelles bourses pour l'année académique 2021-2022.

French at UVic s'est vu octroyer la généreuse somme de 90 000$ - pour l'équivalent de 30 bourses de 3000$ pour les jeunes canadiens et canadiennes inscrits en première année dans l'un de nos différents programmes complètement en français afin de parfaire leur bilinguisme !

Il s'agit d'un programme annuel mis en place par le gouvernement du Canada administré par l'Association des collèges et universités de la francophonie canadienne et qui vise à encourager les étudiantes et étudiants anglophones à poursuivre leurs études postsecondaires en français.

Faites savoir à vos élèves anglophones canadiens que grâce à un programme de bourse FLS, ils peuvent recevoir un montant de 3000$ pour poursuivre leurs études en français.

Cliquez ici pour découvrir quels sont les critères d'admissibilités.

Les candidatures pour l'année 2021-2022 sont maintenant ouvertes. 

N.B.: Une attention particulière sera accordée aux étudiantes et étudiants en difficulté financière et à ceux provenant de groupes sous-représentés.

Célébrons le bilinguisme et partager cette bonne nouvelle !

______________________________________
IT'S REWARDING TO BE BILINGUAL!

The Department of French of the University of Victoria is pleased to announce the arrival of new scholarships for the academic year 2021-2022.

French at UVic was awarded the generous sum of $ 90,000 - for the equivalent of 30 scholarships of $ 3,000 for young Canadians registered in the first year in one of our programs completely in French in order to perfect their bilingualism!

This yearly program was established by the Government of Canada and administred by Association des collèges et universités de la francophonie canadienne. Its aim is to encourage young English-speaking students to pursue their postsecondary studies in French. The objective is simple: Allow a greater number of English-speaking Canadians to become bilingual.

Let your English-speaking Canadian students know that thanks to an FSL scholarship program, they can receive an amount of $ 3,000 to pursue their studies in French.

Follow this link to find out what the eligibility criteria are.
The application period for 2021-2022 is now open.

Note: Special consideration will be given to students facing financial challenges and those who come from under-represented groups.

Let's celebrate bilingualism and share this good news!
Questions? french@uvic.ca
Department of French | University of Victoria | Clearihue C247 |