Bourses d'études postsecondaires en français langue seconde
ÊTRE BILINGUE : C'EST ENRICHISSANT !
Les jeunes Canadiennes et les Canadiens anglophones inscrits en première année d'un programme au collège ou à l'université courent la chance de recevoir une bourse de 3 000 $ pour parfaire leur bilinguisme tout en étudiant dans un domaine qui les intéresse.


Il s'agit d'un programme annuel mis en place par le gouvernement du Canada. Il vise à encourager les étudiantes et étudiants anglophones à poursuivre leurs études postsecondaires en français. Le but est simple : permettre à un plus grand nombre de Canadiennes et Canadiens anglophones de devenir bilingues.
CRITÈRES D'ADMISSIBILITÉS
Pour recevoir une bourse d'études postsecondaires en français langue seconde, il faut :
Être citoyen canadien ou résident permanent du Canada;
Avoir l'anglais comme première langue officielle parlée;
Étudier à temps plein dans un établissement canadien pendant l'année en cours;
Avoir fait ses études secondaires dans un établissement anglophone et en être diplômé;
Avoir atteint le niveau d'études postsecondaires;
Être inscrit en première année à un programme d'études postsecondaires en français;
Être âgé d'au moins 17 ans au premier jour de cours postsecondaire;
Démontrer une connaissance suffisante du français pour étudier dans cette langue;
Avoir l'intention de suivre un programme collégial ou universitaire de premier cycle à temps plein au Canada et de suivre au moins 50 % des cours et activités connexes en français (stages, activités de formation dans la communauté).


CANDIDATURE
La période de candidature pour 2021-2022 s'ouvrira au début du mois de septembre 2021.

QUESTIONS ? 
Pour toutes questions, vous pouvez vous référer au document FAQ document préparé par ACUFC et nous rejoindre à french@uvic.ca
Ce projet a été rendu possible en partie grâce au Gouvernement du Canada et administré par ACUFC - Association des collèges et universités de la francophonie canadienne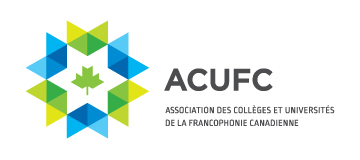 It's rewarding to be bilingual!