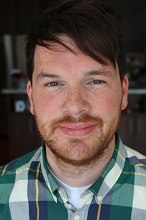 Position
Associate Professor
English
Credentials
BA and BSc (Virginia Commonwealth), MA and PhD (Washington)
Contact
Office: CLE D331
Jentery Sayers is an Assistant Professor of English at the University of Victoria, with research interests in comparative media studies, digital humanities, 20th-Century U.S. fiction, computers and composition, and teaching with technologies.
He teaches undergraduate and graduate courses in digital humanities (e.g., English 507), cultural studies (e.g., English 466), and 20th-century U.S. fiction (e.g., English 429B).
His work has appeared in Kairos: Rhetoric, Technology, and Pedagogy; Computational Culture: A Journal of Software Studies; The Information Society; Collaborative Approaches to the Digital in English Studies; ProfHacker; The Resource Center for Cyberculture Studies; and Writing and the Digital Generation.
Throughout his career, he has received numerous awards for his research, service, and teaching, including a National Endowment for the Humanities fellowship, the K. Patricia Cross Future Leaders Award, an invitation to the Nebraska Digital Workshop, the Kairos Graduate and Adjunct Teaching Award, and the Humanities Graduate Medal at the University of Washington.
He is also a member of the editorial review board for Kairos and the steering committee for HASTAC. His current book project is a cultural history of magnetic recording.
In 2011, before coming to the University of Victoria, he completed his PhD in English at the University of Washington.
For examples of his work (including syllabi, publications, and research projects), see his e-portfolio.