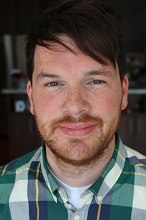 Position
Associate Professor
English
Status
Contact
Office: CLE D331
Credentials
BA and BSc (Virginia Commonwealth), MA and PhD (U. of Washington)
Area of expertise
Media studies; American literature; critical theory; interactive fiction; prototyping; praxis and pedagogy
Interests
I am interested in what media do across forms of fiction, from comics, novels, and radio drama to games, bots, and prototypes. How do audio, images, and text shape and escape our attention? How do we tell stories with them, and how do they tell stories about us?
I maintain a portfolio of my research, teaching, and service at jntry.work.
Brief biography
I grew up in Richmond, Virginia and went to Virginia Commonwealth University for my BA (honours) and BS (honours) degrees. Then I moved to Seattle, where I received an MA and PhD in English from the University of Washington (UW). Herb Blau (director), Jessica Burstein, Tom Foster, Phillip Thurtle, and Kathleen Woodward were members of my doctoral supervisory committee, and I took my exams in modernism, critical theories of media and technology, and sound studies. In 2011, I was UW's Graduate Medalist in the Humanities.
I have been at UVic since July 2011 and was awarded tenure in 2017. I founded and direct the Praxis Studio for Comparative Media Studies (formerly the Maker Lab), with support from the Canada Foundation for Innovation (CFI), British Columbia Knowledge Development Fund (BCKDF), and Social Sciences and Humanities Research Council (SSHRC). The Studio is intended as a space for experimental methods. We blend theory and prototyping with media aesthetics, history, and storytelling.
I teach UVic courses in English and Cultural, Social, and Political Thought (CSPT). I've also taught for Cornish College of the Arts (Humanities), the University of Minnesota (College of Design), the University of Washington Bothell (Media and Communication Studies), the University of Washington Seattle (English), and UVic's Technology and Society program. My first course as an instructor was English 131, "Composition: Exposition." I taught it in 2006 at UW Seattle.
The Humanities, Arts, Science, and Technology Alliance and Collaboratory (HASTAC) has been my academic family since 2008. I served on their steering committee between 2011 and 2017 and now sit on their executive committee. I am also a member of the editorial boards for the Gayle Morris Sweetland Digital Rhetoric Collaborative (U Michigan Press), Digital Futures (U Toronto Press), the Journal of e-Media Studies (Dartmouth), and Kairos: A Journal of Rhetoric, Technology, and Pedagogy. In 2015, I was elected to serve until 2020 on the Modern Language Association's executive committee for the Digital Humanities forum, and I chaired that forum in 2018-19.
Advising
I have advised undergraduate and graduate students on research topics such as American science fiction and fantasy (Le Guin, Delany, Butler, Jemisin), bots and automated writing, indie games and play, memory and media theory, graphic novels and memoir (Bechdel, Ferris, Moore), digital labour and critical technical practice, net art and tactical media, Beckett's radio plays, podcasting and the sensory politics of listening, speculative design and prototyping, electronic publishing and online exhibitions, Victorian and modernist media, Benjamin and the Frankfurt School, and contemporary fiction (Morrison, Dunn, Pynchon).
These students have since built careers in design, software development, games, libraries, publishing, editing, activism, journalism, creative writing, research, and primary, secondary, and post-secondary education.
Selected courses 
English 508: What's in a Game? (Fall 2017)
English 508: Prototyping Texts (Spring 2016)
English 507: Arguing with Computers (Spring 2014 and 2015)
English 506: Readers Are Listening (Fall 2020)
English 506: Media Aesthetics (Spring 2020)
English 466: Cultural Studies (Fall 2012, 2013, 2015)
English 429C: Contemporary American Fiction (Fall 2013; Spring 2013, 2017, 2021)
English 429B: Mid-20th-Century American Fiction (Fall 2011; Spring 2016)
English 425: Comics and Contemporary America (Spring 2021)
English 230: Popular Media and Fiction (Fall 2020)
Technology and Society 200: Prototyping Pasts and Futures (Fall 2017, 2018)
CSPT 500: Media and Materiality from Marx to Barad (Fall 2016)
Books
Digital Pedagogy in the Humanities (edited with Davis, Gold, and Harris), Modern Language Association (2020, open access)
The Routledge Companion to Media Studies and Digital Humanities (editor), Routledge (2018, partially open access)
Making Things and Drawing Boundaries (editor), University of Minnesota Press (2017, open access)
Selected essays
"Technology," in Keywords for American Cultural Studies (edited by Burgett and Hendler), New York University Press (2020, 3rd edition)
"Bringing Trouvé to Light: Speculative Computer Vision and Media History," in Seeing the Past with Computers (edited by Kee and Compeau), University of Michigan Press (2019, open access)
"Optophonic Reading, Reading Optophonics," with Tiffany Chan and Mara Mills, Amodern 8 (2018, open access)
"Dropping the Digital," in Debates in the Digital Humanities 2016 (edited by Gold), University of Minnesota Press (2016, open access)
"Prototyping the Past," Visible Language: The Journal of Visual Communication Research 49.3 (2015)
"Kits for Cultural History, or Fluxkits for Scholarly Communication," Hyperrhiz: New Media Cultures 13 (2015, open access)
"Humanities and Critical Approaches to Technology," in Conversations in Critical Making (edited by Hertz), CTheory Books (2015, open access)
"Peer Review Personas," with Nina Belojevic, The Journal of Electronic Publishing 17.3 (2014, open access)
"Modernism Meets Digital Humanities," with Stephen Ross, Literature Compass 9 (2014)
"Making the Perfect Record: From Inscription to Impression in Early Magnetic Recording," American Literature 85.4 (2013, open access)
"Computational Cultures after the Cloud," Journal of e-Media Studies 3.1 (2013, open access)
"An Archaeology of Edison's Metal Box," Victorian Review: An Interdisciplinary Journal of Victorian Studies 38.2 (2012)
"Tinker-centric Pedagogy in Literature and Language Classrooms," in Collaborative Approaches to the Digital in English Studies (edited by McGrath), Utah University Press (2011, open access)
I last updated this page in July 2021.