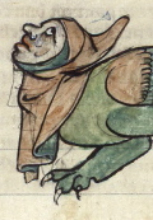 Position
Professor
English
Contact
Office: CLE C321
Credentials
BA and MA (UBC), PhD (Harvard)
Area of expertise
Medieval English and Scottish literature; poetry; travel writing; utopian and dystopian fiction
Iain Macleod Higgins has taught at the University of Victoria since 2001 in both the English Department and the Medieval Studies Program. His teaching and research interests include later medieval English, Scottish, and French literature, travel writing, utopian/dystopian fiction, and poetry both medieval and modern. He was the Humanities Faculty Fellow in Scottish Studies for 2010 to 2012, the Director of the Medieval Studies Program from 2006 to 2009, a member of the Advisory Board to the Canadian Society of Medievalists from 2003 to 2005, and Associate Editor (Poetry) with the journal Canadian Literature from 1995 to 2003 and again in 2013 and 2014. He is currently a member of the editorial board of The Malahat Review.
See his "Face of UVic Research" video.
The Book of John Mandeville, with Related Texts

Hackett, 2011
Awarded an honorable mention by the Modern Language Association of America in the competition for its tenth Aldo and Jeanne Scaglione Prize for an Outstanding Translation of a Literary Work. Originally composed in French around 1360, The Book of John Mandeville was a medieval international bestseller. This fictive account of an English knight's memories of the East between Constantinople and the Earthly Paradise (a forgery based on genuine travel books and other reliable sources, including encyclopedias) was so popular that it was soon translated into some ten languages (Czech, Danish, Dutch, English, German, Irish, Italian, Spanish, Welsh, and even Latin). Its many early readers included Christine de Pizan, the Pearl poet, Leonardo da Vinci, Mercator, Columbus, and Sir Walter Raleigh. Thriving in the transition from manuscript to print, the book remained popular well into the 16th century. This edition is the first English translation from the French text since the 15th century, and it is accompanied not only by detailed annotation and commentary, but also by a selection of substantial excerpts both from its French and Latin sources and from its medieval French, English, German, and Latin variants. Almost none of these additional materials has previously been translated into English.
 

Writing East: The 'Travels' of Sir John Mandeville

University of Pennsylvania Press, 1997
Winner of the 2001 John Nicholas Brown Prize of the Medieval Academy of America, Writing East is a study of how Mandeville's Travels (a fourteenth-century account of the East from Constantinople to the Earthly Paradise and one of the most widely circulated medieval books) came to appear in its various versions in different languages (focussing on French, English, German, and Latin). The study shows how it went through a series of transformations as it reached new audiences in order to serve as both a response to previous writings about the East and an important voice in the medieval conversation about the nature and limits of the world. Writing East offers a palimpsestic reading of this "multi-text" that demonstrates not only how the original French author overwrote his precursors but also how subsequent translators molded the material to serve their own ideological agendas.
 
From a Speaking Place: Writings from the First Fifty Years of Canadian Literature
Ronsdale Press, 2009
A stimulating collection, co-edited by W.H. New, R. Beaudoin, S. Fisher, I. Higgins, E.-M. Kroeller, and L. Ricou, of 63 essays, notes, and interviews selected from the first half century of Canadian Literature.
 
"Master Henryson and Father Aesop," in Author, Reader, Book: Medieval Authorship in Theory and Practice, ed. Stephen Partridge and Erik Kwakkel (Toronto: U of Toronto Press, 2012) 198-231.
 
"The Whites Arrive: White Writing before Canada, 1000-1600," in History of Literature in Canada: English-Canadian and French-Canadian, ed. Reingard M. Nischik (Rochester, NY: Camden House, 2008) 38-43.
 
"Shades of the East: Orientalism, Religion, and Nation in Late-Medieval Scottish Literature," Journal of Medieval and Early Modern Studies 38.2 (2008): 197-228.
 
"Tit for Tat: The Canterbury Tales and 'The Flyting of Dunbar and Kennedy'," Exemplaria 16.1 (Spring 2004): 165-202.
 
"Mandeville," A Companion to Middle English Prose, ed. A.S.G. Edwards (D.S. Brewer, 2004) 99-116.
 

The Invention of Poetry by Adam Czerniawski

Salt Publishing, 2005
Czerniawski's lyrics and prose poem sequence in Higgins' English translations. As Czerniawski says, 'This book is not a text-book on astro-physics, neuroscience, German metaphysics, Fermat's last theorem or nuclear biology. It is a collection of poems, a work of literature. It ought to appeal to people who appreciate poetry and will be ignored by people who have no time for it. That's all that can usefully be said on this topic'.
 
Then Again

Oolichan Books, 2005
Then Again, the long title piece at the centre of this debut collection, plays with the possibilities of making something of a life. What gets made is first of all is an alternating dance between verse and prose. A sequence of short chronological poems composed in biblical "versets" pushes at the limits of lyric. Repeatedly interrupting the lyric narrative like a big-rig cutting in front of a bike are ten prose musings that ignore chronology and range freely about the highways and back roads of social and historical as well as personal and family memory. Set against the title piece are various lyric poems, some of which echo its main themes, others of which go their own way.