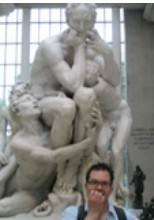 Position
Professor
English
Credentials
BA (UBC), MA and PhD (Toronto)
Contact
Office: CLE C322
Christopher Douglas taught at the University of Toronto and, for five years, at Furman University in South Carolina before coming to the University of Victoria in 2004. He teaches American literature, particularly contemporary American fiction, religion and literature, multicultural American literature, and postmodernism.
Dr. Douglas's primary research interests include the contemporary religious imagination in American literature, as well as multiculturalism and postmodernism. His latest book, If God Meant to Interfere: American Literature and the Rise of the Christian Right (Cornell, 2016), shows how American writers struggled to understand and respond to the unexpected emergence of the Christian Right in the United States. In fact, liberal-leaning literary writers responding to the resurgence were sometimes confused by the Christian Right's strange entanglement with the contemporary paradigms of multiculturalism and postmodernism — leading to complex emergent phenomena that Douglas terms "Christian multiculturalism" and "Christian postmodernism." This project was supported by a Social Sciences and Humanities Research Council of Canada Standard Research Grant.
His previous book, A Genealogy of Literary Multiculturalism (Cornell, 2009), contends that our current theory and practice of literary multiculturalism was formed through a circuit of articulation between the social sciences – chiefly anthropology and sociology and their rival notions of culture – and twentieth century authors in the African American, Asian American, Native American, and Mexican American literary traditions. Dr. Douglas received for this project a National Endowment for the Humanities Fellowship and a Social Sciences and Humanities Research Council of Canada Postdoctoral Fellowship.
He regularly teaches English 203, 260, 429B, 429C, 449, and 572.
Find/follow Chris: academica.edu; twitter
" If God Meant to Interfere: American Literature and the Rise of the Christian Right."
Ithaca: Cornell University Press, 2016
The rise of the Christian Right took many writers and literary critics by surprise, trained as we were to think that religions waned as societies became modern. In If God Meant to Interfere, Christopher Douglas shows that American writers struggled to understand and respond to this new social and political force. Religiously inflected literature since the 1970s must be understood in the context of this unforeseen resurgence of conservative Christianity, he argues, a resurgence that realigned the literary and cultural fields. Among the writers Douglas considers are Marilynne Robinson, Barbara Kingsolver, Cormac McCarthy, Thomas Pynchon, Ishmael Reed, N. Scott Momaday, Gloria Anzaldúa, Philip Roth, Carl Sagan, and Dan Brown. Their fictions engaged a wide range of topics: religious conspiracies, faith and wonder, slavery and imperialism, evolution and extraterrestrial contact, alternate histories and ancestral spiritualities. Ultimately, If God Meant to Interfere shows the value of listening to our literature for its sometimes subterranean attention to the religious and social upheavals going on around it.
'If God Meant to Interfere': Evolution and Theodicy in Blood Meridian."
In Religion & Literature 45:2 (Summer 2013; published Fall 2014): 83 - 107
 
"The Poisonwood Bible's Multicultural Graft: American Literature during the Contemporary Christian Resurgence."
American Literary History 26:1 (Spring 2014): 132-153.
 
"'Something That Has Already Happened': Recapitulation and Religious Indifference in The Plot Against America."
Modern Fiction Studies 59.4 (Winter 2013): 784-810.
 
"Christian Multiculturalism and Unlearned History in Marilynne Robinson's Gilead."
Novel 44: 3 (Fall 2011): 333-353.
 
"Gaps and Margins: Sociology and Assimilation in Jade Snow Wong and John Okada."
Chapter 43 of Asian American Literature, vol. 2. Edited by David Leiwei Li. Routledge, 2012.
 
A Genealogy of Literary Multiculturalism

Ithaca: Cornell University Press, 2009
American Library Association 2009 Outstanding Academic Title
The first 'unified field theory' of multicultural literature, A Genealogy of Literary Multiculturalism is a literary history of how we arrived at our current paradigm of writing, reading and teaching multicultural literature in the United States. It hypothesizes a three-phase development for multicultural literature from the 1920s to the 1980s, uncovering the largely unacknowledged role that social science ideas played in nourishing the politics and forms of the most canonical writers in the African American, Asian American, Mexican American and Native American traditions. A Genealogy of Literary Multiculturalism challenges the critical consensuses on the four traditions that treat each in terms of separate histories, a critical practice that has obscured the parallel phases of each tradition and the common cultural politics that generated multiculturalism's rupture with the non-pluralist literary politics that came before it.
 
Reciting America: Culture and Cliche in Contemporary U.S. Fiction

Urbana: University of Illinois Press, 2001
American subjectivity is a citational practice wherein official narratives situate citizens as legal agents and full members in the political and economic life of the nation. Reciting America develops a linguistic theory of ideology and argues that the American dream and other national vocabularies have become inflexible forms of language that inhibit apprehension of the real. Though postwar writers such as Ralph Ellison, Maxine Hong Kingston, Russell Banks and T. Coraghessan Boyle want to imagine spaces for critical or oppositional agency in the nation, there are several overwhelmingly centripetal vocabularies that tend to guide American consciousness into preworn paths and routine behaviors from which there is no escape.

"What The Bluest Eye Knows About Them: Culture, Race, Identity."
American Literature 78: 1 (March 2006): 141-168. Reprinted in Toni Morrison's The Bluest Eye. Bloom's Modern Critical Interpretations. Ed. Harold Bloom. Updated edition. New York: Chelsea House Publishers, 2007. 209-232.
 
"Reading Ethnography: the Cold War Social Science of Jade Snow Wong's Fifth Chinese Daughter and Brown v. Board of Education."
Form and Transformation in Asian American Literature. Ed. Zhou Xiaojing and Samina Najmi. Seattle: University of Washington Press, 2005. 101-124.