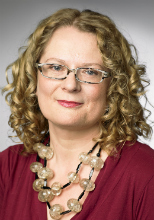 Position
Professor
English
Credentials
MA (Oxford), PhD (Glasgow)
Contact
Office: CLE C335
Dr Alison Chapman studied at the Universities of Oxford and Glasgow, and has taught at UVic as an Associate Professor since 2005. At UVic she is the Scottish Studies Fellow (2012-2014) and an elected Humanities Senator. She serves on the advisory board of the North American Victorian Studies Association, and the journals Victorian Poetry and Browning Society Notes. In the last few years Dr Chapman has held a SSHRC SRG award, and library fellowships from Princeton and the Armstrong Browning Library.
Dr Chapman's main research focus is Victorian literature and culture, especially poetry. She also writes on digital literary studies, and she is the Director of the Victorian Poetry Network and the Editor of the Database of Victorian Periodical Poetry.
Forthcoming publications include essays on "Digital Victorian Studies" (for the Blackwell Encyclopedia to Victorian Literature), ""Robert Browning and the Keepsake: Memory, Memorialisation, and the Future of Poetry" (Victorians Journal), "Internationalising the Sonnet: Toru Dutt's Baugmaree" (Victorian Literature and Culture), "Virtual Victorian Poetry" (for the collection Virtual Victorians) and "Transatlantic Mediations: Teaching Victorian Poetry in the New Print Media" (for the volume Teaching Transatlanticism). Dr Chapman is also completing on a book on Victorian poetic form and place, and beginning research for a book on Popular Victorian Poetry.
Alison Chapman. Networking the Nation: British and American Poetry and Italy, 1840-1870. Oxford University Press, 2014. Forthcoming.
Alison Chapman and Caley Ehnes (eds). Victorian Periodical Poetry, a special issue of Victorian Poetry. Spring 2014. Forthcoming.
Alison Chapman (co-author Joanna Meacock). A Rossetti Family Chronology Palgrave, 2007.
Alison Chapman (ed.) Victorian Women Poets. Boydell and Brewer, 2003.
Alison Chapman and Jane Stabler (eds). Unfolding the South: Ninteenth-Century British Women Artists and Writers in Italy. Manchester University Press, 2003.
Alison Chapman and Jane Stabler (eds). British and Irish Expatriate Writers in Italy, a special issue of Forum for Modern Language Studies. 39: 2 (April 2003)
Alison Chapman, Richard Cronin and Antony H. Harrison (eds.). A Companion to Victorian Poetry. Blackwell, 2002.
Alison Chapman. The Afterlife of Christina Rossetti. Palgrave Macmillan, 2001.
Alison Chapman, "Poetry, Network, Nation: Elizabeth Barrett Browning and Expatriate Women's Poetry," Victorian Studies 55: 2 (Winter 2013), 275-85
Alison Chapman, "On Il Risorgimento." BRANCH: Britain, Representation and Nineteenth-Century History, ed. Dino F. Felluga. 2012. Extension of the peer-reviewed journal Romanticism and Victorianism on the Net. Web.
Alison Chapman. "European Exchanges," in Joanne Shattock (ed.), The Cambridge Companion to English Literature, 1830-1914. Cambridge University Press, 2010.