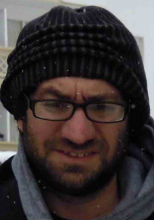 Position
Assistant Professor
English
Credentials
BA (Berkeley), PhD (Berkeley)
Contact
Office: CLE D268
Shamma Boyarin has taught at the University of Victoria since 2008 (in Religious Studies and Medieval Studies), and in the in English Department since 2009.
His research and teaching interests include: medieval literature (particularly the literature of Spain and the Near East), comparative literature (particularly Hebrew and Arabic), literature and religion, translation studies, Jewish studies, connections between medieval and contemporary aspects of religion, and religion and pop culture. He was one of the organizers of the very successful "South of Heaven: Religion and Heavy Metal" symposium that took place at UVic as part of Congress 2013. Dr. Boyarin regularly teaches the Bible courses for the English Department (ENGL 260 and 464).
Selected publications
Hebrew Romances
(Hackmey Hebrew Classical Library) Harvard and Tel Aviv UP, forthcoming 2014
Facing page scholarly translation of over twenty important examples of medieval Hebrew literature (many offered in English for the first time).
 "The Contexts of the Hebrew Secret of Secrets."
Volume Collectif Sur Le Secret De Secrets: Receptions europeenes du Secret de Secrets (XIIIe-XVIe siecles). Eds. M. Bridges, C. Gaullier-Bougassas and J.-Y. Tillete. Turnhout: Brepols, forthcoming 2013.
"Hebrew Alexander Romances and Astrological Questions: Alexander, Aristotle, and the Medieval Jewish Audience."
Alexander the Great in Medieval and Early Modern Culture. Ed. Markus Stock. Toronto: Toronto UP, forthcoming 2013.
 
"Ke adame filiolo alieno: A Comparison of Three Muwashshahat with the Same Kharja, Two Arabic, One Hebrew" (with Adriana Valencia).
Wine, Women and Song: Hebrew and Arabic Literature in Medieval Iberia. Eds. Michelle M. Hamilton, Sarah J. Portnoy and David A. Wacks. Newark: Juan de la Cuesta, 2004. 75-86.