HSD Research Centre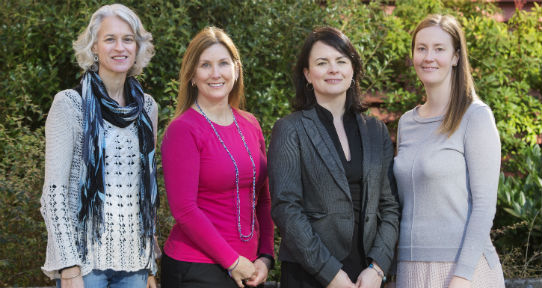 The four women with the HSD Research Centre—the only faculty-based research support service of its kind at UVic—will tell you that every funded study involves a complex series of steps to manage the process, from application to fund administration to reporting back to funding agencies. Given the community-based focus of much of HSD's research, many initiatives involve more than one researcher, faculty, school, research centre, or community partner.
Contacts
Shawna McNabb, Administrative Officer
hsdrcpd@uvic.ca | 250-721-6468
Emma Stuart, Research Coordinator
rcpdcoor@uvic.ca | 250-721-7048
Heather Cumming, Administrative Assistant
inforcpd@uvic.ca | 250-721-7049
Twitter @HSDResearch
HSD Research Centre
Human & Social Development Bldg. Room B241
University of Victoria
PO Box 1700 STN CSC
Victoria, BC V8W 2Y2
Support research excellence and accountability through pre- and post-grant services.
Build research capacity by mentoring and supporting faculty members.
Build a culture of research excellence across all schools.
Establish strong academic leadership.
Peer review and research mentorship
Information sessions
Workshops and seminars
New faculty and post-doctoral orientation sessions
No current news and events
No positions currently posted.