HSD Research Support Team
The HSD Research Support Team—the only faculty-based research support service of its kind at UVic—will tell you that every funded study involves a complex series of steps to manage the process, from application to fund administration to reporting back to funding agencies. Given the community-based focus of much of HSD's research, many initiatives involve more than one researcher, faculty, school, research centre, or community partner.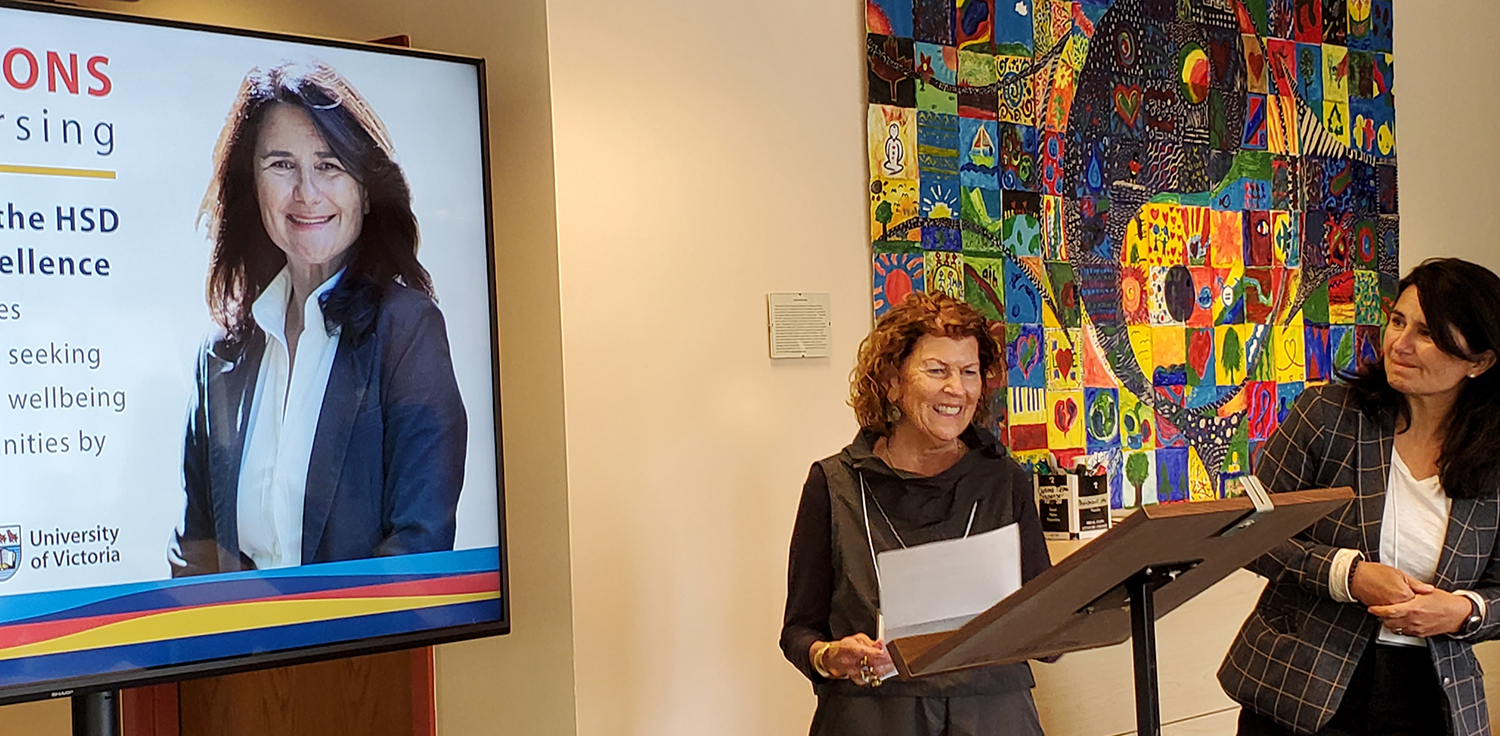 NEW GRADUATE LEVEL COURSE 

HSD is piloting a new course for graduate students - HSD 580 A01: SPECIAL TOPICS IN HSD: Systematic Review Methods from May-June 2023 taught by Dr. Karen Urbanoski and Dr. Zahra Premji. This course introduces systematic review methodology, with a focus on its use in health research (see attached course overview and poster). Systematic reviews are one type of knowledge synthesis, and are an important source of up to date evidence commonly used to inform policy, practice, and research. In this course, you will first learn about different approaches to conducting knowledge synthesis and when to use them. You will then move through the steps in conducting a rigorous systematic review including: designing the research question and the search strategies, utilizing explicit criteria to screen studies, extracting and analyzing data, and generating findings. You will learn how to assess individual studies for bias and appraise the quality of a body of evidence. You will have the opportunity to design the protocol for your own systematic review on a health topic of your choice. Whether you are planning on conducting your own systematic review or would simply like to learn more about conducting and evaluating systematic reviews, this course is for you! Read the course overview.
If you would like to register, please note the following: if you are an INTD or SDH student you can register through the Online Tools registration web page. Directions are found at this link https://www.uvic.ca/students/graduate/registration/index.php. 
Please note, if you an HSD grad student and your home unit is not INTD or SDH you require permission from the instructor, your supervisor and the Faculty of Graduate Studies (FGS) in order to register in a course outside of your home department/major code. The directions are located Graduate Course Registration Form found at the above link. If you have any questions please contact your graduate advisor.
As an alternative or in addition to the Special Topics in HSD course, the following is also available: The Centre for Evidence-Informed Nursing and Healthcare (CEiNHC) at the University of Victoria, School of Nursing, a JBI Centre of Excellence, offers an intensive systematic review training program for clinicians, researchers, health professionals, librarians, and students using the JBI model of evidence-based health care to improve nursing practice and education. The program includes the following modules:
Module 1: Introduction to Evidence-based Healthcare and Systematic Review of Evidence
Module 2: The Systematic Reviews of Quantitative Evidence
Module 3: The Systematic Reviews of Qualitative Evidence Generated by Qualitative Research, Narrative, and Text
CEiNHC offers a discounted price of $1,092 for faculty at the University of Victoria, BSN partner colleges, and health authority affiliates, and a limited number of seats for students at $682.50. Information and registration for this five-week program (April 28 - May 26 2023 ) can be found:
https://events.eply.com/2023UVicJBIComprehensiveSystematicReviewTraining3368139
HSD GRADUATE STUDENT WORKSHOP
Recruiting Research Participants

The video is available on our Research Circle and Special Speaker Events.
---
The Buffalo Treaty: an HSD Engage community event 

View the video of Leroy Little Bear speaking on The Buffalo Treaty.
---
Do you have questions about how to design a Research Poster? Read our tips. 
Did you miss a training workshop? Check out our Graduate Student Corner.
Visit our HSD Research Circle page and watch interviews with HSD researchers.
Read the HSD Strategic Research Plan.
We help HSD researchers at all career levels by providing:
Peer review and research mentorship
Information sessions
Workshops and seminars
New faculty and post-doctoral orientation sessions
Some of the supports we provide to busy researchers include:
Supporting research excellence and accountability through pre- and post-grant services. These services include assisting with grant applications, completing budgets, updating online CCVs, processing paperwork for hiring Research Assistants, submitting expense claims, and helping with other grant management paperwork. 
Building research capacity by mentoring and supporting faculty members.
Building a culture of research excellence across all schools.
Establishing strong academic leadership.
Contact us to find out more about how we can support HSD faculty in research excellence.
JOB POSTING FOR RESEARCH COORDINATOR
Indigenous Graduate Education in Nursing (I-GEN): The BC Indigenous Health Research Program is looking for a research oriented and systems implementing individual for a CIHR-funded research study. This position will report directly to the BC Research Chair and work closely with the students, staff, partners and members of the collaborative team. The successful candidate will be responsible for the implementation and overall success of the research activities.

This research project is a complex collaboration between Indigenous communities, Schools of
Nursing working across five BC post-secondary institutions. This is a grant-funded position based out of the University of Victoria, with opportunity for remote working arrangements. This is a full-time position with a salary range of $59 400-$62,000. 
To find out more, download our job posting.
JOB POSTING FOR GRADUATE RESEARCH ASSISTANT
Help Dr. Mariko Sakamoto work on some exciting research!
Would you like to help a professor with research that looks at the needs of people with dementia?  Dr. Sakamoto's study, Dementia Friendly Communities: Involving People with Dementia Who Live Alone, is the first phase in a larger Participatory Action Research (PAR) project, and will begin to address the following objective: develop a grounded and practical understanding of the community-related needs of people with dementia who live alone.

This position will be from May 1, 2023 to December 31, 2023 and will pay $28.87/hour (plus 4% vacation pay) for 5-7 hours a week.

To find out more, download our job posting.
Contact Us
Nathan Lachowsky, Associate Dean Research 
hsdadr@uvic.ca 
Kathy Jang, Assistant to the Associate Dean
hsdadradmin@uvic.ca
Paul Meier, Research Support Team Lead
HSDRSTLead@uvic.ca | 250-721-7048
Jasmine Desjardins, Faculty Grant Officer
HSDFGO@uvic.ca | 250-721-6468
Administrative Assistant (Jean Dickson on leave)
HSDRSTAdmin@uvic.ca | 250-721-7049

HSD Research Support Team
Human & Social Development Bldg. - Room B241
University of Victoria
PO Box 1700 STN CSC
Victoria, BC V8W 2Y2