HSD Research Support Centre
The HSD Research Support Centre—the only faculty-based research support service of its kind at UVic—will tell you that every funded study involves a complex series of steps to manage the process, from application to fund administration to reporting back to funding agencies. Given the community-based focus of much of HSD's research, many initiatives involve more than one researcher, faculty, school, research centre, or community partner.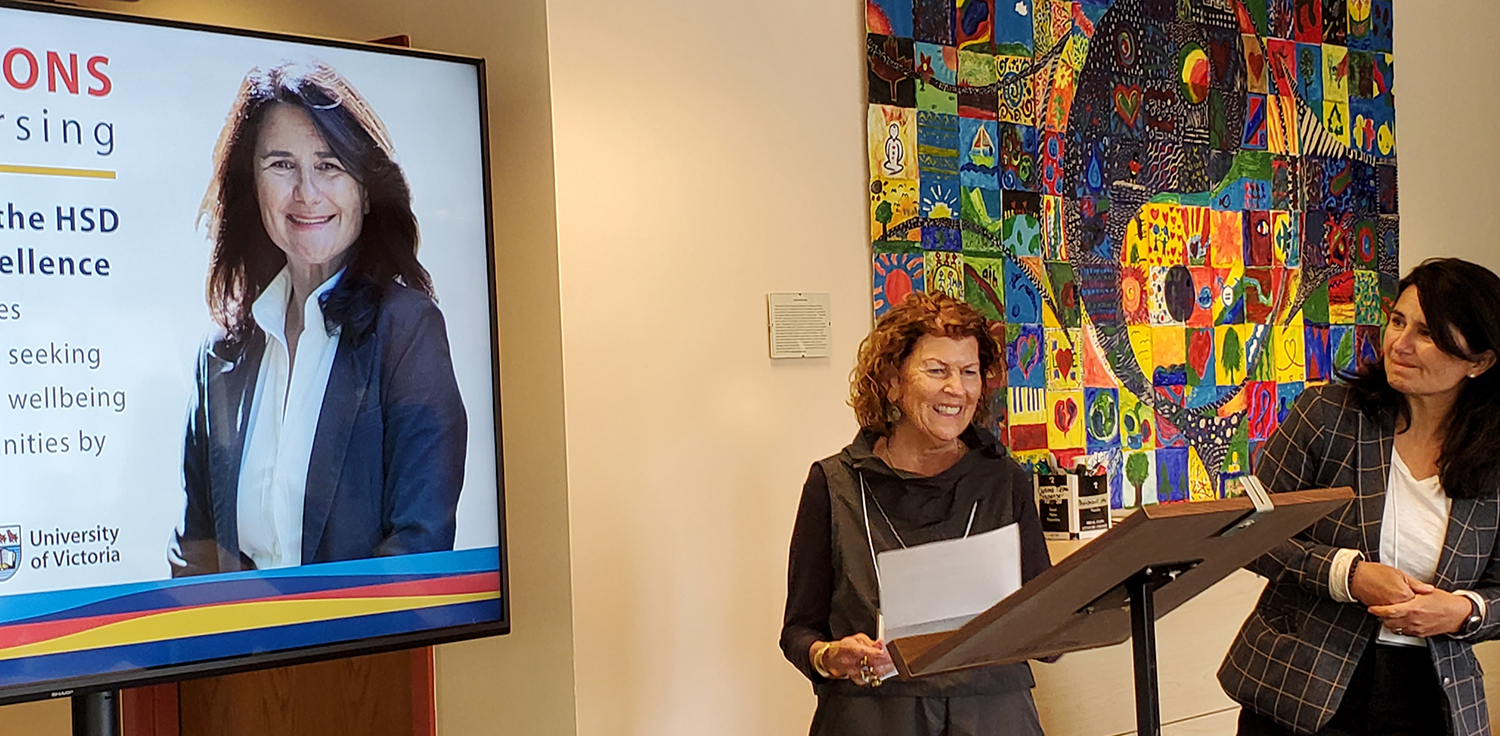 HSD RESEARCH EXCELLENCE AWARDS 2023

These awards recognize the research contributions of HSD faculty. The three awards include:
Early Career Research Excellence Award. The nominee must be a full-time HSD research faculty within five years of their first faculty appointment.
Mid-Career Research Excellence Award. The nominee will be a full-time HSD research faculty between six and fifteen years of their first faculty appointment.
Indigenous Research Excellence Award. The nominee will be a full-time HSD Indigenous research faculty.
HSD faculty are encouraged to submit nominations for each of the three awards by 4:30 pm PST Friday, March 10, 2023.
Learn about the HSD Research Excellence Award Guidelines.
---
HSD INTERNAL GRANTS 2023

Our HSD Internal Grants (HSD IG) provide funding for research development, knowledge synthesis and knowledge mobilization projects that will lead to external research funding submissions or scholarly publications. The Principal Applicant must be an HSD faculty member within the first six years of their research stream, tenure track appointment.
Nominations must be received by 4:30 pm PST Friday, March 31, 2023. Late applications cannot be accepted.
Read more about the HSD Internal Grants.
---
HSD GRADUATE STUDENT WORKSHOP
Recruiting Research Participants

The video is available on our Research Circle and Special Speaker Events.
---
The Buffalo Treaty: an HSD Engage community event 

View the video of Leroy Little Bear speaking on The Buffalo Treaty.
---
Do you have questions about how to design a Research Poster? Read our tips. 
Did you miss a training workshop? Check out our Graduate Student Corner.
Visit our HSD Research Circle page and watch interviews with HSD researchers.
Read the HSD Strategic Research Plan.
We help HSD researchers at all career levels by providing:
Peer review and research mentorship
Information sessions
Workshops and seminars
New faculty and post-doctoral orientation sessions
Some of the supports we provide to busy researchers include:
Supporting research excellence and accountability through pre- and post-grant services. These services include assisting with grant applications, completing budgets, updating online CCVs, processing paperwork for hiring Research Assistants, submitting expense claims, and helping with other grant management paperwork. 
Building research capacity by mentoring and supporting faculty members.
Building a culture of research excellence across all schools.
Establishing strong academic leadership.
Contact us to find out more about how we can support HSD faculty in research excellence.
Drs. Amanda LaVallee, Raven Sinclair, and Lynn Lavallee are seeking a graduate student (MA or PhD) for a research trainee position (preference given to Indigenous students) with a Social Science and Humanities-funded 3-year research project examining Indigenous-specific racism in the Academy. The trainee will work under the direction of senior researchers and the day-to-day supervision of the Project Manager.
Hours: 15 hours per week, flexible schedule
Term: January 15, 2023 - December 31, 2023
Hourly Rate: $27.65/hour
To apply, please check the job posting.
---
A PhD student in Public Administration is looking for a Research Assistant (RA) to assist with her PhD research on police leadership demographics and experiences of BIPOC employees and Board members in non-RCMP municipal police departments in BC. Funding for the RA has been made possible via the HSD Graduate Student Research Award.  
Term: January to April 2023
Rate: $27.00 / hour
Hours per Week: 7
Duration: 15 weeks
Total Cost: $27*7*15 = $2835.00
Responsibilities: 
Transcribe interview notes from in-person interviews
Review and amend Zoom auto-dictation notes from virtual interviews
Code interviews
Please respond to karenhira1@gmail.com with resume and cover letter.
Contact Us
Dr. Hokulani Aikau, Acting Associate Dean Research
hsdadr@uvic.ca 

Kathy Jang, Assistant to the Associate Dean
hsdadradmin@uvic.ca
Currently not filled, Administrative Officer
hsdrcpd@uvic.ca | 250-721-7048
Jasmine Desjardins, Research Coordinator (pre-grant support)
rcpdcoor@uvic.ca | 250-721-6468
Jean Dickson, Administrative Assistant (pre/post-grant)
inforcpd@uvic.ca | 250-721-7049
Twitter @HSDResearch
HSD Research Support Centre
Human & Social Development Bldg. - Room B241
University of Victoria
PO Box 1700 STN CSC
Victoria, BC V8W 2Y2