HSD Research Centre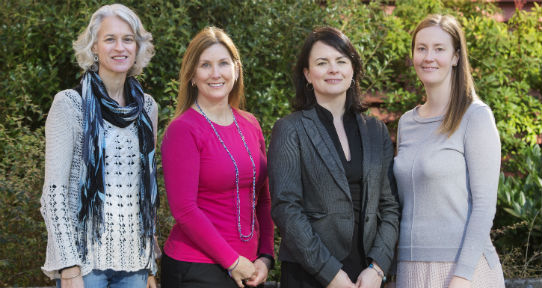 The four women with the HSD Research Centre—the only faculty-based research support service of its kind at UVic—will tell you that every funded study involves a complex series of steps to manage the process, from application to fund administration to reporting back to funding agencies. Given the community-based focus of much of HSD's research, many initiatives involve more than one researcher, faculty, school, research centre, or community partner.
Contacts
Shawna McNabb, Administrative Officer
hsdrcpd@uvic.ca | 250-721-6468
Emma Stuart, Research Coordinator
rcpdcoor@uvic.ca | 250-721-7048
Heather Cumming, Administrative Assistant
inforcpd@uvic.ca | 250-721-7049
Twitter @HSDResearch
HSD Research Centre
Human & Social Development Bldg. Room B241
University of Victoria
PO Box 1700 STN CSC
Victoria, BC V8W 2Y2
Support research excellence and accountability through pre- and post-grant services.
Build research capacity by mentoring and supporting faculty members.
Build a culture of research excellence across all schools.
Establish strong academic leadership.
Peer review and research mentorship
Information sessions
Workshops and seminars
New faculty and post-doctoral orientation sessions
No current news and events
Network Coordinator - Centre for Indigenous Research and Community-Led Engagement (CIRCLE)
CIRCLE is seeking a five-year-contract, full-time Network Coordinator for the Indigenous Mentorship Network of the Pacific Northwest (IMN-PN). The Network Coordinator will support the provincial team by coordinating mentorship and networking activities for First Nations, Inuit and/or Métis students, trainees and mentors across the network.
The individual hired in this position will provide support in the following areas: event coordination and special projects; communications planning and coordination; and program administration. Applicants must reside in or near Victoria (or be willing to relocate), and selection will be limited to Indigenous applicants.
Please see the job posting for more information about the position, and you can find out more about our team on CIRCLE's website. Any inquires should be directed by email to imnpn@uvic.ca or by telephone to 250-472-5452.