Gareth Gaudin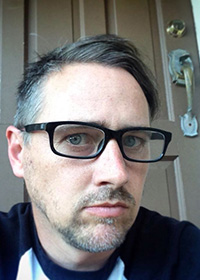 Position
Co-owner
Legends Comics & Books, Victoria BC
Credentials
In addition to a two-year term as Artist-in-Residence at the Royal BC Museum, Gareth Gaudin has been teaching art classes in Victoria for almost 20 years at the likes of the YM/YWCA, the Art Gallery Of Greater Victoria, Story Studio, the Robert Bateman Centre and his own Back Room Studio at Victoria's iconic Legends Comics & Books.
An award-winning cartoonist, Gareth teaches classes in sequential art, cartooning, zine-making and comic book publishing, and is an in-demand guest artist and speaker at schools and post-secondary institutions around Victoria. He has also found fame for his commitment to drawing one single-panel cartoon per day since July 27, 2004—which he then publishes in his Magic Teeth comics.  
Gareth has published more than 200 comic books and graphic novels featuring his own work—notably The Perogy Cat and the popular Monster Sisters series—and has worked with the likes of the Barenaked Ladies and spoken word artist Shane Koyczan. He also runs Magic Teeth Records.