Graduate students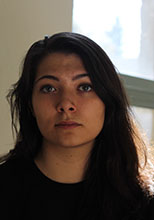 Lauren Brinson
Interdisciplinary
Lauren Brinson is an interdisciplinary artist from Corner Brook, Newfoundland. Her work considers experiences of interpersonal connections through the everyday objects that facilitate them. By manipulating the function of made and found objects, as well as the history of traditional craft, she works to mediate societal perceptions or worth, and the physical and psychological spaces between herself and others.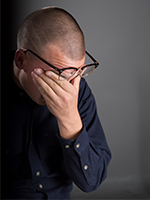 Levi Glass
Sculpture
Levi Glass has exhibited internationally at venues in Germany, Switzerland, and Italy, and at national venues in the Yukon, Alberta, and frequent exhibitions in BC. His artistic practice focuses on the mediation between images and objects that often result in new technologies in familiar forms. Currently he is working on a SSHRC funded outdoor panoramic cinema. This Panorama will be on its own an artwork and a community place for engaging multi-channel cinema, public discussions and lectures.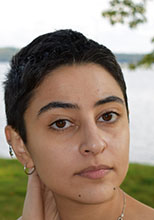 Mona Hedayati
Interdisciplinary
Mona Hedayati is an Iranian-Canadian interdisciplinary artist with a conceptual and critical approach. She has exhibited in Iran, Germany and Canada. Mona received a BA in Literature, Linguistics and Translation and an advanced diploma in Fashion Design and Illustration as well as a diploma in Visual Arts. In her recent body of work, she explores the notions of the gaze, surveillance and the systems of power and the role of global capitalism therein.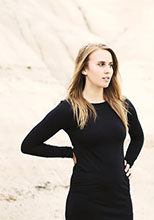 Elly Heise
Photography
My practice embodies narratives and ideas inspired from my family archive of photographs. These photographs range from the early 1900's to the late 1970's. Using my own photography, digital manipulation, and painting, I blend these photographs together into new images and re-contextualize them. I believe that the integration of different mediums represented in a non-specific space can allude to the idea of timelessness. The historic photograph taken out of its previous context becomes something universally relatable and eternal. I do this with the intention of melding a sense of nostalgia with a contemplation of eternity. The subject becomes immortalized in a simplistic space that is familiar in its generality, but ethereal in its aesthetic.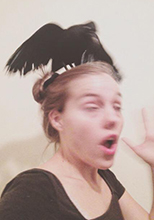 Dani Proteau
Sculpture and installation, photography and video
A collective obsession with screens detaches our contemporary culture from the physical world. In light of this, my work aims to distill and bring forth engaging elements found in everyday objects—light, sound, colour, and movement—to prompt contemplation, wonder, and to interrupt otherwise ossified ways of knowing. 
Through sculpture, installation, photography, and video projection, my current practice seeks to disrupt everyday methods of perceiving and challenge what can be sensed. Christina Trutiak
MFA Candidate
Visual Arts