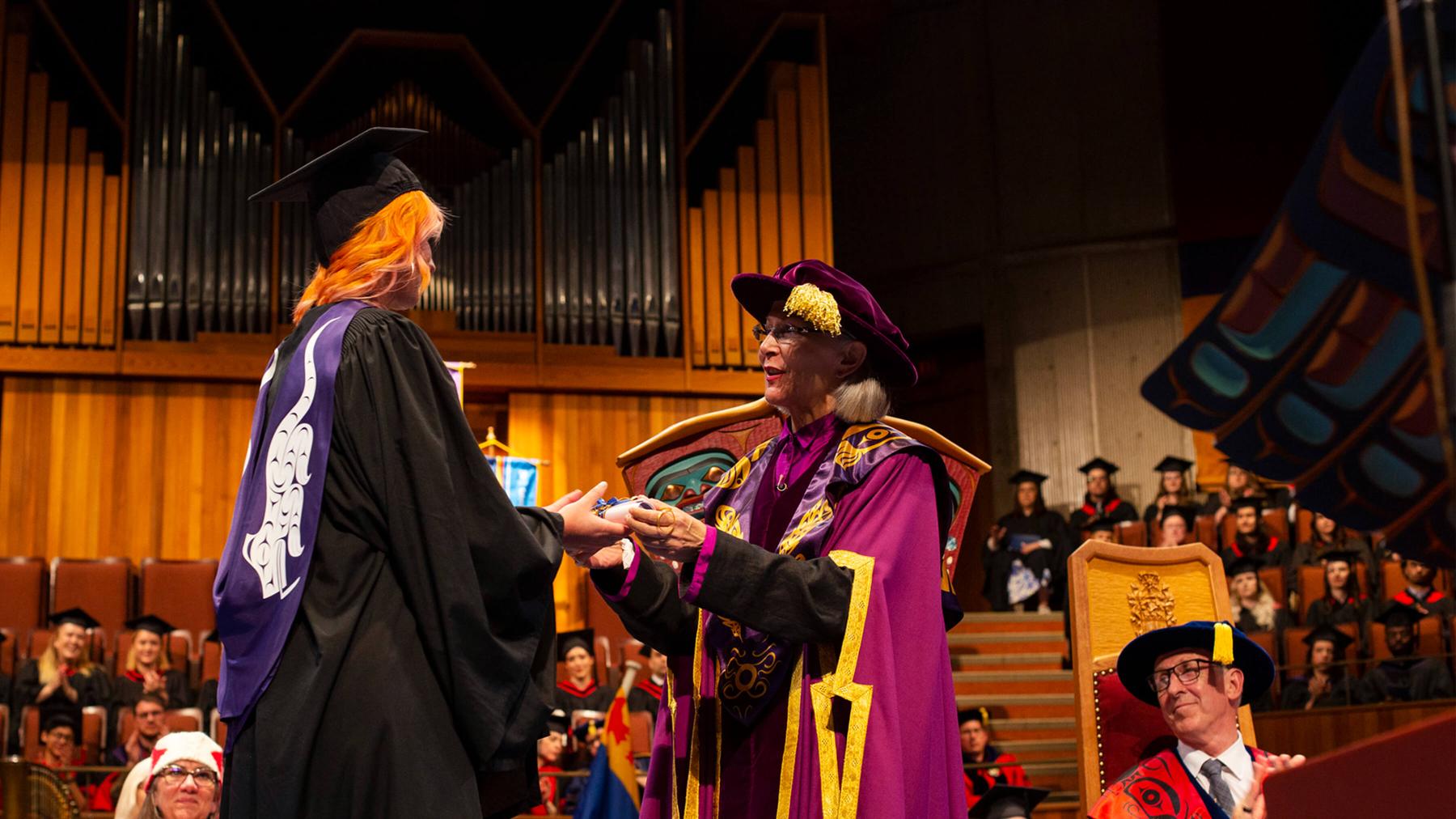 Spring graduation 2023
June 12-16
Congratulations to our spring graduates! We're proud of your achievements and are excited to celebrate this important milestone with you.
Attending convocation ceremonies
UVic is committed to celebrating graduation in a safe and meaningful way. Find information on registration, schedules and more.
get involved: volunteers, academic procession and PhD supervisors
Watch the ceremonies
Livestream the ceremonies on UVic's YouTube channel, or watch them on-demand afterwards. An American Sign Language interpreter and live captioning will be available during each ceremony. Don't miss a moment!
Note: The names of students who are not in attendance will not be read during the ceremony. Ceremonies include undegraduate and graduate students unless otherwise noted.
Monday, June 12 - 2:30 p.m. PDT
Humanities
Continuing Studies
Tuesday, June 13 - 10 a.m. PDT
Engineering & Computer Science (undergraduate students only)
Tuesday, June 13 - 2:30 p.m. PDT
Education
Engineering & Computer Science (graduate students only)
Wednesday, June 14 - 10 a.m. PDT
Social Sciences: Economics, Environmental Studies & Political Science
Wednesday, June 14 - 2:30 p.m. PDT
Social Sciences: Anthropology & Psychology
Thursday, June 15 - 10 a.m. PDT
Law
Science: Biochemistry & Microbiology
Social Sciences: Geography & Sociology
Thursday, June 15 - 2:30 p.m. PDT
Science: Biology, Chemistry, Earth and Ocean Sciences, Earth Sciences, Mathematics and Statistics & Physics and Astronomy
Friday, June 16 - 10 a.m. PDT
Human and Social Development: Child and Youth Care, Community Development, Dispute Resolution, Health Information Science, Indigenous Governance, Nursing, Public Administration, Publich Health and Social Policy & Studies in Policy and Practice
Friday, June 16 - 2:30 p.m. PDT
Business
Fine Arts
Human and Social Development: Social Work
Share your #uvicgrad moment on social
Use the #uvicgrad hashtag on social to share your grad moment, or upload your grad photo.
Stories from the class of 2023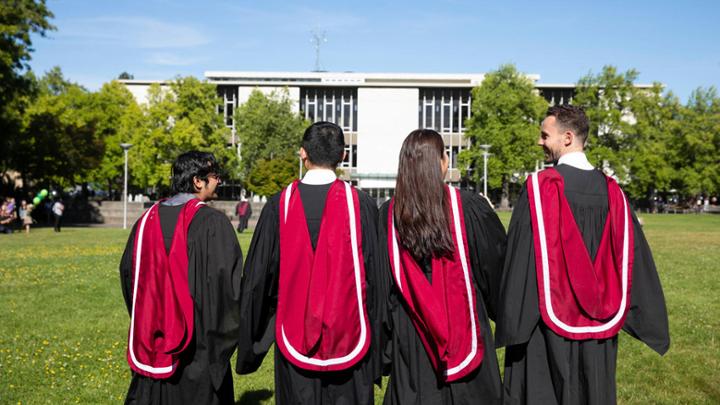 Honorary degrees
UVic has awarded honorary degrees since its first convocation in 1964. This fall we're awarding three honorary degrees that recognize notable achievements in scholarship, teaching, business and public service.
More grad 2023 info
Diplomas
Diplomas will be handed out on stage during each convocation ceremony. 
Not attending your ceremony? Diplomas will be ready for pick up beginning June 22. Bring your photo ID to the Office of the Registrar. If you registered to have your diploma mailed, it will be sent within 1 week following convocation.
Did you know that UVic's diplomas have a new look? Introduced last fall, the parchment renewal project was spurred by feedback from graduating students during the COVID-19 pandemic.
UVic Alumni Association
Welcome to the UVic Alumni family! Join us at Mystic Market for a celebration after each graduation ceremony. All grads and their guests are invited for treats, giveaways and fun photo opportunities.
Keep in touch and access alumni benefits and services through the alumni website.
Grad gifts and keepsakes
Searching for something to remember the day? The UVic Bookstore has a wide range of UVic merchandise available for purchase online.
Flowers
Surprise your graduate with a beautiful bouquet! You can pre-order flowers for pick up the day of the ceremony.

Please note, graduates may not wear or carry flowers during the ceremony, so hold on to them for later. Fresh roses are also available for purchase during convocation.
Need help?
Learn
what to expect on your convocation day
or
email the Ceremonies office
if you have questions.