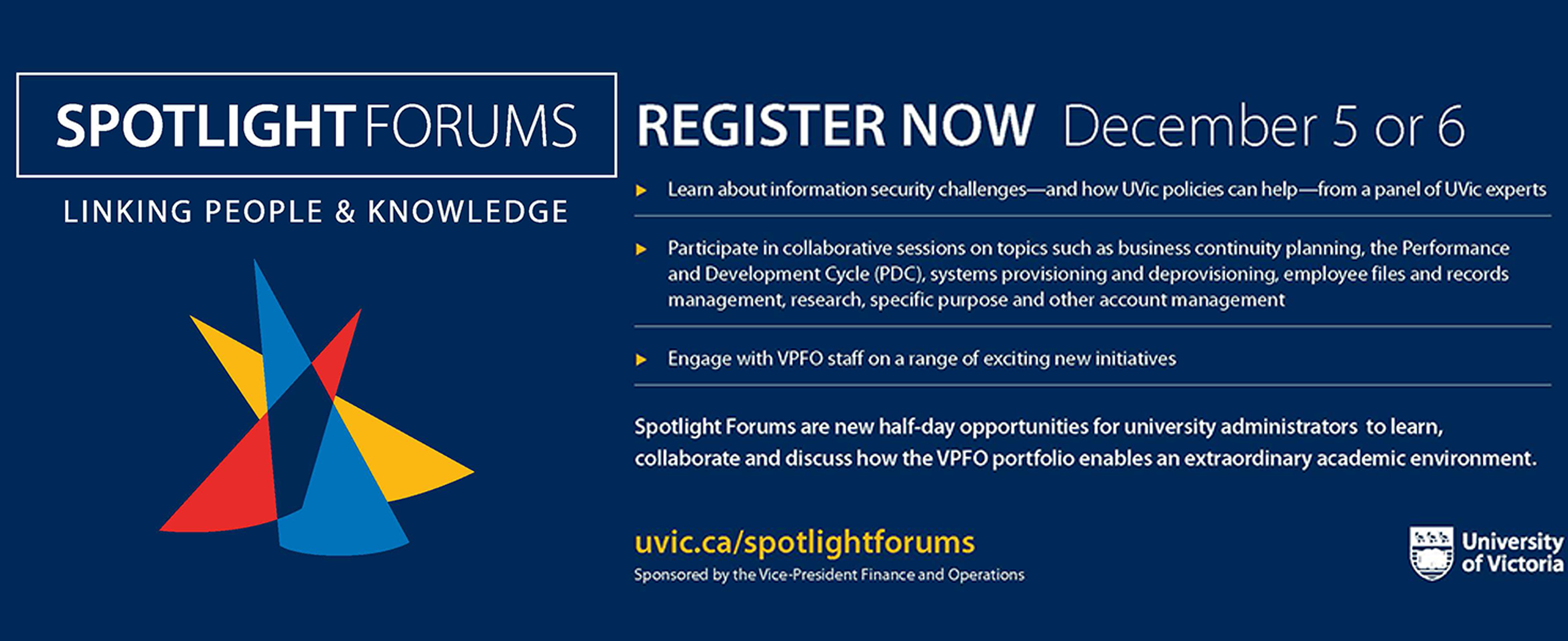 Spotlight Forums - Register Now!
The VPFO's Service Excellence Strategic Framework group is excited to present the Spotlight Forums!
Spotlight Forums are new half-day opportunities for university administrators to learn, collaborate and discuss how the VPFO portfolio enables an extraordinary academic environment.

You are encouraged to participate in collaborative sessions with administrators from around the university on new processes and initiatives, and hear updates from different areas in the portfolio.

This is the perfect opportunity to join your colleagues, feel connected, and learn about the exciting work happening on campus.
Join us for a session where individuals involved in the Information Security Policy will share their worries about privacy and information security, and how our policies can help us feel better. (Also learn what cryptolocker means!)
Participate in collaborative sessions on topics such as business continuity planning, the Performance and Development Cycle (PDC), systems deprovisioning, employee files and records management, research, specific purpose and other account management
Engage with VPFO staff on a range of exciting new initiatives

Click here or go to https://www.uvic.ca/spotlightforums to register.
Principles Guiding the Service Excellence initiative
Flexible for diverse learning styles and relationships
Accessible to all types of employees and supervisors in VPFO
Growth and learning-oriented
Cross-portfolio focus, engagement, inclusivity, and transparency
Enduring commitment, expressed from the VPFO leadership
Employee Engagement Initiative
VISION: To foster employee engagement that supports VPFO Service Excellence by
Empowering all VPFO staff to harness growth and cross-portfolio learning opportunities
Developing team building and collaboration activities to strengthen cross-portfolio relationships
Upcoming Events:
Lunch and Learns

Lunch and Learns are one-hour micro sessions on a variety of useful skills and techniques.
October 29th
Recycling at home, on campus, and globally: Know your role!
November 19th
Ememrgency Preparedness Boot Camp; Know your environment!
December 10th
Exploring the new Campus Greenway: Know your univeristy!
RSVP by emailing
vpfoproj@uvic.ca

Attend, Present, Integrate!
Designed to integrate and build connections across VPFO, these fun, interactive "Meet the Team" events are opportunities to find out surprising new things about what our colleagues in VPFO do day-in-and-day-out. Meet the faces behind the names and deepen your understanding of how VPFO works to serve the University of Victoria. Attend an upcoming session or volunteer your team to present!
No Registration required for these come and go events.
Strong Start

Are you or your employee new to a position in the VPFO? The Service Excellence team has put together an event for you.
This is your chance to get to know some team members in the VPFO portfolio, pick up informational materials, learn about exciting services, and of course, meet other new employees in a casual setting.
The next Strong Start event will be held in mid-November, 2019. 
For more information email vpfoproj@uvic.ca
VPFO Employee Appreciation BBQ

The second annual VPFO Employee Appreciation BBQ was a huge success!
Employees were able to relax in the sun, eat a burger, play big block jenga, connect with others, and help celebrate their colleagues' 5, 10, 15, and 20th milestone years of service at the university.
Check out the Events Gallery for photos of the event.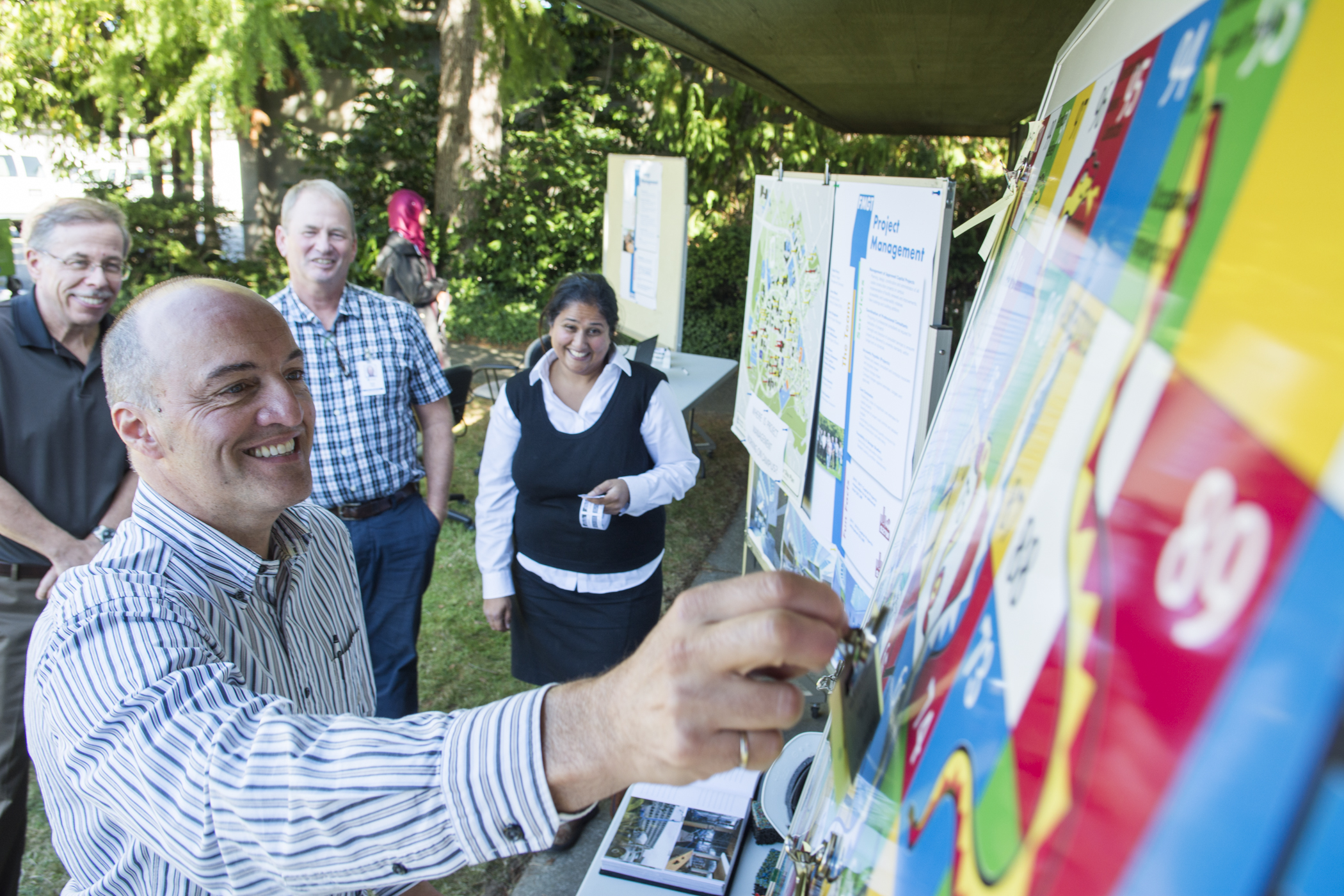 The Service Excellence Committee is always ready to support our on-campus and broader community in various ways. We've done BBQs, fancy High Teas, bake sales, Bocce tournaments, and more to support local and international causes and build cohesiveness among our teams. Find out about upcoming events and enjoy our gallery of past events!