VPFO Service Excellence Committee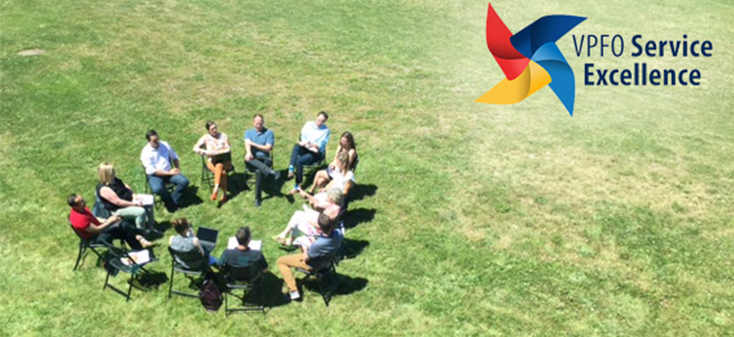 In June 2015, all VPFO staff were invited to participate in the "Creating a Culture of Service Excellence" survey. Thanks to input from many VPFO leaders, three themes were identified from the survey results as opportunities for further attention going forward: (1) coaching and feedback, (2) vision of leadership, and (3) long-term employee engagement. A VPFO Service Excellence Committee has been formed to develop initiatives in these areas, beginning with employee coaching and feedback.
About the Committee:

This committee is responsible for exploring, developing, and (once approved by the VPFO) implementing initiatives that contribute to service excellence. It welcomes members of varying experience/rank (ie, front line employees, emerging leaders, current leaders), so that it can obtain a diversity of perspectives. The committee meets monthly for 1 hour, and forms sub-committees as required to carry-out specific activities.

Committee Members:
Adam Taylor, Office of the VPFO
Alexis Osmond, Campus Security
Chandra Beaveridge, Office of the VPFO
Colin Newell, Univeristy Systems
Darryl Johnson, Facilities Management
Emily Boulter, Campus Security
Ian Jones, Pensions
Juliet Van Vliet, Planning and Sustainability
Kelly Simpson, Human Resources
Leigh Andersen, Facilities Management
Lotte van den Dam, University Systems
Mark Stephenson, Treasury
Melissa Joyce, Research Accounting

Sarah Howe, Human Resources
Scott Thompson, University Systems
Sinead Mitton, Univeristy Systems
Yasmin Kathrada, Human Resources