University Systems help centre
Connect to an SFTP Client

1.  Ensure that you have downloaded a Secure File Transfer Client, such as Filezilla.
2.  Launch the File Transfer Client by finding the program in the Start menu (Windows) or in the Finder (Mac).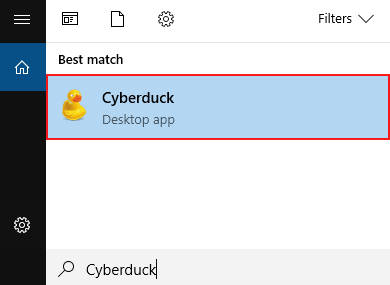 3.  The main application window will open. Enter the necessary information in the fields, located near the top of the window:
Host: the server to which you'd like to connect. If you are trying to access your UVic web space, the host name would be unix.uvic.ca.
Username: your login ID for the server. For unix.uvic.ca, your username would be your personal NetLink ID.
Password: your password for the server. For unix.uvic.ca, your password would be your NetLink ID password.
Port: 22 (22 is the SFTP port; 21 is the FTP port).
Click
Quickconnect
.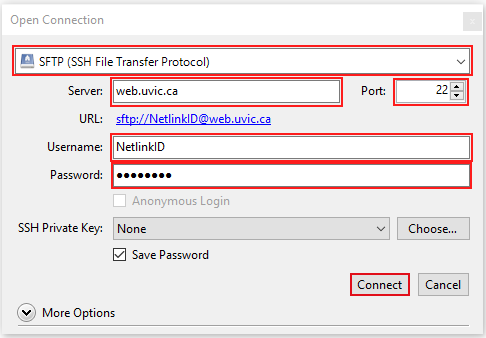 4.  You will see a host key message, showing the fingerprint for the server to which you are trying to connect. For security reasons, ensure the displayed fingerprint matches the actual fingerprint of the server. Fingerprints for many host at UVic can be found here.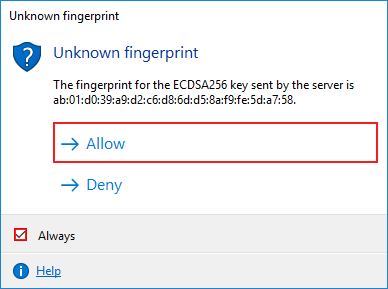 If the pattern in the alert matches the pattern for your host, check the box that says Always trust this host, add this key to the cache. Then click OK.

Alternatively, you can deselect the checkbox and click OK to trust this key only for the current session.
5.  The files and folders on the server should appear alongside your computer's files and folders. From here, you will be able to view and transfer files.



From here, you can transfer items, delete items, and create folders. Files and folders related to your web space should go in the www (live site) or www-dev (production site) folder.