University Systems help centre
Access your role-based email: Outlook Web App
Note: Before you attempt to access your role-based email in OWA please ensure that you have been granted access to the account.  You do not need the username or password for your role-based email.
Using a web browser, navigate to https://mail.uvic.ca and access your Exchange account using your primary NetLink ID and password.
Once logged in, click on your name (top-right) to open the Open another mailbox...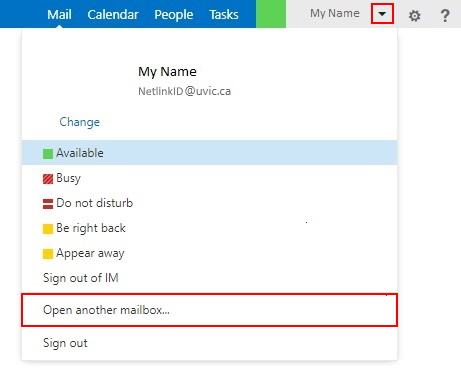 Type in the role-based email name and click Open.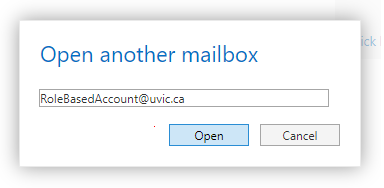 If you are opening this account for the first time, you will be prompted with language and regional settings. Be sure to select English (Canada) before clicking OK.
Configuring Calendar Settings
Like your personal calendar, a role-based calendar can be configured to only be available for scheduling during normal working hours.
To configure your calendar work week and other calendar options, click on the Options tab located on the top right and from the pull down menu select See All Options.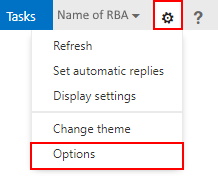 Click Settings located on the left navigation bar and the select the Calendar icon.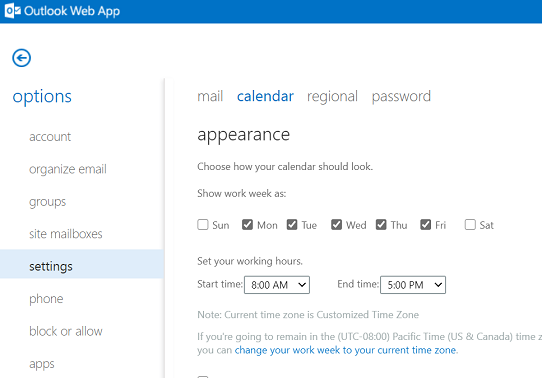 The options on this page will allow you to set your work week, as well as enable or disable reminders for this calendar.