University Systems help centre

Standard technology solutions
Technology Solutions Centre: Laptops
What is a standard computer?
Standard Computers consist of:
carefully evaluated and tested hardware that can be encrypted (TPM chip) and warranty serviced on campus
a secure UVic-specific software image including Windows 10, Microsoft Office 2016, and

Microsoft Defender for Endpoint (MSDE)

, that is ready to connect to enterprise services such as Active Directory (allowing you to log on with your NetLink ID and password) and BitLocker (to encrypt your hard drive)
a preferred supplier who maintains local inventory for the quickest possible delivery to campus
These standard computers are typically available for delivery within 2 business days after processing your WebReq, provided stock is available at Microserve. Delays may occur due to manufacturing & shipping issues and high order volume.
For more information about technical approval, university purchasing policies, and forms to request a deviation from standards, please visit our technical approvals page and see our flow chart.
Due to global stock constraints, the delivery of standard equipment is delayed. We are working closely with vendors to find alternative products that meet the requirements for technical approval and have been successful in securing orders with an immediate commitment to purchase.  If you require computer equipment, please contact tsc@uvic.ca and we will work with you to order suitable computer hardware as quickly as possible.
We currently are experiencing very long lead-times in obtaining supply for the following items. Where applicable, please consider an alternative model if you require your equipment to arrive quickly:
Dell 24in LED USB-C Monitor (P2419HC)
Dell Latitude 3420 Laptop
Dell Latitude 5320 Laptop
Dell Latitude 9420 Laptop
---
Dell Latitude 3420
$1151 with PST/GST*
Dell Latitude 5320
$1561 with PST/GST*
Dell Latitude 9420 2-in-1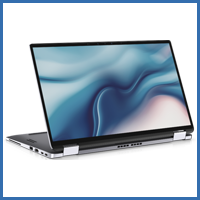 $2530 with PST/GST*
---
Special order
If none of our standard laptops meet your needs, please contact the Technology Solutions Centre. We will be happy to work with you to find other options.