Akile Ch'oh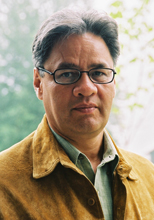 Position
Grand Chief Edward John
Credentials
Sociology - BA Hons. (1996)
Grand Chief Edward John (Akile Ch'oh) has dedicated himself to improving the lives of Indigenous people. He established a law practice in Prince George where he led social assistance education programs for members of the Tl'azt'en Nation. He was the founding president of Tanizul Timber, securing the first and only tree farm licence awarded to a BC First Nation. As Tribal Chief of the Carrier Sekani Tribal Council, he negotiated and signed the first child services agreement between the Carrier and Sakani First Nations and the BC government and has been a special advisor to the BC government on Indigenous child welfare since 2015. He was the BC representative to the Assembly of First Nations Constitutional Working Group, and he co-authored the 1991 BC Claims Task Force Report, the blueprint for treaty negotiations in BC. He was appointed Grand Chief of the Tl'azt'en Nation in 1992.
Internationally, he represented the Assembly of First Nations in the development of the United Nations Declaration on the Right of Indigenous Peoples. He was recently re-appointed for a second three-year term as a North American Representative to the United Nations Permanent Forum on Indigenous Issues (January 2014–December 2016). He attended 2009 sessions with Pope Benedict XVI on the role of the Catholic Church in Indian Residential Schools. In 2012 he received an Honorary Doctor of Laws degree from UVic.
I graduated from the university with a Bachelor of Arts and strong sense of pride and confidence. My education gave me an important and real chance towards success in life and in my profession. I could rely on myself with a substantive base of knowledge such as it was with a B.A. with distinction in Sociology.
Subsequent education: LLB (UBC)