Tools for Change: Preventing Sexualized Violence at UVic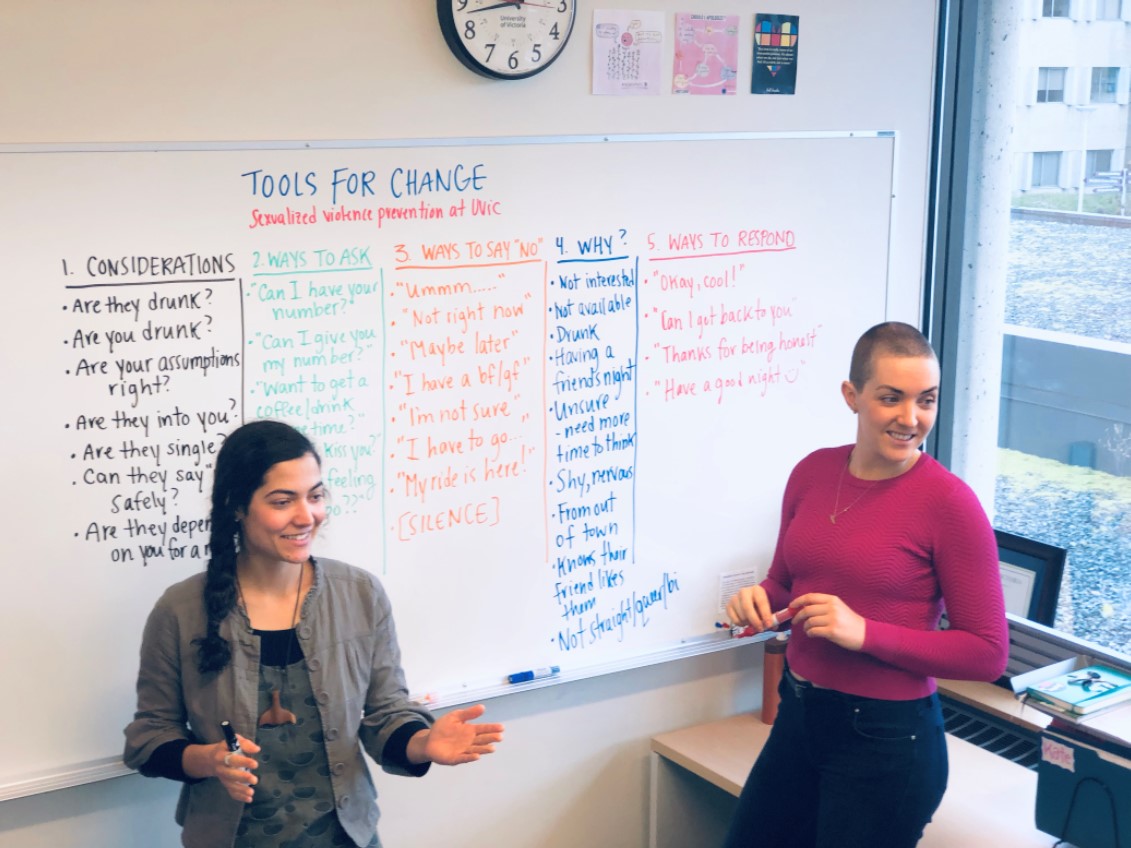 Who is this workshop for?
This workshop is for students who want to be a part of a culture shift at UVic. It is especially important and useful for those who have not taken sexualized violence prevention training in the past and/or those with want to learn more about UVic's work to prevent sexualized violence.
What is our approach?
The workshop is peer-led, highly interactive, and focused on learning skills. Attendees are invited to participate in accessible discussions and group activities. Students who have attended in the past have said, "Participation activities did not make me uncomfortable, it was easy to participate in post-its and discussions… thanks to the language the presenters used it did not feel like we were walking on eggshells yesterday and I was a lot more comfortable participating in discussions."
What is covered?
Students will come away with:
a deep understanding of what sexualized violence is and how to challenge the attitudes and beliefs that lead to sexualized violence
practical tips, and everyday language, to meaningfully ask for consent, to say no to an invitation or offer, and also how to hear no (which can be hard!)
a range of strategies for preventing sexualized violence
knowledge of the resources and supports available at UVic for students
What have we heard about the workshop?
Students who have participated in the workshop have commented:
"what was most effective for me was exercises that encouraged you to reflect within yourself, communicate and share with others, and discuss these thoughts"
"I found the part of the training that unpacked reasons why someone may say no very helpful in addressing the underlying reasons why people may not ask for consent. Also practicing daily ways of asking for consent and encouraging sentence starters that did not sound robotic or unrealistic"
"I took away extremely useful and practical information"
"the presenters were very good at engaging the crowd and being inclusive of all opinions and thoughts shared"
"It was a great experience, thank you so much!"
Who is currently facilitating these workshop sessions?
A team of peer educators working with the Office of Student Life facilitate the Tools for Change program.
Nora
My name is Nora. I use she/her pronouns. I am an uninvited settler of mostly British and German ancestry living on the land of the the lək̓ʷəŋən speaking peoples, and the Songhees, Esquimalt and W̱SÁNEĆ peoples whose historical relationship with the land continues to this day. I was born and raised on the traditional territories of the Taa'an Kwächän Council and the Kwanlin Dün First Nations (what is colonially know as Whitehorse, Yukon). I was lucky enough to grow up spending a lot of time on the land, and I still turn to nature as a place to find tranquility and balance. 
My role at the Office of Student Life is as a Peer Educator facilitating the Tools for Change workshops. I am also in my final term (!!) of my undergraduate degree in psychology here at UVic. I love learning, and feel very lucky to have had the opportunity to pursue post-secondary education. In my free time, I enjoy creating art, reading, and spending time with my loved ones.
My favourite quote is from a Mary Oliver poem: "You do not have to be good./ You do not have to walk on your knees/ for a hundred miles through the desert, repenting./ You only have to let the soft animal of your body/ love what it loves." - Mary Olivier, Wild Geese
Qichen
My name is Qichen and I use she/her pronouns. As an international student from China, I am very grateful to have the opportunity to visit, live, study and work on the lək̓ʷəŋən peoples and the Songhees, Esquimalt and W̱SÁNEĆ peoples traditional and unceded territories. 
My role at the Office of Student Life focuses on preventing sexualized violence at UVic. I hope I can be part of the team to help with creating a more supportive, inclusive, and diverse UVic community. When I am free, I spend time cooking, hiking, watching food videos, and volunteering for different activities. I like Chinese calligraphy and am also learning traditional Chinese painting.
My favourite quote is "You don't have to see the whole staircase, just take the first step." - Martin Luther King, Jr"
---
If you are interested in taking one of our regularly scheduled workshops you can register here. If you would like to book a special session for a group of 20 students or more, please email svptraining@uvic.ca
Thanks for being a part of the change at UVic!