Get involved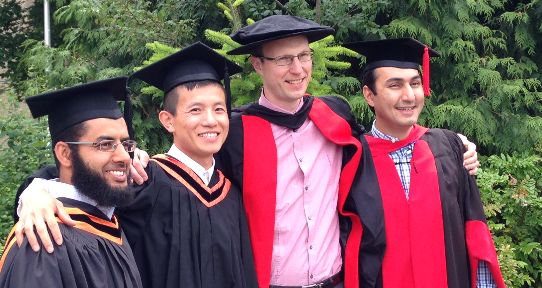 The emphasis on 'charting feasible paths' illustrates IESVic's forward-looking approach. IESVic members conduct their work with the future always in mind, considering what sustainable energy systems should look like, what technology and knowledge are needed to implement them and how these elements might be feasibly developed and distributed. You can get involved with IESVic in multiple ways.
IESVic is the real world
At IESVic, students and researchers are actively involved in real-world research on critical energy issues. They work with leading sustainable energy experts on multidisciplinary teams to study energy systems from source to service provision. This gives them the big-picture approach IESVic grads are known for.
And when they're not busy working to solve the world's energy problems, IESVic students enjoy a supportive research environment where students and faculty alike are eager to share their time and resources to aid one another's research.
IESVic doesn't just prepare students for the real world. In the words of IESVic alumnus Toby Thatcher, "IESVic is the real world."
Current opportunities
Highly qualified students are always encouraged to apply for graduate positions.
Contact an IESVic faculty member
Browse our site for faculty members and research projects that reflect your interests and background.
Contact relevant faculty members. Attach your curriculum vitae (resume) and a list of undergraduate and, if applicable, graduate grades. This can be an unofficial listing compiled by you. Official transcripts will be required later. Be sure to highlight cumulative/final averages.
Prepare a UVic graduate studies application
Because IESVic is a research institute and not an academic department or school, it doesn't process applications itself. That means students interested in joining the institute must apply for admission to UVic's Faculty of Graduate Studies.
IESVic includes students and faculty members from several UVic departments and faculties, but all IESVic students must be affiliated with a specific department and faculty. Check out individual departmental sites for specific degree programs and application procedures.
There are no job opportunities available at this time.