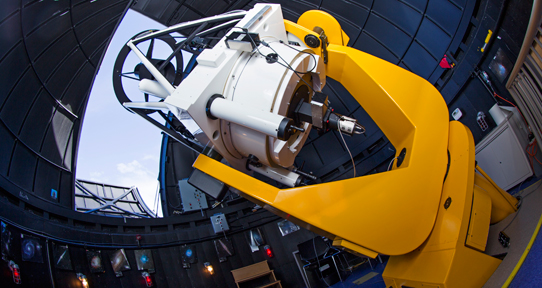 Online Open House
UVic has suspended all public gatherings in order to prevent the spread of Covid-19. While our regular telescope outreach is suspended until further notice, we have begun offering online Wednesday Night Open Houses, every Wednesday from 7:30 - 9:00 PM, on Zoom platform. Each session comprises of an astronomy Q&A session, followed by an astronomy-themed presentation by an invited speaker. Please contact the Phyics and Astronomy office (physgen@uvic.ca) for connection instructions, or visit our Facebook page. Hope to meet you online!
When it is safe to do so, we look forward to welcoming you back to...
Wednesday Night Open Houses
You say you don't know a red dwarf from a black hole? A giant star from a globular cluster? Here's your chance to discover everything you've wanted to know about the sky. Everyone is welcome to visit the UVic observatory. 
The UVic 0.8m telscope is one of the largest optical telescopes on any Canadian university campus.  Targets to view may include planets, nebulae, and star clusters.
Astronomy students operate the telescope on clear nights and chat with visitors about what's observed. On rainy/cloudy nights, the students host Q&A sessions, and explain pictures found on APOD (Astronomy Picture of the Day) in more detail.
When: Wednesdays
8-10 p.m. September-April (except for the last two weeks of December)
9-11 p.m. May-August
Where: 5th floor Bob Wright Centre
Admission is free
Rain or shine
For futher information, please contact the Department of Physics and Astronomy at 250-721-7700.
---
Daytime Telescope Tours
In addition to our regular Wednesday night open houses, we also invite groups of up to twenty to visit our dome facility for a daytime tour April through July. We host one-hour tours of our telescope facilities for school groups as well as other groups of all ages.
Each tour is broken into 3 sections:
Ask an astronomer question/answer period. Your students will be able to interact with professional astronomers, asking either prepared or "on the spot" questions relating to the cosmos. No topic is too big, we have had many fruitful discussions about life in the universe, black holes, the formation of stars and planets, technology and instrumentation, and much more!
If the sun is out that day, we can make use of our solar telescope. This telescope is designed to look directly at the sun, projecting an image for everyone to see. We can pick out sunspots, talk about where sunspots come from, and even light pencils on fire with the power of the sun. If the sky is not clear that day, we have an array of telescopes which we use to teach about optics and how we gather information from space.
The highlight is a tour of our new 32 inch telescope - the largest on any Canadian university campus! In this section, visitors get to press all the buttons to move our massive telescope and point it toward Venus. They will spin the dome on the roof, experience the technology hands-on, and learn about our sister planet.
The tours are free but space is limited.  Tours are booked through the UVic Speakers Bureau. Please use the Book Now tab to request a tour or further details. We are proud to serve the Victoria community and especially encourage schools to come and visit.
---
Special Events
When eclipses, comets, transits or other special events happen in the sky, we love to invite the community to come and experience them with us!  No special events are planned right now, but we'll post the details here when the next one happens.