Posters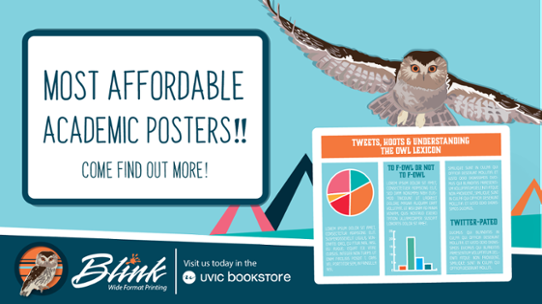 With our quick turn around for posters we can get you set for a presentation, and leave you extra time to work on your design. Full colour prints will make your presentation look professional and you can do it on a budget too! We can accommodate many different poster sizes but for the most common 48" x 36" standard conference poster the pricing starts at 35$.  Have a look at the different options listed below.
40LB Bond Paper - a thicker weight paper similar to a card stock (matte) - $35+
Polypropylene - tear/water resistant poster paper (matte) - $40+
GF Photopaper - semi-gloss poster paper - $60+
When you're ready to order please submit a print ready PDF to blinkprt@uvic.ca and let us know:
Which material you'd like it printed on
Your deadline
For helpful tips on assembling and submitting your poster please have a look at our Poster Presentation Guidelines!